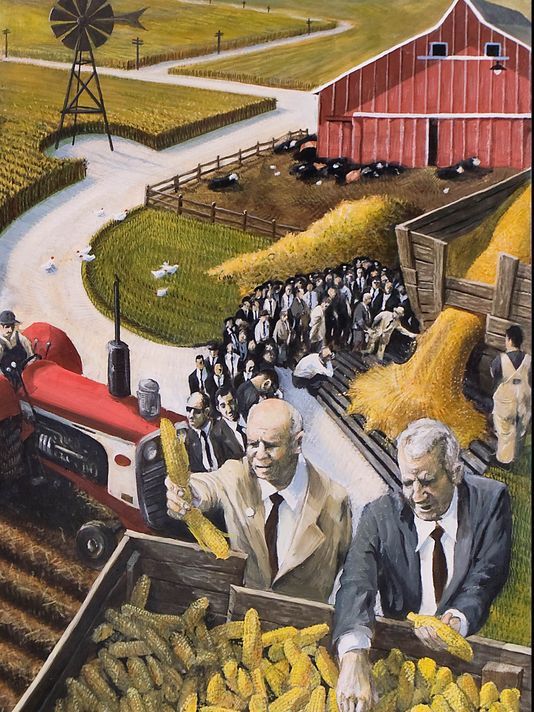 From USSR to North Korea
This week's episode of Sprouts was produced by Susan Franzen, a reporter on the KHOI 89.1 FM Local Talk team in Ames, IA. Local Talk airs every Monday, Wednesday, and Friday at 7 AM, noon, and 7 PM. This week's Sprouts show features an interview that originally aired on Wednesday, October 18th.
In the episode, Susan speaks with Ambassador Kenneth Quinn, president of the World Food Prize, about the proposal he made in an opinion editorial in the Des Moines Register. In 1959 then Soviet Premiere Nikita Khrushchev visited the Garst farm in Iowa, opening the door to reducing the danger of nuclear war during the Cold War. Quinn believes with could help ease U.S.-North Korean tensions. Susan also spoke with Daniel Jasper, Public Education and Advocacy Coordinator for Asia for the American Friends Service Committee.
Susan remembers the Cold War and was in Sweden at the time of the Cuban Missile Crisis. "We seriously believed that maybe there wouldn't be a United States to go back to."
Quinn wants to get past laureates to go to North Korea and help with agriculture, along with inviting leader Kim Jong-un to Iowa for the World Food Prize. "Agriculture is a serious problem for North Korea, and so this would be serious practical help."
Citizen Diplomacy
"I'm a little worried about nuclear war, frankly. And while I think it's a little late to prevent the immediate danger through back channels of this kind, you never know what's going to work out. The one thing that I was aware of from the Khrushchev story was the lead time was huge. It took four years before the first invitation."
Citizen diplomacy is "the concept that the individual has the right to help shape U.S. foreign relations 'one handshake at a time.'" Susan believes that this was one of the reasons why Khrushchev backed down in Cuba, and what can help the U.S. with North Korean relations. "Maybe that's because he'd been to the US, and maybe it was personal As Liz Garst said, 'because when you're engaged, you have something to lose.'
"People shouldn't underestimate the importance of face-to-face contact."
Sprouts: Radio from the Grassroots
Sprouts is a weekly program that features local radio production from radio stations and local media groups around the world. It is produced in collaboration with community radio stations and independent producers across the country. The program is coordinated and distributed by Pacifica Radio and offered free of charge to all radio stations. For information, or if you would like to feature your work on Sprouts, contact Ursula Ruedenberg at ursula@pacifica.org. You can find a map of where Sprouts is played here.