If young people represent our future, we need to get the tools of communication into their hands as early as possible. That is the philosophy of two brand-new stations in the Pacifica Affiliate Network. KWCP, which went on the air in Little Rock, Arkansas last November, already has 60 volunteers from area middle schools, high schools and colleges.
And, last week in Ventura, California, another community radio station welded the last joint in its tower and sent out its first signal. Among other projects, KPPQ is working directly with students at Ventura's alternative high school, who already contribute a talk program to its public access TV station.
Back in Arkansas, Kwami Abdul-Bey was working as an ambulance medic last year when he received a Facebook friend request from someone in Little Rock city administration. The city's director, Doris Wright, had applied for and won an LP license for the town's West Central Community Center, first established as a sports complex and aquatics center, and needed someone to be station manager.
In the mid-1990s, Abdul-Bey had organized city youth to create PHAT LIP! Youth Talk Radio, which aired 10-12 every Saturday morning on Little Rock's historic community radio station KABF, "The Voice of the People". The show originated at Little Rock's Henderson Middle School, where he was a regular substitute teacher. The students had an issue with the gang stereotypes perpetuated by HBO's two-part documentary Gang War: Bangin' in Little Rock (1994). Abdul-Bey had told them then, "Don't hate the media; become the media."
Abdul-Bey is excited to be involved with media again—and especially to be working with youth, who are already bringing talk, music, spoken word, comedy and radio theater to the KWCP studio.
"People talk about giving youth a voice. I believe they already have a voice. What they need is an avenue to develop and hone that voice to be more effective and efficient. That's what I tell them every day."
To that end, he has made KWCP a Boy Scouts of America Career Communications Explorer Post, and is in the process of establishing a Toastmasters International Gavel Club; he has made membership in both organizations a requirement for radio producers. Additionally, within three months, all radio producers are required to pass the Certified Radio Operator exam administered by the Society of Broadcast Engineers. Abdul-Bey is also in the process of developing an affiliation with StoryCorps out of Washington D.C.
The story is a little different in Ventura. KPPQ is an add-on to their robust public access television program at Community Access Partners (CAPS) media center, used by both students and adults.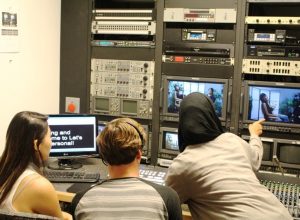 Students from Ventura's alternative high school receive 4 credits for participation in an intensive video journalism course, where they go out in the community to cover topics they themselves choose, such as education, drugs, discrimination, and robotics, then bring their reports back to the studio and their peers. Says station manager Elizabeth Rodeno:
"The kids that come in are bright and motivated and maybe a little socially awkward. To see them learn to work together as a team–and blossom and really thrive by sharing their voices–is rewarding for all of us to see."
The result is a weekly talk show and an experience that has gotten rave reviews from its participants, like Grace Johnson-Glick: "I got to meet a lot of like-minded people that helped me become a better filmmaker; to be honest, it helped me become a better 'everything-maker' because of all the skills I learned."
Parents have also expressed satisfaction:
"The program was eye-opening for Grace. Her participation allowed her to merge her love of storytelling and film with her abilities in organization and leadership, and has inspired her to continue film-making in college."
Rodeno says the students are excited about expanding into radio and learning what works and what doesn't in the new medium. In the few days since KPPQ has been on the air, she says "I've already aired some really interesting and thought-provoking programming" from the Pacifica syndication program.