On January 4, the staff of WUMD 89.3, a college radio station in coastal Massachusetts with 45 years of history, were informed of U Mass Dartmouth's intention to sell the station to Rhode Island Public Radio (RIPR) for $1.5 million. RIPR is a member network of NPR and expects to "double its geographical footprint" through the purchase. RIPR is petitioning the FCC to move the transmitter from Dartmouth to Newport.
The news came as a shock to student and community programmers who will lose the opportunity to interact with a live radio audience. Adam Lawrence, a WUMD alum, hosts two shows on WUMD, State of the Queer Nation and Broadband Noise:
The listeners for my show are fantastic; many have been listening and calling in for years now. They love the music, they're excited to talk about it, and it's impossible not to pick up that enthusiasm… Without them, without them, I'm just a guy in a room listening to music and talking to himself.
Toni Pennacchia, whose movie industry show Spoiler Alert Radio is syndicated through Pacifica, was drawn to U Mass Dartmouth as a student because of WUMD. That was more than 20 years ago.
From her experience, it's these college-community hybrids–typically well-established, full-power stations–that are being targeted by NPR for purchase. She had been a DJ at a Brown University station (BSR) that was broadcasting on the frequency of WELH, when that station was taken over by RIPR and converted to an Internet-only station.
If the sale goes through, WUMD will also continue on the Internet, but that does not bode well for the station. Says Pennacchia:
When RIPR bought out Brown's radio station, it continued to exist but the majority of DJs left in a short time. It became more of an afterthought to the community. I don't want to be at a radio station without membership. I felt as if I lost my radio family.
The community will also lose out. Among other shows, locals will miss Brazilliance, a 3-hour show produced by UMD professor Dario Borim, featuring bossa nova, choro, fado, morna, samba and various types of instrumental genres, accompanied by mini-lectures on the genres. A letter to the local newspaper signed by several UMD professors in protest of the sale, highlighted such diversity as the station's unique strength.
In place of WUMD's jazz, reggae and world music, locally produced talk programs and syndicated shows like listener-favorite Democracy Now!, RIPR will offer the standard NPR fare: Morning Edition, All Things Considered, On Point, BBC News, Fresh Air, Here and Now, and Marketplace.
UMD music professor and jazz musician royal hartigan is a WUMD listener:
Nothing from Boston or Providence provides the kind of alternative voice WUMD does. Even Boston Public Radio has cut back its jazz programming… What I want to know is, why didn't the university consult the faculty and staff?
The coastal community, including Cape Cod and Nantucket, will also lose Audible Local Ledger, a 24-hour radio reading service for the blind and visually impaired. For 40 years, WUMD has been a subcarrier of this service. Clients receive a special $75 radio, plug it in and hear all their local newspapers, as well as the Boston Globe and Wall Street Journal. Director Shari Bergeron says she has "hundreds" of subscribers who will lose this programming.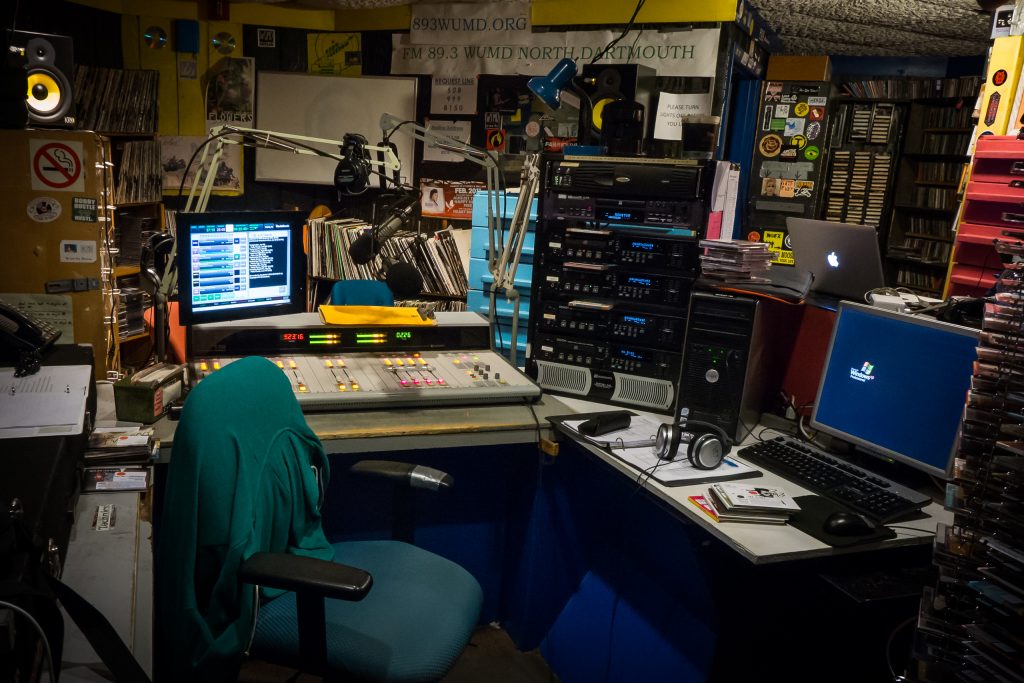 Interestingly, WUMD recently increased its power, from 1200 Watts to 9600 Watts. Says Pennacchia, "That only made us more visible to RIPR."
On its side, RIPR has promised UMD students "internship opportunities" to replace the hands-on learning they now enjoy at the station. However, no local-origin programming is listed on the RIPR schedule. RIPR's filing with the FCC states that "noncommercial education FM station WTKL will continue to serve the community." But WTKL is an affiliate of Christian radio giant K-LOVE, and produces no local content.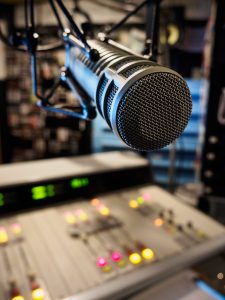 One of the most difficult things for WUMD programmers is to refrain from speaking out on air, as University management has urged. Instead, station members have resorted to a Facebook page, letters to the editor, an alternative press release and the hashtag #savewumd in organizing grassroots opposition to the sale.
WUMD's supporters hope that public outcry will save the station. February 9, the deadline for WUMD supporters to file a "Petition to Deny" with the FCC, is approaching fast. It is estimated that lawyer fees for such an effort would cost $20,000.