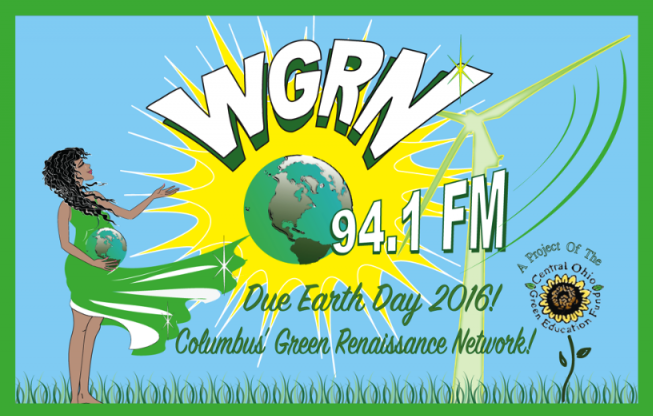 Now is the time…to fight for the planet; to counter climate change and contamination; to prioritize health, spiritual balance and natural beauty over economic gain. And who better to speak for Mother Earth than female voices?
Such is the thinking behind Columbus, Ohio's new LP station, WGRN.
Licensed to the Central Ohio Green Education Fund and "born" on Earth Day 2016, the station has made a dual pledge: to educate its listeners about the urgent environmental issues threatening our planet and to expand opportunities for women journalists.
Says Victoria Parks, the station's prime mover:
Our goal is to focus on healthy eco-systems and healthy community, which is also an eco-system. Without women, community crumbles. WGRN is inclusive, but we do not apologize for addressing women's needs as core to our reason for being.
Parks hosts three weekly music programs and is developing a talk show to address issues such as reproductive rights and education—particularly early education, common core and privatization. Two other woman-produced programs—Word Carver, a literary show hosted by local novelist Cynthia Rossi, and Healing Voices, Healing Choices with Lily Lightbridge—are ready to air.
Of course, environmental programs are also a focus. Station Engineer Eugene Beer is using his background in atmospheric physics to develop Eco-Shift, a show focused exclusively on climate change. Beer is also the station manager for Columbus sister station, the LP Pacifica affiliate, WCRS. The two stations benefit from other synergies: WCRS's show Conscious Voices has been following the Dakota Access pipeline protests at Standing Rock, and is aired on WGRN.
In terms of local environmental issues, threats to groundwater from fracking enterprises and lax state laws are major concerns. Wastewater injection into Ohio's underground wells increased by 15% in 2015. Yet the Government Accountability Office identifies Ohio as the only state of 8 studied that does not require chemical analysis disclosure of injected wastewater.
Parks emphasizes the importance of putting more women on the air.
Because commercial media is and has always been a male-dominated industry, women don't get fair face-time and are subsequently misrepresented or under-represented. The woman host is as likely to be up-skirted as she is to be listened to. We're fighting that stereotype.
But recruitment has been a challenge:
Women are extremely busy. It takes enormous energy to raise children and to hold down a job, and so many of us are doing both of those things. We have extraordinary lives and extraordinary stories but often no time to sit down and tell them.
For now, the station is airing 18 hours of mostly syndicated programming available through Pacifica Network. The Women's Hour, weekdays from 9AM to 10AM, features For Women Over 40, Time of Useful Consciousness, Wings, Maternally Yours, It's Our Money, and WMC Live!; while The Eco-Hour, weekdays from 11AM to noon, offers Radio Ecoshock, Green Power & Wellness Hour, and Nuclear Hotseat.
Pacifica Network congratulates Parks and Beer on their enterprise and wishes them the best in developing a station that will build a more equitable community and a healthier world. And we look forward to syndicating some of their shows for the rest of our network!
Save
Save