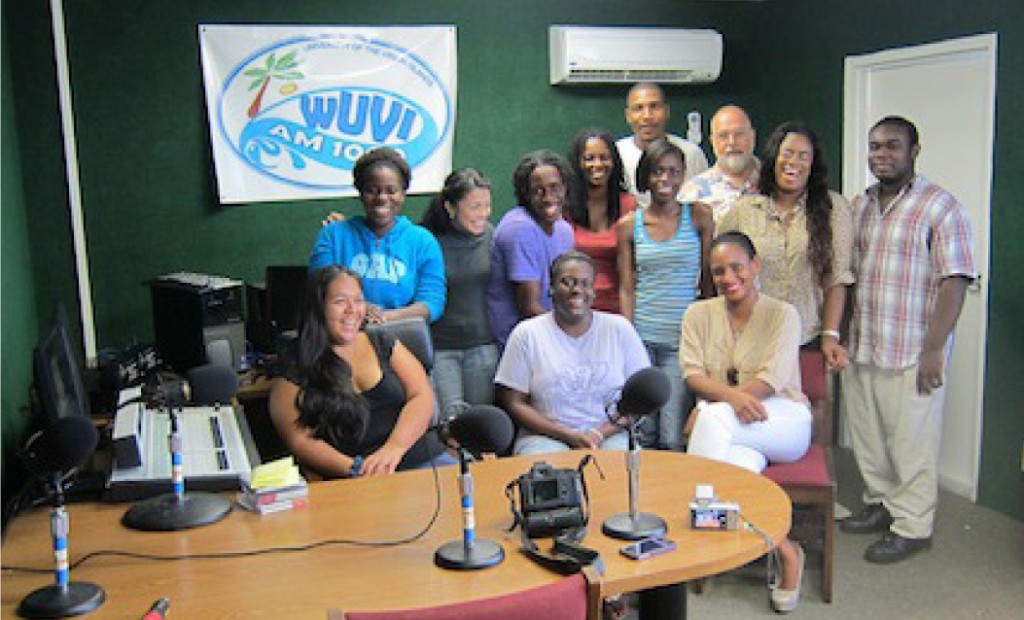 An interview with Alex Randall of WUVI on the station's mission, cultural content and challenges
By Heather Gray
Note: In October 2012, I interviewed Dr. Alex Randall of the U.S. Virgin Islands. He, along with students at the University of the Virgin Islands, will soon launch the radio station WUVI that will be an affiliate of the Pacifica Foundation. Dr. Randall will serve as the faculty advisor to students who will produce the programs. And in true community radio form, they will focus on local culture, local news and information. As Dr. Randall states, they will seek to be a "positive force in the community" and further that they will give their U.S. Virgin Island's "culture its own due representation." WUVI is not yet on the air due to initial transmitter issues, and all of us in radio know what that's like! But they plan to be up and running soon and formally announce their important station to the world in January 2013.
Gray: Dr. Randall, thank you so much for talking with us about your new radio station in the U.S. Virgin Islands. We are looking forward to WUVI joining our Pacifica Foundation Affiliate com- munity. And all of us in community radio will be interested in knowing your mission and, basically, what you will be producing and offering your community.
Randall: We're going to focus our mission on local content. It will be a highly localized content generated by students. The students will run the whole thing. I'm just the faculty advisor, and behind the scenes I'll go out and do the things they don't know how to do. Like, they don't know how to aim a satellite dish. I don't know either, but I know who to call.
There are a lot of radio stations in town that play hip-hop music or play oldies but there's nobody here who's providing op- portunities for the agriculture cooperative extension service; there's nobody here whose serving the women's rights groups; there's nobody here who's airing content from the university symposiums, meetings, conferences. All of that will be on the air now.
My background in radio leads me to guide the students toward building a radio station that serves the community with quality information and allows people that live in the community to take college level content without leaving their homes.
We will, as I mentioned, open the door to the cooperative extension service and invite them to come in and have a class on agriculture and do it on the radio. And we'll open a door to the university's music department and have an all-local music show that highlights the music produced right here on the islands.
One of the projects I have on the table is to gather up all the LP's of music recorded in the 50's and 60's and digitize them and get them into our database so that the early LP music, that is now sitting on shelves, comes back to life. I think you can put a lot on the air that's educational without it sounding educational. You can be positive and upbeat about growing vegetables, fertilizer, water needs and put it on the radio station and make it entertaining and fun.
So here we are starting a radio station along the same vein of my radio news emphasis, which is being a positive force in the community. There will be no misogyny on our station. There will be no cuss words. With our radio, I told my students, we're not doing Hollywood, we're not doing Chicago, we're not doing Memphis, we're not going to be playing stuff from the states that's not made here. We're going to emphasize our culture and not the continental, or U.S. mainland, culture.
I told them the first time they play the little mermaid song 'being under the sea', I'll shut the damn place down. We're not doing that. And we'll be known in the community as the station that plays our own local music – homemade music – and you have to work harder to get the homemade music. It might not be as popular as some of the stuff that comes from the states, but we're not going to be promoting state's culture in our local radio station.
I will put in big bold print on the radio studio wall, NO HOLLYWOOD, in big letters. We're not here to extend the continental culture, we're here to make sure we find our own culture and give our culture its own due representation. It's what we have to do.
Ours is a culture that is being constantly steamrolled by the continental culture – the drug culture, the crime scene, the American attitude toward hip-hop is rampant. You have to put your foot down and say 'this isn't us. We've got to stop letting this stuff tell us who we are'. And further, that we're losing what matters to people who live here and then we're selling it to Walt Disney. We have to stop doing that.
Gray: What will be your audience and what will be the racial composition?
Randall: The Virgin Islands is 85% African American – I'll start with that number. The university student body is almost 100% African American. Our station is an AM station that happens to be located where it gets good ground waves. We'll be heard from St. Thomas, U.S. Virgin Island, where we're based, all the way down to Dominica. That's about 12 different islands. And to the west of us is Puerto Rico, where there's a large English speaking audience that's not served much by the local stations that are mostly in Spanish. South and East of us is the English Virgin Islands, the Dutch Virgin Islands, St. Martin, and Antigua, Barbados – there is a whole collection of islands out there. Here in the U.S. Virgin Islands the popula- tion is 110,000 people.
But for starters, and fortuitously, the FM station that was broadcasting the "Tom Joyner Morning Show", which is very popular here, went off the air. Within 24 hours we struck a deal with the "Tom Joyner Morning Show" and we will now be hosting that. We know there's a huge audience that listened to it every day. We're talking 6 maybe 10 thousand people, which, for us, is significant to get a consistent audience of that size.
We will pick up most of that audience, which is not mostly university students but community people who just like the "Joyner" show. Beyond that, we just don't know more about our potential audience. We know, however, that we'll have a university audience. Regarding age, at the dominant AM station here, where I am also the news director, the average on-air people have been on the air for more than 30 years and some of the oldest ones 50 years. So there's not that youth focus or young folks producing radio shows that will attract youth involvement and we plan to change that.
Gray: What Pacifica shows are you considering?
Randall: The radio station content is still a work in progress.
Our relationship with Pacifica excites me more than anybody else around here. Nobody else knows what it means. But I'm the one who knows that Pacifica content will start to permeate the community.
I haven't listened to a Pacifica station since the late 90's and my heart is with Pacifica. They were the first people I called and I want to bring stuff here that doesn't have the taint of government money or corporate money and share that with my community. But you guys are going to have to help me. I've gone to the website and th
ere are a whole bunch of shows and I don't know any of them. What fits our community? What would get the most resonance here? Boy, help me out on that one!
I'm an old fan of WBAI from New York when I was a student back in the 60's and 70's and listened to WBAI. So I called Ursula (Ruedenberg) to see if we could get Pacifica here. Very few people in the Virgin Islands know about Pacifica, but I think one of our roles is to lead and to sound different from the other stations and I think Pacifica's content is very relevant here.As I said, we're still not sure of the Pacifica content – what we'll use and what we won't – we just don't know. 'Democracy Now!' sounds like an easy one for us. We had blocked out an hour a day for 'Free Speech Radio News' that we know we'll use.
The thing we lack here on the island is a unique perspective in national news. We have a lot of radio stations that are either ABC or CBS or NBC affiliates or CNN or something else and none of them quite sound as independent or as vibrant as Pacifica. So we're in a town where the range of stations is very limited and very few that are focused on local content.
Gray: Alex, please give us some background of where you are now in your radio construction.
Randall: We started with practically nothing. We have a mock studio. From August 2012 until now we've been frantically building a studio, getting equipment, beginning to make contacts outside the area for content. We have room carpet on the walls, a pile of equipment; we have to finish our studio and connect up with the transmitter.
Gray: When will you be on the air?
Randall: That's a wonderful question. Our start day was October 1 – we missed that. Right now, we have 2 rooms that are empty until we secure some furniture.
This sounds exactly like WBAI in the 60's just hearing myself saying it. Like, you're at the stage where you have to marathon every day to be able to get enough money to buy a desk. We just got some furniture that hasn't moved into our space yet.
We are still not connected to our transmitter. And there are problems with the internet to that location. As soon as that's resolved, we will go live and we will probably not make any public announcement until after January 1, 2013.
Gray: Alex, what's your background? What spurred your interest in radio?
Randall: My background? I'm a "continental"…I'm a white guy from Philadelphia…I'm a Philadelphia Quaker…New Englander…Bostonian. I've being doing the news on radio here for 17 years – all positive. I'm known as the "good news guy". I don't do any crime stories. I don't do any fires or car accidents. I only do what's going right.
I'm also an anthropologist. I was Margaret Mead's last graduate student. I actually went to Columbia in the 70's to study radio in developing countries. That was my master's thesis. I didn't actually earn a degree in anthropology from her. She said that was too old fashioned. I studied systems theory under her and communications theory.
I moved to the Virgin Islands in 1995 after having run a computer busi- ness in Boston. I was intent of helping to drive this community toward the internet. This was after having visited the Virgin Islands for years as a child and then as an adult.
As I mentioned, my first work here in the 90's was on the local AM radio station as a news director where I basically got the on-air staff all excited about the internet behind the scenes and then let them tell the community about these cool websites and what they were doing through email. Then the University had me come in and teach radio classes and now I'm the chair of the Communication Music/Art/Theater Program.
This position let me drive forward this project. Having a radio station fulfills my graduate level studies from way back. A university that owns a radio station can have high-level content and not just for our island but for the entire region.