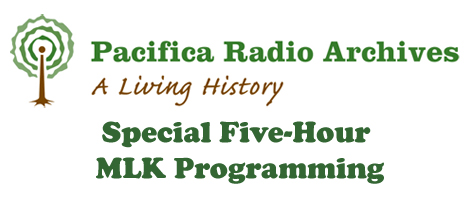 The Pacifica Radio Archives is offering five hours of programing honoring the late Dr. Martin Luther King Jr. for MLK day this year. This programming is exclusively provided for Pacifica Stations and Affiliates. It includes multiple speeches by Dr. Martin Luther King Jr. and other audio that brings an important context to listeners on how important he, and also the civil rights movement was, to America and the world.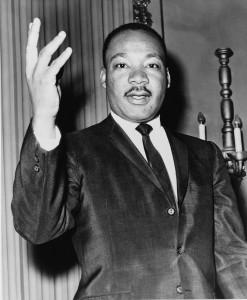 MLK PROGRAMMING FROM PACIFICA RADIO ARCHIVES
Hour One
Two speeches from Dr. Martin Luther King Jr. are the highlights of this first hour.
On The Power Of Peaceful Persuasion June 24, 1957
The Future of Integration June 1961
Hour Two
We Want to be free speech, given at a Freedom Rally, May 26, 1963
Discussions of a Complete Life, January 1962
Hour Three
MLK's Speech America's Chief Moral Dilemma May 17, 1967 at UC Berkeley
Hour Four
But If Not, Speech at Ebeneezer Baptist Church in Atlanta, November 1967
Men and Women In the Arts Concerned with Vietnam, March 16, 1968 – MLK jr.'s last speech in Los Angeles
Hour Five
Dimensions of a Complete Life, January 1962
Domestic Urgencies vs. Military Costs, February 1967
The Civil Rights Movement and its Goals for the Future, April 1967
Memorium in Central Park Day After MLK was assassinated with Ossie Davis, Pete Seeger, and more.