Rustbelt Abolition Radio
On September 9th, 1971, prisoners of Attica Correctional Facility started a four-day rebellion demanding better living conditions, fair rights, and an end to physical abuse. On September 9th, 2016 in Kincheloe, MI, prisoners of Kinross Correctional Facility protested for better living conditions and fair wages. Kinross was but one of many protests that happened around the country at the anniversary of the Attica Rebellion. Although Kinross was one of the largest of its kind in Michigan, there is little coverage by mainstream media, and as a result Rustbelt Abolition Radio (RAR) came into being. After making the DemocracyNow! headlines and encouraged by WNUC-LP in Detroit, RAR came to Pacifica Network to showcase their work on Sprouts.
Click here to listen to RAR's Sprouts program, which aired September 28th of this year.
"[It's about] more than just the people who are behind bars right now," says a Maria, co-producer of RAR. "It's all of us with family [members] on parole, cities like Detroit where we lose population on the census, the ways in which neighborhoods are broken up. It's the way that families and social movements are impacted by this."
Co-producer Alejo Stark speaks to the lack of media coverage on prison issues, and the importance of getting this story out to a national audience. "This is the largest prisoner strike in US history. …there [are] inside and outside networks working towards abolishing incarceration."
"The forbidden kinds of risks that people do to get the story out. There is something historic happening. It's unfortunate that this hasn't caught on the way it should. This is an extraordinary flashpoint of the prisoner's resistance movement. These things happen every year."
From Detroit to the Nation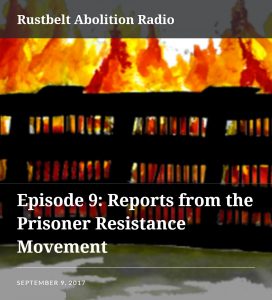 Rustbelt Abolition Radio is an abolitionist media and movement-building project based in Detroit, MI. Each episode amplifies the voices of those impacted by mass incarceration and explores ongoing work in the movement to abolish the carceral state. Episode 9 reflects on the intensifying political struggles happening behind bars by examining two extraordinary flashpoints: America's nationwide prisoner strike on September 9, 2016, and the Millions for Prisoners march held August 19, 2017.
Firehawk, of Unstoppable, and Ben Turk of the Incarcerated Workers Organizing Committee of the Industrial Workers of the World discuss strategies developing within the contemporary prisoner resistance movement during The Fire Inside zine tour, while Krystal Rountree of the iamWE Prison Advocacy Network explains the organizing efforts inside and outside that made the August 19 Millions for Prisoners March possible. The show closes with D, an incarcerated organizer with Jailhouse Lawyers Speak tells about what went down inside on August 19 and what's next.
A Maria and Alejo found a connection to the story by reflecting on their Detroit community. Alejo's teaching experience inside prisons showed him the workings of racism and movements to change how we think about prisons and prisoners.
"People want to abolish the 13th amendment. At the horizon there is a political strategy for how we think of prison. One thing we learned was being able to think about how this movement creates conversations with the world."
Section 1. Neither slavery nor involuntary servitude, except as a punishment for crime whereof the party shall have been duly convicted, shall exist within the United States, or any place subject to their jurisdiction.

Section 2. Congress shall have power to enforce this article by appropriate legislation.
Abolition Movement and Community Radio
A Maria sees imprisonment as stress on the whole community. For her, the abolitionist movement and community radio go hand in hand.
"Watching that happen in our neighborhood, how prison connects from prison to our schools. Particularly in Detroit, incarcerated space and logic go beyond the barbed wire and brick wall."
"Over the course of the last year we emphasized the importance of local and community media. There were people who were trying to release narrative immediately after it happened, but [mainstream] news didn't immediately pick it up. It became clear that…we can't rely on corporate outlets to look at these stories."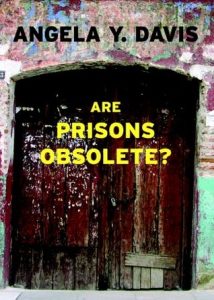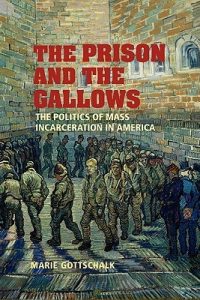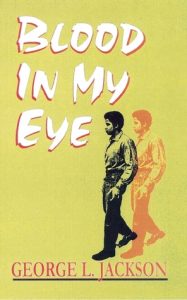 Reading
Books are a great way to dive deeper into any issue, especially that of structural injustice. They give historical context, and with developments in sociology and psychology, an educated analysis on the minds for and against these movements.
Are Prisons Obsolete? by Angela Davis was recommended by Anejo. "[The book] looks at the way prisons promote white supremacy in the U.S."
Books by author Ruth Wilson Gilmore.
The Prison and the Gallows: The Politics of Mass Incarceration in America by Marie Gottschalk.
Blood in my Eye by George Jackson.
Final Thoughts
A Maria wants to emphasis the major role that WNUC-LP in Detroit plays in empowering the Detroit community. "It was community wide to get that station up in one year. So that when these things happen and we see the glaring lack of coverage and useful information in the media, we have the opportunity to go for training."
For more reporting on the prisoner resistance movement, check out Michigan's Kinross Prison Strike: Reflections from Inside, an exclusive audio archive that RAR created with the help of correspondents behind bars and MAPS: Michigan Abolition and Prisoner Solidarity.
All Rustbelt Abolition Radio episodes are available on Audioport. Find full episodes and transcripts online.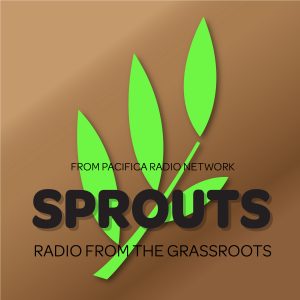 Sprouts: Radio from the Grassroots
Sprouts is a weekly program that features local radio production and stories from many radio stations and local media groups around the world. It is produced in collaboration with community radio stations and independent producers across the country. The program is coordinated and distributed by Pacifica Radio and offered free of charge to all radio stations. For information, or if you would like to feature your work on Sprouts, contact Ursula Ruedenberg at ursula@pacifica.org. You can find a map of where Sprouts is played here.