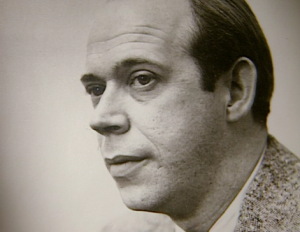 "Pacifica"—the name says more than you may know. Pacifica and indeed all public radio was the idea of a Quaker pacifist and poet Lewis Hill, and his pacifist and artist friends at the work camp for World War II conscientious objectors. These intellectuals saw the proliferation of pro-war propaganda—by both the government and corporations—and felt that American citizens needed better information coming from outside the power structure.
Once the war was over, this group applied for a radio license and acquired one of the first FM frequencies, that of KPFA in Berkeley, California, the founding Pacifica station, one of five that Pacifica now owns.
According to outgoing Pacifica Radio Archives director, Brian DeShazer, in an interview in early May,
What Lew Hill and these pacifists and intellectuals were trying to bring about was take out the corporate funding so that nothing was sponsored, so that the dialogue between people could help bring about a new society and a new understanding.
Today's Pacifica Network affiliates reflect that legacy. Many of them carry Democracy Now! subtitled "The War and Peace Report." Democracy Now! was created by Pacifica Radio as a grassroots alternative to other national radio programs, and host Amy Goodman learned to do radio at WBAI-Pacifica in New York City, where she was the News Director. The show airs the voices of those directly affected by decisions of the powerful, such as the decision to go to war.
Beyond that, Pacifica syndicates numerous independently produced radio shows on the topic of peace. One, Peace Talks Radio, out of Albuquerque, New Mexico, focuses on practical ways to defuse conflict in our daily lives. The show was founded in 2002 by public radio veteran Paul Ingles and his former wife Suzanne Kryder.
According to Ingles,
After 9.11 we saw that people were already experiencing some hopelessness about conflict in the world. We knew there would be more news about conflict than peace in the media, so we decided to claim a little bit of media real estate and provide the tools to help people mitigate some of that sense of personal hopelessness.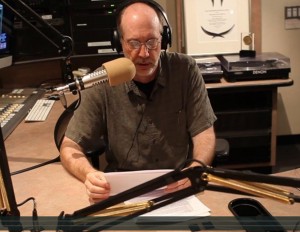 Peace Talks does not eschew the broader topic of peace and war, but works from a concentric model with the individual at the center finding peace within, then working to find peace in pairs, groups, and broader society.
Another show, Peace Paradigm Radio, focuses on nonviolence as a means for social change, and is hosted by the director of the Metta Center for Nonviolence, Stephanie Van Hook. She argues that nonviolence has been censored from the airwaves: "We hear news reports on war and how violence works. But we don't hear when a sit-in happens or is successful."
To address this lack, the show includes a segment on nonviolence in the news by Michael Negler, who founded the Peace and Conflict Studies Program at UC Berkeley.
Van Hook says that many people don't understand how nonviolence works. "It's more than signing a change.org petition." Nonviolence, she says, has "a logic and a science…There are right tactics to use at the right moments."
Part of the energy of her show, which has been airing every other week for 4 years, comes from the producers' collaboration with the community radio station where they record it, KWMR out of Point Reyes Station. Says Van Hook: "Part of the reason we keep it going is because of the community at the radio station; it's just a really cool group of people to work with."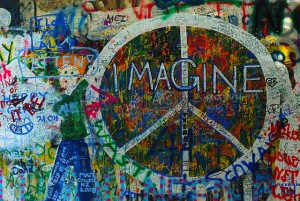 In a world riven with conflict, the need for the kind of broadcasting that Lewis Hill and his friends imagined is ever more vital. And Pacifica Radio Network is still the best place to find that programming. The diversity of otherwise unheard voices and points of view available through Pacifica help to fulfill Lew Hill's mission of creating peace and understanding through a more open, accessible communication network.