Each Memorial Day, Americans mourn, remember and honor those who have lost their lives to war.
Lewis Hill and the small group of pacifists who founded Pacifica sought to do more.
Conscientious objectors during World War II, they believed "that dialogue could save the world" and that radio could demonstrate by example the power of language to foster peace. (Lazar x)
This Memorial Day, we at Pacifica would like to remember and honor their commitment.
---
Lewis Hill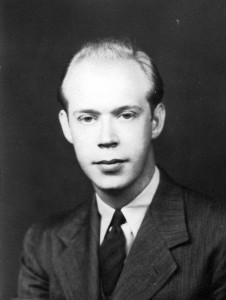 Though Hill could have qualified as 4-F due to his spinal arthritis, he instead chose to register as a conscientious objector and, in June, 1942, was sent to Coleville, a camp for COs in eastern California, south of Reno.
It was there, in conversation with fellow camp resident Roy Finch, that the plan for Pacifica was first conceived.
In October, 1943, due to his worsening medical condition, Hill was released from the camp. He was subsequently hired as director of the ACLU's National Committee on Conscientious Objectors. In that position, he defended protesting pacifists who had left their camps to attend peace conferences or to march against prison segregation, pacifists who were being accused of disloyalty.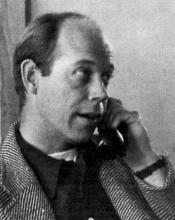 During these years, he refined his idea to create a commercial-free radio station, one that would be an oasis for dialogue and a healthy exchange of ideas. He came to believe that pacifists, if they were going to have an influence in the world, needed to stand for specific ideas, not narrowly against the status quo, and that this public engagement might be an example of non-violent direct action.
In 1946, he and his wife Joy Cole Hill moved to San Francisco with the intent to found a cooperative station there. By 1948, he had established KPFA, the country's first listener-supported FM station.
"As long as I can communicate, I can create. As long as I can create, I am free."
---
Roy Finch
Roy Finch, drafted in 1942 while working at the New York Tribune, refused to report for active duty. He, like Hill, was sent to Coleville.
Coleville and other CO camps were managed by Quakers from the American Friends Service Committee. In time, Finch came to question this cooperation with the government and, with Hill, began to formulate a philosophy of resistance. In 1945, he helped to organize a Chicago conference that sought to unite the efforts of pacifists, labor and groups dedicated to racial equality.
Released from Coleville in 1947, Finch went on to join the War Resisters League and later served as editor of the pacifist magazine Liberation.
Finch was, throughout the years in which Hill was planning Pacifica, a reliable and trusted correspondent, a sounding board for Hill's evolving ideas.
"This was the way we imagined pacifism…We did not think of it as non-resistance; we thought of it as direct action of a non-violent character."
---
Kenneth Rexroth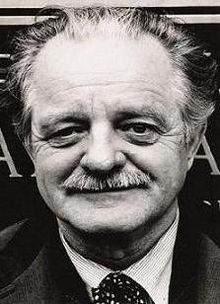 Like Hill and Finch, Rexroth was a conscientious objector during World War II. During that time, he joined the Fellowship of Reconciliation, working to protect the rights of Japanese Americans.
After the war, he gained renown as a poet and leader of a lively and rebellious group of artists, the Libertarian or Anarchist Circles of San Francisco.
In 1947, Hill addressed this group seeking support for his station's plans.
In 1951, Rexroth began his show Books and became KPFA's first book reviewer.
"No avant-garde American poet accepts…the thesis that a poem is an end in itself, an anonymous machine for providing esthetic experience. All believe in poetry as communication, statement from one person to another."
---
Richard Moore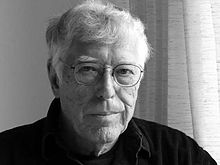 Moore first engaged in antiwar activities in 1930s California.
When called for military induction, Moore identified himself as poet and dancer, and, when asked if he would follow orders, answered that it would depend on what the order was. He was consequently classified as 4-F.
During the war, he offered safe haven to AWOL soldiers.
By the 1940s, he was hosting Kenneth Rexroth's meetings.
On April 15, 1949, Moore hosted Pacifica's first music program, Anglo-American Folk Ballads.
"We really believed in the power of the word as the source of identity in human beings."
---
E. John Lewis
A conscientious objector sent to the Minersville camp, he orchestrated work slowdowns and general strikes. As a consequence of the largest strike, held in February of 1946, Lewis was sent to prison.
He and Hill worked to broaden the focus of the pacifist resistance beyond protesting camp conditions to advocacy for establishing pacifism as a philosophy of daily life and public engagement.
Lewis served as treasurer of Pacifica until 1950.
Lewis in a 1945 letter to Hill encouraged Hill's concepts of a pacifist movement:
"We constantly find ourselves battling against encroachments that appear to threaten progress toward our vaguely held objectives…there is no clearly understood social philosophy of pacifism that is politically relevant, even to pacifists themselves."
---
Eleanor Mahon McKinney
McKinney was present for Hill's presentation to Rexroth's group. She brought radio experience to the fledgling endeavor, experience gained through her work at NBC and her coordination of coverage of the 1945 United Nations conference in San Francisco.
She also brought commitment to the foundation's creation. Through the difficult financial times of the 1950s, she served Pacifica as an avid fundraiser.
"The other side of the word 'understanding' is nonviolence, that you can solve all human conflict if you relate, if you communicate…If you do that in small communities and the communities grow and grow, it can apply to nations."
---
The Pacifica Network today includes five sister stations and serves almost 200 affiliate stations.
Information for this article comes from Matthew Lazar's Pacifica Radio: The Rise of an Alternative Network, Temple University Press, 1999.