Sometimes, community comes in the form of a network of friendly truck drivers. This is what Mary Francis learned in her quest to get community radio station KVOY ("Voices of Oklahoma") on the air ("Francis" is Mary's last name, but she always goes by both).
Mary Francis wanted to start a community radio station ever since she realized that her local NPR station had only 6% locally produced material. That was back in 2007. Then her friend Theresa Allen with Pacifica station KPFT in Houston told her the FCC was scheduling a window for applications.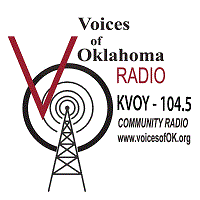 The plan for KVOY had two incarnations. Her FCC applications ranged from one end of the dial (89.7 FM) to the other (104.5 FM). The city of license moved from Dibble, near Norman (pop. 118,000), where Mary Francis and her original board lives, to tiny Wynnewood (pop. 2000), fifty miles away. And the power more than doubled, from 2400 to 6000 Watts.
After a long legal battle with a spurious nonprofit entity that wanted their frequency—brought about by a Florida lawyer whose business plan "involves flipping radio stations"—KVOY's construction permit was secured with the help of Attorney Michael Couzens. One last hurdle remained: finding a suitable transmission tower before the FCC deadline.
KVOY had planned to lease an American Tower Company tower. Unfortunately, that tower failed the mechanical test. Oklahoma winds are rather strong, mind you. That's when radio engineer and consultant Pete Tridish suggested they buy a "COW," or cell on wheels. Says Mary Francis:
We had just leased an acre in a cow pasture from Dave Temple of Temple Land & Cattle (yes, TLC!), a lovely fellow and local rancher who wanted us to succeed. So we thought, why of course, let's buy a COW and put it out in the cow pasture.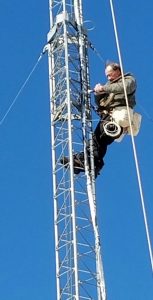 A transport company brought the COW all the way from Virginia, where it originated, to Tulsa, just 125 miles north of Wynnewood. At that juncture, the tower underwent inspection. It passed muster; the generator worked, everything worked. But nothing works out that simply, of course. The 18-wheeler designated for the last leg of transport needed a part, and nobody seemed to know when that part would come in. Says Mary Francis:
We sat and we waited. The FCC deadline to get on the air was fast approaching. Finally, our rancher friend Dave said, "I know a trucker, maybe we could send him out." Well, that trucker didn't work out, but he knew a trucker, and that trucker knew a trucker. So lo and behold the whole idea of community played out in a phone call I got one day from local trucker Eddie Stewart, "Hey, I'm a trucker and could pick up that tower for you."
Thanks to Eddie and the neighborly attitude of a whole group of people, the COW was retrieved, KVOY went on the air and the station's FCC deadline was met.
The transmitter still has its issues, but Mary Francis couldn't be more pleased with the people who have gravitated to the station in the intervening years.
We've gathered an amazingly diverse and talented core group of people. One of our board members, Kimethria Jackson, is a former mayor of a rural town who is African American; she is also completing a Ph.D. on exploitation of geriatric populations. Another, Manuela Chavez, is an RN who speaks fluent Spanish. Olivier Rey, who is French, does podcasts for our website, and is married to an Iranian scientist, and our station manager Heather Goodban, a member of the disability and LGBTQ communities, was trained by the American Broadcast School. And then her mother, Marilyn Goodban, our volunteer coordinator, is the former county Democratic chair, so of course she knows a lot of people.
Mary Francis herself is known as a dynamo in the city of Norman and in the world of grassroots radio, and credits Ursula Ruedenberg with offering support and valuable connections throughout the almost ten-year process. She joined the Pacifica Affiliate Network years ago and regularly attends Grassroots Radio Conferences.
Best of all: at 6000 Watts, KVOY not only reaches its founders in Norman, but will also offer brand new perspectives to rural south-central Oklahoma, where its signal is the strongest.
Visit:KLJ Consulting for more information on dock repair and contractors at affordable services.