As with many issues, David Rovics has his own philosophy on the music industry. He is just completing a book on how to make a living playing music–something he's been doing for two decades. At the same time, he is offering his music for free on his website:
The thing that's really killed us [musicians] is that you can get everybody's music for free. As long as that's going to be the reality, if you give your music away for free, the impact is that more people will share your music. Also, there's a better chance of networking with fans and getting paid gigs.
Rovics has just extended his generosity to Pacifica's network of community radio stations. He has posted songs from his extensive catalog of activist-inspired songwriting onto the Network's content-sharing platform, Audioport. Another musician for change, Bob Wickline, has done the same. Programmers and producers around the country can find and air songs relevant to their content.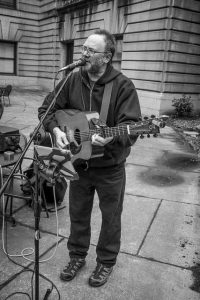 Rovics has been an activist ever since 3-Mile Island entered his consciousness as a 12-year-old growing up in western Massachusetts. Music entered his consciousness even earlier, with both parents being classical musicians. He began writing songs in the 90s, and hit his stride with the anti-capitalist movement of the late 1990s opposing the IMF and WTO and the anti-war movement following 9/11.
Now living in Portland, Oregon, Rovics is still a prolific singer-songwriter, but as a "libertarian socialist" (along the lines of Noam Chomsky), he says, "I find it hard to join a 'resistance' movement that Chuck Schumer is a part of."
He finds a more sympathetic audience and more congenial touring atmosphere in Europe, where leftist parties and unions are well-funded. Squats also provide great venues: "They're well organized, and since no one has to pay rent, they can afford to pay the musicians."
Lyrics to songs like "If I Had a Hammer" hearken back to the folk tradition Rovics is part of, but with a contemporary twist emphasizing the isolation many of us feel. Watching the violence in Iraq on TV, the narrator asks: When I saw them fire on the children, it affected me. / I thought what if I were wearing the other shoe? / If I had a hammer, what would I do? As in many of his songs, resolution to this conflict is achieved by like-hearted individuals joining together.
Rovics' style varies, from the quasi-whimsical "No Frackin' Way" to the gritty and ominous "I Can't Breathe", about recent police killings. Almost all of his songs use narrative to develop a human connection to the issues at hand. He also utilizes tales of successful people's movements from history to give his audiences hope.
The music of Kentucky-born Bob Wickline, on the other hand, sounds a lot like commercial country music. But anyone who's listening won't be lulled into complacency. His lyrics carry a punch. Note, for example, these lines from his song "What Will Become of Lady Liberty?": If we're one nation under God, God must be disappointed, / Unless the God of abusive power and greed was recently anointed.
Now living in Washington state, Bob often plays with his family, in The Wickline Group. One of his songs, "Now's the Time to Put Children First", features his then-4-year-old daughter Marcee's voice. This song was the theme song of the Carter Foundation and UNICEF's "Children First" campaign.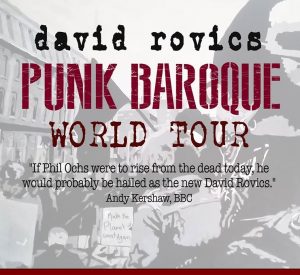 David Rovics–who has been compared to Woody Guthrie and Phil Ochs–is just starting his Punk Baroque tour of Canada, California, and Denmark–"baroque" referring to his new instrument of accompaniment, a cello. You can also join his community-supported-art project. Or, ask your local Pacifica affiliate station to download some of his or Bob Wickline's music and play it on the air.