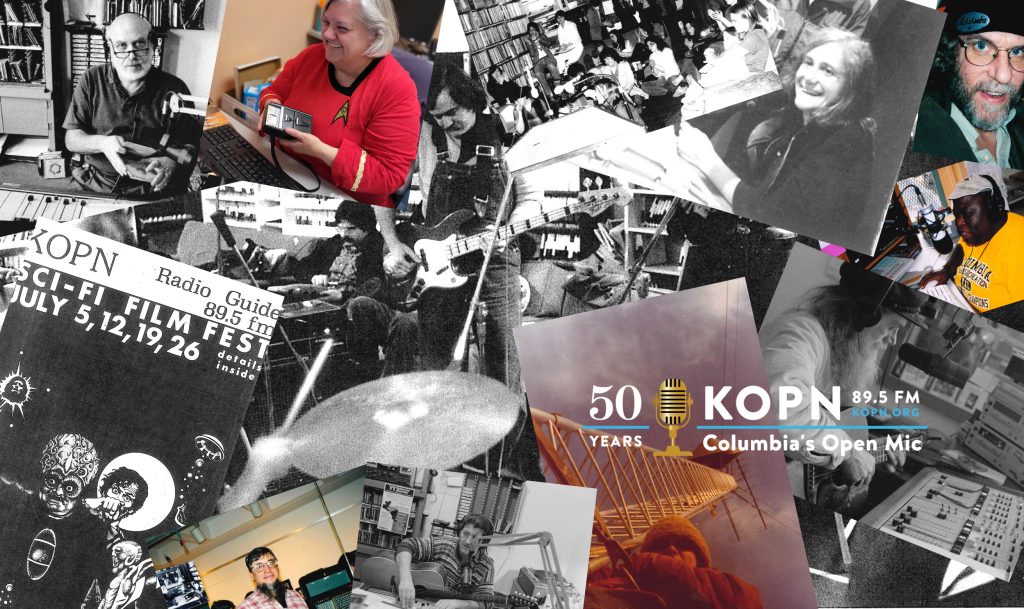 This 50th anniversary year, for KOPN and its community, is a year of celebration. Archival broadcasts are being revived. A reunion has been planned. A book will be published to commemorate station milestones. And, after 49 years, they have a new studio.
It is also a year for remembering.
In 1971, station founders, a small group of local university students, inspired by Berkeley's KPFA and guided by the Pacifica Foundation, by Jeremy Landsman and his work with St Louis station KDNA, set out to put KOPN on the air. The station's debut broadcast, on March 3, 1973, made KOPN only the 8th open access station in the country and the first to serve fewer than 100,000 people.
As it grew, the station introduced programming designed to serve women—no recipes, no gossip–, to serve African Americans, seniors, children, rural citizens, environmentalists, all while also developing an eclectic musical menu—reggae, blues, bluegrass, Celtic, salsa, and electronic.
Today, broadcasting from its new and larger studios, the station continues to innovate, creating now a new podcast network that operates alongside their on-air programming.
On March 24, I spoke with Jet Ainsworth, KOPN's Executive Director, about the station's history, about its place in the Columbia community, and about the events of their yearlong celebration.
This interview has been edited for brevity and structure.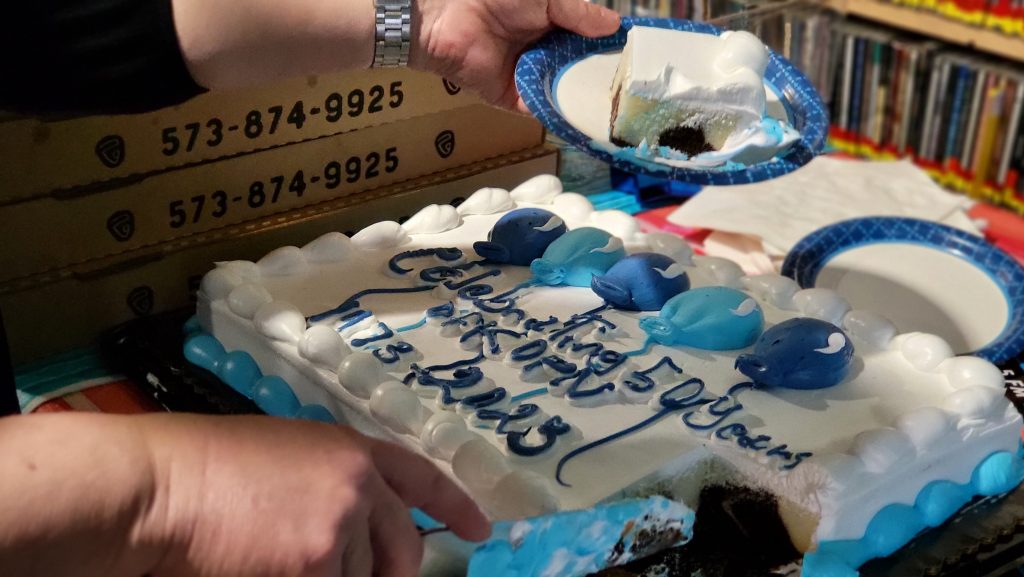 Diane: Congratulations, Jet, on the station's longevity and success. Fifty years is quite an accomplishment, and particularly so given KOPN's noted past. So, let's start by talking about what shaped the founding and design of the station and then move on to how that mission has continued to drive the station's programming and connection to community.
Jet: Absolutely. It's truly remarkable. Back in 1971, there was a group of students in town, in Columbia, attending the University of Missouri, and they were progressive thinkers. At that time, [these] weren't easy opinions to have, things such as equality for one. So there weren't a lot of media platforms available that would provide for different cross sections of the community. [These] students [then] decided to make an underground newspaper, and they began writing their own stories, their own opinion columns, and distributing this newspaper on their own. That turned into a movement in 1973 to raise money to build a radio station [to] provide a real public platform over public air. That station became KOPN with the OPN in the call letters representing openness. And the legacy of those original ideas, which at the time were segregated and maybe even minimized or silenced, now in 2023 is exactly what people are looking for. It's phenomenal that those folks that fought so much 50 years ago were right and, now, in 2023, it's actually easier to be KOPN than it was in 1973.
Diane: And what has been the impact on programming…on specific programs or on the station's general approach to programming?
Jet: Programming in a community radio station is always going to be what the host is motivated and emotionally attached to presenting. At KOPN, we allow for all voices, all diverse musical tastes, and as a staff we do our best to use what public money we raise to support those endeavors, and that includes new equipment, that includes coaching and training.
We're a little bit different from the 70s and 80s and 90s. During [those] decades, there weren't a lot of professional industry people working in community radio. It was rare. [Now] I can bring in well-decorated broadcasters, hall of fame broadcasters, and they can teach classes. We've established ourselves as an educational institution. Now we can back that up with real training and real coaching from people that have real experience. So, we go from the original idea by the broadcaster, find out what their aspirations are and help get them to what they want to be.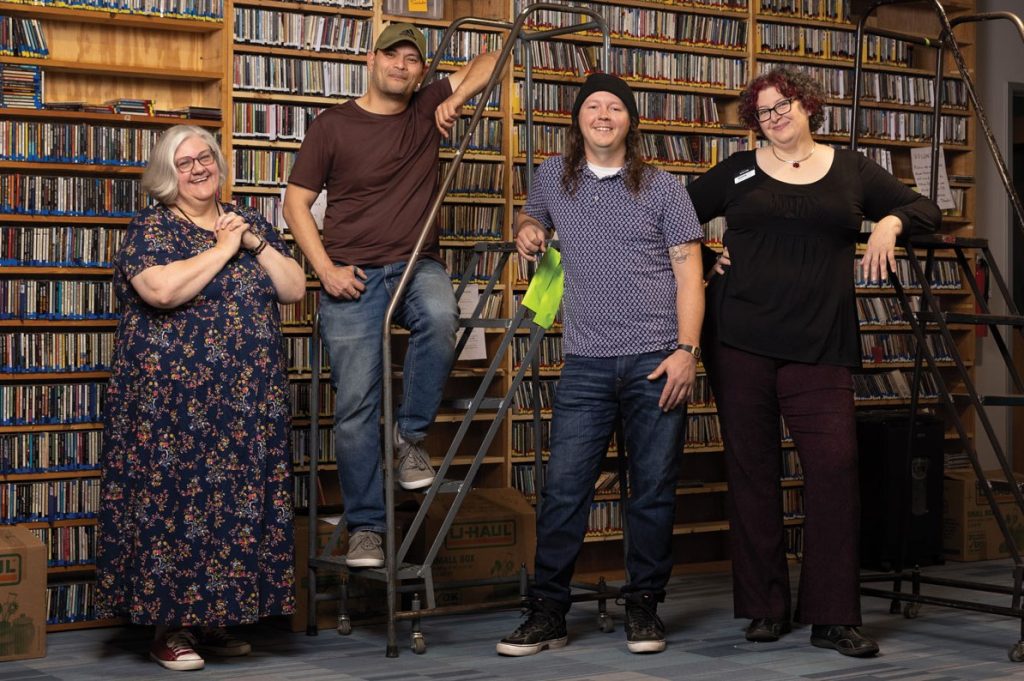 Diane: And that's a good transition to talk about how the station stays connected to the community.
Jet: Absolutely. Yeah. It's a pretty phenomenal thing. And it's an emotional thing to wrap your head around, that people have over the years developed such an affinity for a single radio station that they will do whatever they can do, that their bank accounts will allow them to do, to make sure that in some form KOPN stays on the air and stays accessible, and so the structure of everything is enough to make someone emotional.
The beauty, I believe, of community radio, is that it's volunteer based. Most of those folks that have spent time at a community radio station have other endeavors outside of the radio station. What we do is utilize all of those connections and networks to participate in events that maybe other radio stations wouldn't jump at. And it actually fits our mission.
So, for instance, we have folks on our Board that are organizing the Columbia Earth Day event in April. And we're able to be a part of that, able to reach out to thousands of people over that weekend. The same goes for Pride Fest and movie premieres from independent filmmakers and putting on big concerts.
This year, in the 50th anniversary year, we have a lot of big community events that [are] more general public events, like a Brain Bowl which is a trivia night. We've had talks about having a lawnmower riding competition as a fundraiser, a best beard competition, a talent competition, all citywide [events]. So, we're trying to reach folks that didn't know that we have existed for years and years or folks that are already engaged with KOPN that would like to introduce us to different community groups. And, by doing this, two or three times, the station's connection is really escalating quite quickly.
Diane: Your staff is primarily a volunteer staff. Is that right?
Jet: Well, we have four staff members. I'm the Executive Director. We have our Administrative Manager Julie Aston, our Operations Manager Dylan Martin, and our Underwriting Director Sarah Catlin. Then we have anywhere from 50 to 70 volunteers as well. And we believe, if they're inspired and motivated, and they're given the tools to be successful, that they turn a four-person staff into a 70-person staff, which is a huge advantage. When you look around at commercial radio, where stations have been downsizing, [you see] that community radio and public radio or anything that's volunteer-based actually has a much bigger advantage than the commercial stations.
Diane: In one of the articles you sent, you reference making sure that people know that a radio station is more than a playlist. And that awareness is important to bringing in a younger audience. So I'm wondering how do you do that?
Jet: The more than a playlist aspect is always remembering what separates live radio from any other media. One is the sense of urgency as we're able to cut in for a traffic update. We're able to cut in for severe weather. Also we provide personality. A commercial radio station [is] essentially a syndication; you're losing the local influence… A commercial station will sell advertising to keep themselves on the air, and then once a year they'll do one big community event and raise a bunch of money for a charity, but then you really don't see them in the community until the next year when that event rolls around again.
So, at KOPN we're a totally different animal. The lifeblood of our existence is based in being connected with the community, whether it be tagging along on events, creating our own events, having a community calendar, being communicative with newsletters and with our social media platforms. Just a couple of days ago, we had a Columbia Public Schools School Board forum, and no other radio station in town is doing that. Transparency I think is the biggest thing that we all recognize in today's politics… So, it is crucial for us to be a C-SPAN and deliver.
So, when I say we want to be more than a playlist, there is a responsibility for all of us that open up the microphone to know that, when people listen, they're not just listening for a cool song. They're also listening for their friend that they tune into every single week. And, that relationship is a real relationship.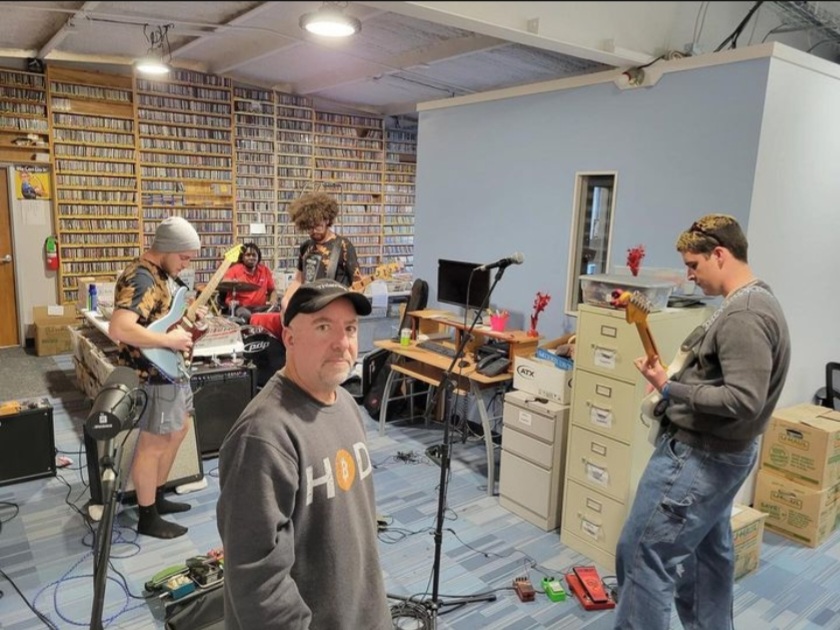 Diane: And connecting with a younger audience?
Jet: Here at KOPN, we generally have about two to three, maybe four volunteer applicants each week. And, as we've continued with our community outreach, we've noticed that we've had a lot of younger volunteers, folks that are 35 years old and younger, [and] that they're not asking for a radio show. They're asking if they can do a podcast with us.
And so we've created a brand new podcast network that works alongside our on-air radio programming, and it is focused on getting these younger folks coached and trained on how to produce a podcast. I'm not sure how many other folks you visited with in the past may have expressed this concern that, while they get plenty of volunteers wanting to host shows, they don't have time slots to put them in. And people eventually become disengaged and disappear. So, we think we've found a way to resolve that by essentially creating two KOPNs. There's the radio side and then there's the podcast side. This allows us to accept anyone that is willing to learn and produce their own show and get them started just as quickly as we could get someone started 10 years ago to be on a radio show. So we've actually been able to expand our volunteer group and get everybody rip-roaring, raring and ready to go. And they stay enthusiastic and they stay engaged and we're getting younger.
Diane: And I think I read that the design of the new studio will make this even easier to do.
Jet: Yeah, we're really excited about that. We've finally moved to a new facility. The building that we had been in for 49 years—which is a pretty historical building—wasn't built to be a radio station. We turned it into a station with duct tape and superglue. And now we're in this new facility with offices built in. And we turned three of those offices into studios. So we have a live studio, that's our broadcast studio. We have a second studio, which is our production room that also has live capabilities, so we can have two people on the air live in two different studios. And then we have a third studio that's going to be our podcasts and video production studio, and that can also go live if we decided we wanted to have a band in there. We'll make it capable for volunteer podcasters to be able to live stream video and their podcasts to the public. So this new setup that Dylan Martin has put together is really phenomenal. It fits modern times and fits the needs of our volunteers and the community at large.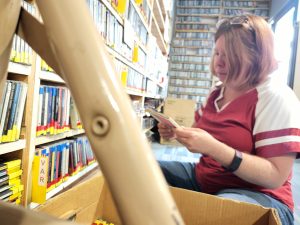 Diane: So now let's move to the celebration. Why don't you just talk about some of the many events that you have planned.
Jet: Absolutely. So our birthday was March 3, and we had a lot of stuff happening. We had what's called the March March for the True/False Film Festival. I believe it's still the largest documentary film festival in America, perhaps in the world, and it's in Colombia every year. We were in front of thousands of people in downtown Columbia. We were doing a 50th Anniversary Special where we brought in programmers and gave them an opportunity to give folks a 30-minute version of their program during the daytime, a time that they're not usually on, in front of listeners that normally don't hear them, every 30 minutes a totally different show. And it was a surprise for listeners because we didn't pre-promote what they were going to hear, kind of a throwback to old community radio where you didn't know what was going to happen next.
In April we're going to be part of a two-day Earth Day Festival celebration in Colombia. Later in June, we have a KOPN reunion weekend. We're reaching out to anyone that contributed either a show or were on the board or just volunteered or helped organize our music collection. We're inviting them back to see the brand new radio station that they helped build and also to see where their legacy is still being honored to this day.
Diane: And I believe there's a book in preparation.
Jet: Yes. Margo Macmillan. She's been a volunteer at KOPN for the better part of 25 years. She's published seven or eight books and she decided to put together a coffee table history book with vintage photography and stories from the folks that were movers and shakers at KOPN over the last fifty years. She made a public call for submissions, maybe some old copies of that original newspaper. And then we have Trevor Harris, who has put together a weekly show of long form interviews with major contributors to KOPN, behind-the-scenes stories. He's also producing a film based on these interviews.
And all of those ideas came from the volunteers themselves. All we've done is help support their endeavor and give them the equipment they need or provide professional insight or direction. We don't have a hierarchy necessarily of one person in charge telling people what to do. It's more of a be-in-service-to-others type of attitude.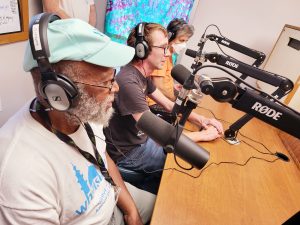 Diane: So, let's follow your reference to hierarchy. I know you are a relatively new Executive Director. Can you talk about your background and what brought you to KOPN?
Jet: Absolutely. It's kind of a funny story. I had been locally in commercial radio for 20 some years. We have about 16 radio stations in this area, and, at some point, I've worked at all of them. And then I ended up taking a position about 10 years ago with a company called Learfield. They're the largest sports radio network in the world, and they broadcast college athletics for over 200 schools across the country. So I have experience from the top down, and I brought that expertise and knowledge.
The funny part of the story is that I'm also a musician and a filmmaker. A year ago, I was making a film about a radio station that had fallen on hard times, and a group of DJs that were getting fired left and right had to put together a pledge drive to keep the station alive.
When I filmed it, I was looking for locations that would fit this aesthetic of a radio station that was well lived-in, that looked worn out and tired. And I went into the old KOPN building, and my eyes opened wide seeing all the vinyl records on the walls. I was like, 'This is perfect for the movie.' And so we shot the film.
And then, [some time later on,] I was visited by a woman that was on the board at KOPN. In conversation, she asked if I knew anybody that would be interested in applying for an Executive Director position. I asked what station, and she said, 'KOPN.' And I was like, 'Oh my gosh. I shot a movie there a few months ago,' and she goes, 'You know anything about radio?… Well, why don't you apply?' And so I applied. I was hired on July 4, 2022. And that's how I ended up in this chair.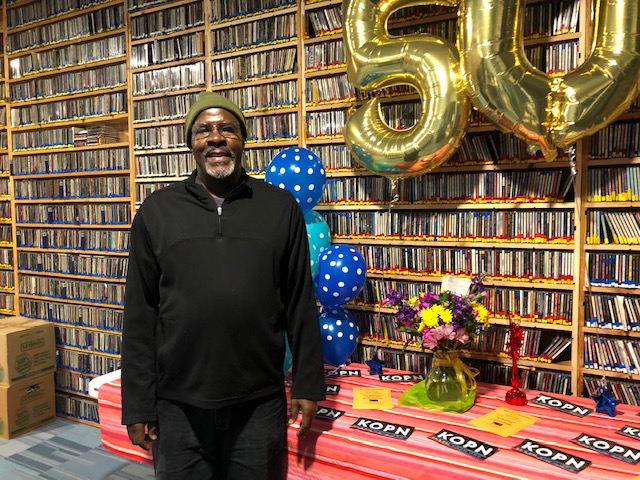 Diane: Sometimes the universe just tells you what to do.
So, last question. Often, when I'm talking to people who are new Pacifica affiliates, we talk about why they affiliated; but KOPN was with Pacifica right from the start. So what I'd like to hear about is what having that national network, not only Pacifica stations but the other affiliates, means to KOPN as a community station.
Jet: Well, [our Pacifica] programming is some of our most popular programming. So number one, working with a network that has the same mission and the same passion for providing platforms to the underserved, that's exactly what we want to do.
Then, we [also] look at it as an opportunity to teach and train our programmers to sound as good as possible. Maybe they have aspirations of being heard by a wider group of people in different states that are like-minded or have the same musical tastes. We see it as a partnership that can be twofold, where we receive this amazing well-produced programming and then eventually we can produce our own programming that other community radio stations can listen to and either just love or it will inspire them to improve what they do. I think all of it leads to the growth of a very talented, capable, and good-hearted community of people all across the country.
Diane: So, Jet, those were my questions. But please tell me if there is more about KOPN that should be said.
Jet: Well, I think all community stations revolve around this idea of unity, [of] being tolerant and open and I think that community radio stations [rely on the] basic idea of simply finding out where people are motivated to go, of providing the opportunity…if it's just to do their one show per week, that's perfect; and if they actually want to aspire to do other things, to also provide those opportunities. It's really hard to run a community radio station; but, with a little bit of organization and a little bit of vision, you're able to improve not just the enthusiasm in the building but also the engagement from your volunteers, just by going back to that basic idea of you tell us what you want and we'll make it happen. It is hard because, when you're in charge, there is that pressure that you want to do everything for the good of your station, but sometimes that power can get flipped and it becomes less about community and more about dictating. Running a community station the way you run any other business doesn't work. It truly has to be the other way around. The people run the radio.
All photos courtesy of KOPN radio.