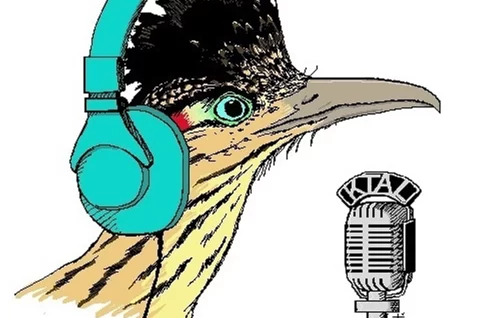 With a couple of pros to shepherd the way, a radio station got rolling fast in Las Cruces, NM.
The first helpful hand came in 2003 from a man named Todd Urick from the organization Common Frequency. He reached out to Kevin Bixby, the Executive Director at a nonprofit called the Southwest Environmental Center. They chatted through email, and Todd notified Kevin that, in two weeks, the FCC would open a window for nonprofit groups to apply for the opportunity to launch a low-power FM radio station. Todd explained how the window itself would only be open for two weeks. Kevin took a minute to think and wrote back, "Todd, I'm game. How do I submit an application?"
Soon afterwards, Todd guided Kevin through the process and The Southwest Environmental Center was able to submit its application a day before the deadline. The FCC accepted it.
About a month later, Kevin got another email from Todd.
"The utmost community radio specialist now resides in Las Cruces, NM. CC'd to this email is Nan Rubin, Community/Public Radio genius. You should both chat; she can thoroughly tell you everything you need to do to put together a local radio station."
Nan and Kevin met. Nan was on board to help too and she immediately became a crucial partner in getting the project going. Kevin couldn't believe his luck.
Together they outmatched the competition, scouted a place for a transmitter, and signed a lease for tower space. In 2014, the FCC issued the team a construction permit.
After a lot of research and feedback from the public, the newly minted community radio station chose the plucky call letters of KTAL, which sounds like, "Que Tal," a Spanish expression that means, "how's it going?"
As KTAL says on their website, ""Que tal?" – and KTAL – asks: How are we doing together on this collective journey? Can we do things differently? What do you and what do we need as a community to thrive?"
This question continues to guide the leaders at KTAL radio, including the station's newest station manager, Zane Chaffee. A journalism major, Zane began volunteering at KTAL while in school. When he graduated in 2020, he got a job in commercial radio, quickly realizing he wasn't taken with selling radio advertising, he began looking to be an on-air personality or pursue work in editing. At the same time, Zane enjoyed playing music with his band, and, at one of his gigs, he ran into a KTAL DJ. The DJ remembered him and asked if he would be willing to come back and engineer a couple of shows. Zane agreed.
As Zane got more involved with the station, he learned that the manager was retiring, and it was suggested that he interview for the job. Luck would have it that he was hired. And he has been general manager for about a year now.
Recently, KTAL joined Pacifica Network. I spoke with Zane about his transition as manager of a radio station, the unique community of Las Cruces, how a low power signal can stretch for 40 miles, and KTAL's surprise budding fan base in Germany.
This interview has been edited for brevity and clarity.
Stephanie: Is being a radio station manager like you imagined it would be?
Zane: Yes, and no. It's been interesting, for sure. Interesting in a lot of good ways. And it's definitely been a learning process. I think I've definitely grown. Since I've started, I've learned so much. Every day that I'm going into work at the radio station, I learn something new. I'm kind of on the younger side for a general manager, I'm 25. And a lot of the volunteers that we have at the station are a little bit older than me. So I'm also learning how to work with people who are a little bit older, or who have some preconceived notions about me and my age. It's definitely been interesting, but it's been a good time so far. And I've really enjoyed it.
Stephanie: It's a community radio station dream come true. I mean, whenever we have meetings with network managers, people are like, "we need more young people." So I think your youth is a blessing to the world of radio.
Zane: Well, I appreciate that. Thank you.
Stephanie: Yeah, well it's true. And that leads me to a good opening question about KTAL. How is your radio station structured?
Zane: So currently, I'm the only paid employee. We didn't have any paid employees before me; it was all volunteer basis. And they were worried about finding a general manager after the old GM left. So they kind of scrounged around in their budget and came up with a wage that they could offer. And me not wanting to work in commercial ad sales anymore, I kind of jumped at the opportunity to be able to stay in radio, but also make similar money to what I was making as a beginning ad sales rep.
But in terms of what we have going on in our management, everybody is a volunteer. We have three different organizing bodies. We have our Board of Directors. So that's our treasurer, our president of the board, our executive producer, myself, and then the various other members of the board. They all vote on some of the decisions that the other committees will propose. Our other two committees that we have are our Programming Advisory Committee; they deal with personnel at the station who want to have a show, as well as what acquired programming we air on our radio station. It was actually the PAC 's suggestion that we join Pacifica because they wanted to be able to access some different programming that you guys had in your archives. The other one is our Operations Committee, which is all technical aspects of things. So we discuss, you know, what tech upgrades we need, how to solve some of our technical issues that we have at the station, and we deal with training volunteers in terms of how to engineer shows, and how to record promos. I'm a non-voting member on all these committees. I offer some input, but I mostly just communicate between the three different committees.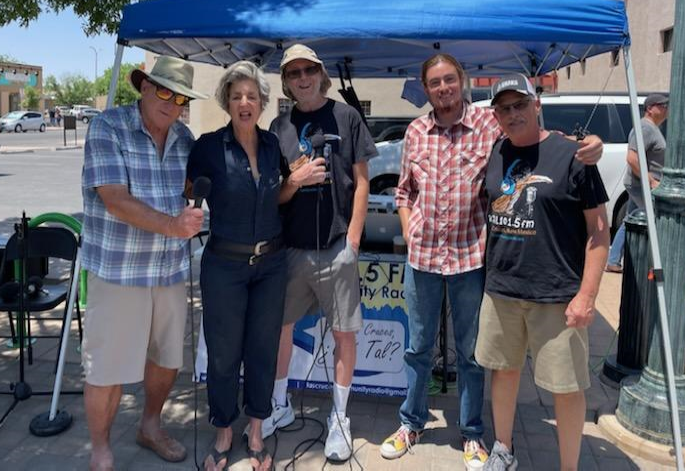 Stephanie: You mentioned that it was the Advisory Committee that suggested you join with Pacifica Network. I'm always curious how folks find out about Pacifica Network if they don't live near one of the big flagship stations.
Zane: I don't know how all these people from across the United States end up in this little town in New Mexico. but they do. We have a woman named Nan Rubin, who is a really big powerhouse. Her name carries a lot of weight in the community radio world. She started between 20 and 25 different community stations across the United States. She was living in New York for a little bit and was very instrumental. She ended up moving here. And then we had another person, Terésa Tudory, move here. She was in California at a community radio station called KOWS. They were a Pacifica affiliate as well. I don't know if they still are or if they're still around. I'm sure they are. They both knew of Pacifica. And, actually, it was Theresa's suggestion that we join, because she wanted to see if we could get the Ralph Nader Radio Hour to be part of our programming. I've been trying to get programming from the Pacifica archives. I've been trying to get everybody to kind of listen to that as much as possible. It's been a little bit of a slow process, but we're trying to get some of your archived shows onto our airwaves.
Stephanie: Your website says KTAL went live in 2017. Has the station gone through any big changes? Or has it been a steady build?
Zane: It's definitely been a steady build. When we first started, our budget was really small. I wasn't around at the time, but, from the stories that I've heard, they were struggling to find a space. They eventually got it all figured out through basically just generous donations of different volunteers, as well as some of the earliest listeners. And SWEK (Southwest Environmental Center) also really helped out with a lot of what became the early years of radio KTAL. So it's been a very gradual building. Currently, we've got a budget of about $20,000, which was, you know, at the time, unheard of. I'm really happy with it at the moment, because it was about 15 at the beginning of last year, and just to be able to not even have it dip, but add, you know, a couple thousand at the beginning of this year, means we're at least taking steps in the right direction.
Stephanie: KTAL is a Low Power FM station. How far does your signal reach?
Zane: We're 100 watts. We reach about two / three miles out to the east and west. But, if you look at a map of Las Cruces, right, and that's southern New Mexico area, there's a little town right outside of Las Cruces called Radium Springs we reach to in the north, it's maybe about 4 miles, maybe 5. but I want to say it's a good 40-mile radius to the south because we're in a river valley.
Stephanie: Oh wow.
Zane: Yeah, the geography really plays a big part in it. I will say, following when you get further out there into that river valley, out into Texas, it is a little bit of a fuzzier signal, but we reach some of the little community towns like Vado, Burino, Chamberino, La Mesa, and Mesilla. They can all hear us pretty clearly.
And then (40 miles south), when you head into Texas, there's another city called El Paso, and there's Trans-Mountain just at the top of one of those mountain passes. I don't know how but once you start getting up there, like, the signal drops. And then once you get to the top of the mountain, you can hear us crystal clear. It is so weird. I am not a physicist, but I've experienced it, so it's something that I can definitely verify.
Stephanie: You have been getting a good bang for your signal buck
Zane: Yeah. We've been slowly building our listener base here in the Las Cruces and southern New Mexico Community, but we also get a lot of streams from outside of southern New Mexico. We get people from Trenton, New Jersey, we get people from Salt Lake City, we get people from all over the world who listen to KTAL. We actually have a big listenership in Germany, because we have an Air Force base over the (northern) mountain range, and there's a German presence there of pilots. After they spend, you know, four or five years here, they go back to Germany, and they stream us on the internet.
Stephanie: Wait, really? So the German pilots listen to the station at the base and then they keep listening via stream when they get back to Germany?
Zane: Yeah. We get to see that through our analytics.
Stephanie: That's wild.
Zane: I don't know how the signal gets there. There's a huge mountain range in between us. But also, that Air Force Base is attached to a missile testing site, and it's a big military government facility. So I wouldn't be surprised if they were able to get radio signals out there.
Stephanie: So, changing gears, what shows are people drawn to when they listen to your station?
Zane: It kind of depends, because we have talk shows in the morning, and then we do a lot of music in the afternoon and evening. So it depends with the drive time. In the morning, we get a lot of calls in about some of our news shows.
Stephanie: You produce your own news shows at KTAL?
Zane: We like to say we're newsy. We don't have a newsroom but we do have news shows. Speak Up Las Cruces airs every Wednesday. We have veteran reporters. They're on our radio staff. They try and keep it fair, bringing as many different voices as possible. And they talk about the issues that a lot of local, Las Cruces people are going to be experiencing. But they also will throw it to more broad topics like what's going on in New Mexico news. And occasionally, you know, what's going on in national politics, that would be affecting New Mexicans [like] presidential elections, gubernatorial races, different things like that. They bring in other reporters, they bring in politicians, they bring in community members, and It's really good for the community.
We had another weekly show with one of the local newspapers called This Week in Las Cruces. It was the bulletin newspaper, they were doing a 20-minute segment where they would have an interview, and then they would just basically read from their newspaper. We're working on getting the bulletin to come back and do their show. We also have a podcast from one of the other newspapers here in town called the Las Cruces Sun News. They do an hour podcast, and they basically just dissect one of the stories that they wanted to get into. They also air it on the NPR affiliate station here in town as well. And then we play Linea Abierta from PRX which is Spanish news and talk. We play that every midday.
Stephanie: I love your call letters and the meaning behind them- how KTAL sounds like "Que Tal?"- "what's up" in Spanish? Your website says more than 56% of Las Cruces is Hispanic. So how do different cultures show up in your programming?
Zane: We do have some Spanish programming, but I'd like to maybe try and expand that a little bit more, maybe even get a local Spanish talk show. There's a Spanish newspaper out in El Paso, Texas that is really prominent. And I've been thinking about trying to reach out to them and trying to have a similar situation where maybe they could record a podcast in Spanish.
In terms of our talk shows, we have a show called Café Con Leche – that's actually Nan Rubin's show. She isn't Hispanic, but she does highlight a lot of Native and Hispanic community members. One person in particular, Diego Luna, is a member of the Tigua Tribe of Native Americans here in southern New Mexico. He is an historian and an anthropologist and an artist. And he's really involved with a lot of what's going on in southern New Mexico. We have another artist who goes by Saba, and he's a street artist. He is very much involved in Native Affairs. And he's been really important in the revitalization of the Picasso Arts District. And these two gentlemen are both really adamant about making the community more aware of Native American rights, but also Hispanic culture. They highlight a lot of different things through their art. And they come on to the show to talk about the different art projects that they're doing. Or in the case of Diego, he's coming on to talk about a lot of the anthropological digs that they're doing, like at White Sands, or in the local area.
We had an artist from northern Mexico come up, and he was doing an art show at the college here at NMSU. And we had him on to talk about a lot of what he was doing. We had another woman who came on and her great grandfather was involved in classical wood furniture making. And she had a book of a lot of his pieces that were just pictures of that kind of stuff. So we, I mean, if you go and you listen to the archive of Café con Leche, you can just hear so many different stories of people who are related, or are researching a lot of historical figures that were prominent in this area. Their stories are really fascinating, but they're also really important to be told.
Stephanie: And what kind of music shows do you feature?
Zane: Typically, when listeners write in, they are writing about our music shows. We have music shows that cover a wide variety of stuff. We do classic rock. We've just recently started doing metal, we've got a prog rock show. There is a gentleman named Jose Scalia, and he is doing a reggae show. We had a variety of folk shows, but now we only have two. There is a show called Latin Alternative, and it plays music from Brazil, all of South America, all of Mexico. It will play music from the United States, Canada, Sweden – as long as it's in Spanish and being made by and sometimes doesn't even have to be made by Hispanic artists-because we get music from the Philippines, we get music from, you know, all over Southeast Asia. As long as there's a Spanish influence, and it's in Spanish or Portuguese.
We have a couple of music shows that do themes. One show in particular, I remember during our rainy season, we were getting rain every single day. And they did a show about rain. So you know just songs that featured anything having to do with rain or water. We have a lot of shows that are like that. We have one show called No Small Talk where they'll have like a little intro, maybe 10 minutes of talking, and then the rest of their two-hour segment is just music. No, no commercials notice. Yeah. So I love both approaches. Oh, Julia Sanchez as well. I forgot about she does Megalithic Metal and Prog Rock Nation.
Stephanie: That's what I love about community radio. They curate. The people are just passionate about whatever genre it is. And they know facts about the artists, and they can tell when the song was written and always what the title is. I appreciate that. Some of these shows sound like they would fit well in our AudioPort database.
Zane: Yeah, actually, that was one of the big reasons why I thought, "Gosh, Pacifica would be a good fit for us." Because we're trying to get our shows out there. We're putting some of our shows on podcast sites. So we're definitely looking to put our shows further out there into the world. We have a show called Live True with our host, Lisa Lucca. And she interviews a wide variety of people. One of the interviews that sticks out in my head is she interviewed the lead writer for Friends. She knew her somehow. Lisa was doing a lot of production with different artists and touring artists and stuff worked with Lucas Arts. So she knows a lot of people again, this goes back to I don't know how all these really terrific people end up here in a small town in southern New Mexico, but they do. So we're really utilizing a lot of their experiences.
Stephanie: This is a bit of a left turn, but what kind of bird is that on your website with the headphones? A Roadrunner?
Zane: Yeah, it's our mascot. Chasey Chasem.
Stephanie: I love it.
Zane: JC is our de facto logo. And I mentioned the artist earlier. His name is Saba, he's a local muralist and street artist, and he actually designed our logo. So yeah, we try and keep it all community based here as much as we can. So he bears a Saba logo on the headphone section of that. It's a good little logo. I really think we have a unique presence.
Stephanie: Along those lines, anything else that you would like to say about KTAL's point of view as a station?
Zane: It really is just about being the community voice for the Rio Grande Valley. And here in southern New Mexico, we really try and highlight as many different community voices and we try and cover as many different community events as possible. We try and be as open to different voices as possible. The biggest thing that we advocate for though, having said that is just we try not to be a platform for hate speech, or just really any negative kind of talk like that. We're really trying to make sure that we're only highlighting positive things about our community. And, when I say positive things about our community that can mean things that people think need to change. So, we've had town hall debates, where we've had polite, but fierce debate back and forth about things that need to change and things that are impacting our community negatively. But overall we view it as a positive thing to be able to critique and to constructively criticize, you know, things that are maybe not the best within our community, whether that be politics, or you know, environmental issues, kind of going back to our initial parent company, Southwest Environmental Center. They really kind of tried to focus on being a green station, or at least as much of an environmental partner as we could be. So, we do as much recycling as possible.
So again, it's just about highlighting community voices, community stories, and just making sure that we're there for the community. And that's kind of where the music comes in. We're there trying to play music that people might not hear all the time. And we're just trying to keep a variety for people who want to have something different to listen to, rather than top 40 pop or hip hop, or even having like a classic rock station, you know, we're trying to show different things. And I'm trying to get to help the community and to be there for the community, not just to be a voice but also to be you know, a hand to kind of organize different events
Stephanie: So you want to help support other events that people are doing?
Zane: Yes. And then we also do a lot of community events as well. We try and benefit the community as much as possible. So when we do open houses, you know, we try and invite as many people as we can, because we like to do potlucks, and, you know, we try and have ways to have a meal together, ways to bring people together, but also ways to feed people. You know, a lot of the food that we have is leftover from certain events. You know, if it's unopened or if it's still good, I try and take it down to the pantry, homeless shelters, different soup kitchens. That way, the food can be reused and revitalized. And on my personal time, I've done some fundraisers, where we use canned food drives and stuff like that. So I'm trying to get the station to do similar events.
Stephanie: Awesome. Well, congratulations, you guys are building a beautiful station, and we're happy to be part of it. Thank you.
Zane: Thank you. Yeah, we really appreciate it, too. And we're definitely excited to be a Pacifica affiliate. Thanks for this opportunity.
Logo featuring KTAL mascot Chasey Chasem shared with permission of station manager Zane Chaffee