"I define my audience by asking questions."
Gerald Gaule
Founder of Community Growth Radio
Gerald Gaule's Community Growth Radio/Northwest Audio Information Service (CGR/N.W.A.I.S.) is a radio reading service…a definition that, says Gaule, often requires some explanation.
"You know," he says, "a lot of people do not understand what a radio reading service is. You have to give them a short education in a few minutes of what it does."
The founding principle is simple: This is internet radio for people whose visual impairment means they can't read for themselves. Its five streams of programming—audio offerings of books, magazines, newspapers, news and old-time radio—have been designed to serve blind and visually-impaired people 50 years of age and older and to provide additional specialized service to blind and visually-impaired veterans and Spanish-speaking listeners. This is also internet radio with a local touch. Broadcasting from Vancouver, Washington, the station pays special tribute to the area's history and culture.
On June 30, I spoke with Gerald Gaule about how he created the station and what the station brings to its audience.
This interview has been edited for brevity and sequence.
Diane –Hi, Gerald, and welcome to the Pacifica Network.
Your station offers a unique and essential service. So I thought we should start by hearing what inspired you to create a station dedicated to serving the blind and the visually impaired.
Gerald I started first [in 1995] as a radio book reader for the Oregon Coalition for the Blind in Portland which ran Golden Hours, a radio reading service that was on for nearly 50 years before they went off the air. I was [there] for many years as Project Manager, Engineer, Program Director. I even started one of their streams from scratch, which was an Oldies Network.
The thing that broke me away from them was when the FCC decided to open up frequencies in Portland for non-commercial or low-power FM stations. I said to these guys, "Now's your chance to apply for an FM station. If we get an FM station in our area, we will be the first nonprofit for the blind on the West Coast to have our own FM station. No one [would] need a special radio receiver; [it would] be open and free to the public."
So I worked on the idea for several months. I wrote up a 60-page proposal and went through the fine detail. [When] I pitched the idea, they were on board, [but[ then one of the board members got nervous and said no. Then other people started to say no. And so, after pitching and proposing ideas, I basically said, "I'm really sad this didn't work out. I think it's time for me to go." I gathered my stuff. I resigned that day. I sat in the car, [and] this is what happened. That moment I had an epiphany; it struck my head that I have a great idea. Why can't I start something by myself? I've got equipment. I've got program producers. I've got sources. I've got the minimum stuff at home. Why can't I start this myself, do something myself, a little bit better.
So I called up the President of the Evergreen Radio Reading Service in Seattle. They were going off that year after 40 years, and I asked her directly, "Would you give me some advice?" She said, "Well, if we had to do it again, we would run old-timer shows." And that gave me more inspiration. So I went home that day, and, within 12 hours of my leaving, I got a stream going and I slowly built the network, Community Growth Radio. I started by those inspirations.
Diane –Your station serves your audiences through the many streams CGR offers: programming for visually-impaired people over 50, veterans and Spanish speaking communities. How did you come to focus on those target audiences?
Gerald Well, I started CGR1 with the intention of serving the blind, the visually impaired mostly; but I did some research on the other radio reading services, on who they served, what ages. Then I launched that station with the intended audience of 50+ visually impaired persons.
Eventually, I started to run out of room for programming because a lot of programs wanted to come on the station. It was filled up with scheduled programming from the International Association of Audio Information Services (IAAIS) and other sources. So I said, well, I could remove some programs, which I didn't want to do, take away anything from the listeners. And, so I started a second stream, CGR2, a few months later, with carry-over programming [from] Number One but a little bit more entertainment and music, [especially] by visually impaired artists and musicians,
[Then] I said, "Well, how am I gonna do this different?" I started to get more ideas. "Hey, why don't I include veterans. They're not really served in our area. Why don't we do something for veterans specifically targeting them and their issues?"
I started to look around for various podcasts and program producers that dealt specifically with that target audience, visually impaired, disabled and veterans. So I started CGR3 with programming specific for veterans with issues like health and finance. As far as I knew, there was no regular full-time service on the West Coast [like it]. There were some stations that carried some podcasts and programming for veterans [but] nothing full time. So I started number three.
Then I said, "Well, how can I make it serve more and better? How can I make it more inclusive?" I did some research. And, as time went by, I started CGR4 for the Spanish-speaking community which was not served here. There are maybe six to eight Spanish-formatted stations in our area with music, but nobody was serving [those in] that community who were blind and visually impaired, disabled. And, so, I said, "I've got the time. I've got the resources. Why don't I do something like that?" I added readings and programming from other radio services and podcasts and program producers that I knew of who did specifically that format.
As time went by, I would go in the back of my mind to [recall] that the Oregon Coalition for the Blind [where I started] had had five streams. One was for news and information; one was for book readings. One was for folk music and music by visually impaired artists. And they had a fifth one, which I started, which was for Oldies. So, I decided to add more programming specifically for veterans who served in Vietnam. I started a fifth stream that was more towards entertainment.
Then, I got a hold of Pacifica. I thought these people will think I'm out of my mind. He's a little broadcaster with a small station in Vancouver, Washington….It's so niche you know. It's not an AM; it's not an FM; it's not a low-power FM, non- commercial….I wrote an email to Pacifica one day. I got a phone call two days later. We worked out something. It gives me a little more validation, a little more seriousness as a radio reading service….I thought they were going to say no, and I'm really grateful they said yes. I'm very grateful.
And I [also] started to get programming from the American Council of the Blind. Things evolved one after another. I guess you would say it was a happy accident. I was looking to improve, and that's how I built the station.
Diane –In something that I read you said that this is the only such service in Washington and Oregon. Is that still true?
Gerald –That is still true. The Evergreen Radio Reading Service hasn't been on the air for a while. Spokane [once] had a similar service. Golden Hours went off the air. So, as far as I know, I'm the only one that does this in Washington and Oregon.
Diane –In one of your emails, you reference that your service is different from conventional reading services. What's the difference?
Gerald I would say the difference is I wanted to go beyond book readings and magazine readings, you know, the news, just the basic stuff.
I'm always trying to think outside the box…what can I do better, to catch the audience, [to] make a listener happy for a few minutes with something each day. My goal is, at the end of the day, they enjoyed something, a song they forgot about.
I started to find old-time radio shows or historical clips or audio clips that were related to the Northwest. I had some I recorded as a youngster on cassette or reel to reel tape. One of the clips is when FDR came out to the Northwest to dedicate Timberline Lodge and one of the dams on the Columbia. So I started to find pieces of audio that were Northwest related. One of the pieces I found [was when] Bob Hope came to Fort Lewis Washington near Seattle. He did a radio show from Fort Lewis, and I thought that'd be a great addition. I tried to grab as much as I could that was a little bit different. I added music from blind or visually impaired musicians. I'm always trying to make things better, to make this whole system run better.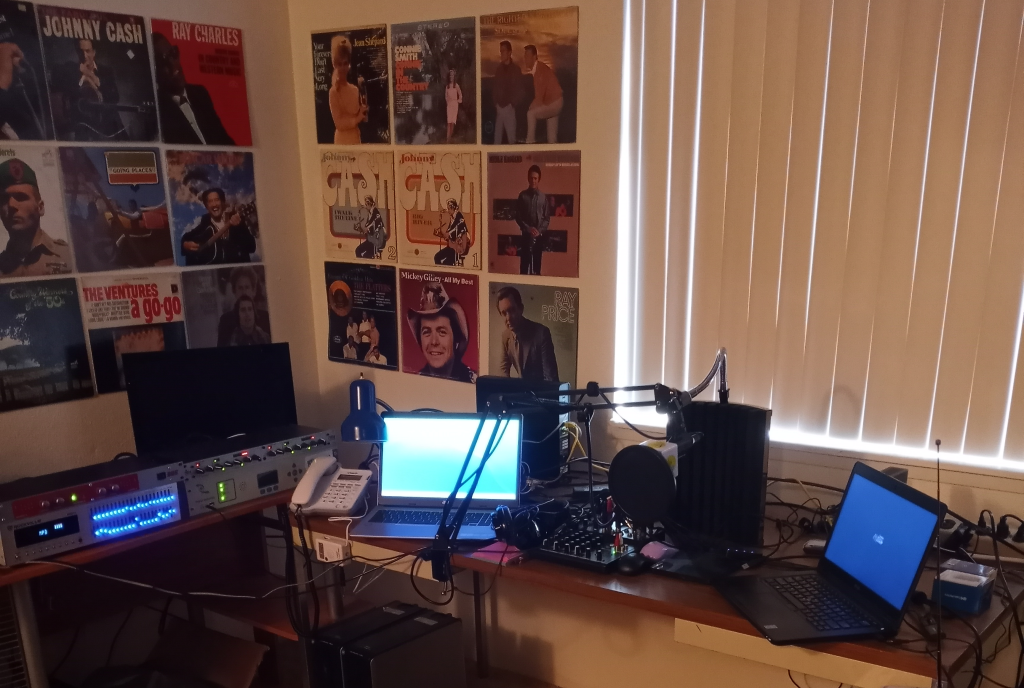 Diane That's inspiring! Let's talk now about some of the specific programs that you air and what languages they are in?
Gerald –Yeah, starting with the languages. I knew there were book readings, free public domain readings of books in several languages. And I noticed that no one was really doing anything with languages. So I went to Librivox and started to add languages in block hours on CGR1. I ended up with 40 or so languages in all.
The stations are [all] block programmed. Some of the other programs that I carry are from program producers that I know. I decide is it gonna fit. Very rarely do I ever turn [someone] down. I'm pretty open-minded. I'm not conventional. I want to better the station, not to have an ego.
Diane –And you especially feature Old Time Radio. What are some of the shows that you have revived?
Gerald –Well, if it's not public domain, I stay away from it. I play old time radio shows going back to the 30s, 40s and 50s. I cut off at 1962. One of the shows I have, Have Gun Will Travel, ended in 1962.
The shows vary, comedy, drama. One of my favorites, I listen to every year at Halloween, is The War of the Worlds. The first time I heard that show, in 1973, I, honest to gosh, being that young, thought it was real. I screamed when the guy gets hit with the heat ray. I jumped out on my bed six feet in the air, and I go running out of the room. My mom and dad were laughing hysterically. It's such a masterpiece. From the beginning to the annihilation is 28 minutes. The world is pretty much wiped out in 28 minutes. That was pure genius.
That's just one show I have. Another is the CBS Radio Mystery Theater…which was done from 1974 to 1982. I found some tapes that were recorded by reel to reel by a gentleman that I knew in Portland. I carry that on Tuesday nights at 9PM.
Diane –Before we move on to talk about your listeners, I did want to hear more about your background. What brought you to radio to begin with?
Gerald –Well, when I was very young, I saw a DJ at a county fair, and I was just mesmerized by this guy playing records. So, as time went by, I built a little home radio station [with] a 100 milliwatts Radio Shack kit that broadcast a hundred feet or so on the AM dial.
[Then,} in 1977, I had a friend whose mom and dad ran a radio station. It was a talk format, and the studio was in downtown Portland. So I convinced my friend to let me sit in and watch what they did. I wanted to learn the business. So I would answer the phones. I would flip the switch for the network. And I did that for a couple hours a day. And that's how I really got the bug. I said I love this. I would love to do this as a career.
Diane –Where were you living when you built that first home studio?
Gerald I was in Ridgefield, Washington. My family had a farm. I worked and was raised on the farm. I would have friends over who would help me spin records. I built something that only went a few 100 feet. But I figured I gotta start somewhere. We didn't go to town that often. We were well-resourced. We grew everything on the farm. We had cattle; we had fruits and vegetables. And so, being resourceful and not being bored, I always found myself something to do. I was never bored as a kid because they put you to work right immediately.
Diane –And what brought you then to stations that offered radio reading services?
Gerald I knew about Golden Hours for many years. And I always wanted to be part of it. So I went up to Portland and walked in. I said I would like to be a volunteer. I didn't call or anything. If I wanted a job, I would just be bold. And [they] put me to work immediately reading. I wanted to be something, to serve people.
[At CGR,] I am the person that does everything. I'm disabled and I have some health problems. I support myself on Social Security. I'm married; my wife works. So it comes down to paying the bills. The big bills are paid; then I pay the bills for the station. It doesn't cost a lot, about 300 bucks a month or so for the basic stuff, the Internet, power, maintenance.
I had a wish list of equipment. So, as time went by, friends started to donate. I learned to be self-sufficient. And I'm not worried about making any money from it.
I'm trying to find my place in the sun and I'm happy with it, even if I don't make a dime from it, which I haven't. If I make someone happy for a few minutes, I'm okay with it. I accomplish my goal.
Diane –That's an incredible dedication. So, let's talk now about your listeners. How do they connect with CGR? How do they find the station? How do they know it exists? And how do they know what's on when?
Gerald –Basically either they find out from another person or do an online search or they go on social media. It's pretty much word of mouth. I don't have the money to advertise. The best way I could put it is just by tuning in patiently.
The scheduling I try to make as basic as I can, something regular. On Number One, I have the radio reading services, the newspaper, the book readings and podcasts. It's not a specific book at a certain time. [But} I try to block at a certain time for people to count on. Between 6AM and 7AM, book reading is going to be taking place or [an] hour's going to be devoted to Old Time Radio. I make sure it's not repeated within 72 hours.
Then midnight to 6AM, I play old time radio shows. Number Two is pretty much music and entertainment. It's not block-formatted. It's just various shows.
Diane: –And what do you know about your listeners?
Gerald: -They are 50+. I ask people who are visually impaired what would you like to hear. I cover day-to-day issues, finance, getting around, cooking. One of my favorite shows is called Cooking in the Dark. My audience always wants information on how to make their lives better. I go to the store and find someone who's a veteran, give them my card and say, "Hey what can I do for you? What topics can be covered?" I define my audience by asking questions.
CGR/N.W.A.I.S Radio is legally recognized as an audio/radio reading service by The International Association of Audio Information .
CGR/N.W.A.I.S is self-supported and listener-supported. CGR Radio is NOT a non-profit.