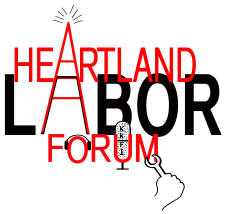 Today, the Pacifica Network recognizes Program Coordinator Judy Ancel and the group of workers and labor activists responsible for KKFI's Heartland Labor Forum.
Started in 1988, KKFI 90.1 has been Kansas City's independent, noncommercial community radio station for more than two decades. Heartland Labor Forum (HLF) went on the air in 1989 and is Kansas City's only program about working people and the work place.
A staunch advocate of "workplace democracy, the rights of working people, and economic justice," HLF's weekly programs connect local, national and international issues; foster alliances among workers of varied professions and skills; and make clear the sometimes unsuspected impacts of policy decisions, both past and present.
This year's programs have addressed "right to work" deceptions, cuts to education, the Trans-Pacific Partnership, slavery and American capitalism, and the opportunity immigration reform may afford to unions.
http://www.kkfi.org/program/heartland-labor-forum/
The program's coordinator, Judy Ancel, directs the labor studies program at the University of Missouri—Kansas City. The program's many contributing volunteers include artists, teachers, Vietnam vets, economists, union members, immigrant rights advocates, attorneys, map makers and musicians.
http://www.kkfi.org/programmers/heartland-labor-forum-programmers/
Heartland Labor Forum defines itself as "radio that talks back to the boss" and reminds its listeners that "other media have plenty of business news of, by, and for the 1%." Determined "to inspire, educate and enrage you," HLF "is for the rest of us."
"Heartland Labor Forum" is broadcast on KKFI 90.1 on Thursday evenings from 6:00-7:00 PM (CT) and rebroadcast on Fridays from 5:00-6:00 AM (CT). It can be live-streamed at www.kkfi.org. Programs are also archived on the station's site.