On May 21 and 22, KVMR 89.5 and its Nevada City hometown will host a regional radio summit sponsored by the National Federation of Community Broadcasters (NFCB).
The conference, according to the station's website, will afford "non-profit, non-commercial radio delegates from California and neighbor states" an opportunity "to talk about the future of independent media and radio's community engagement." Sessions will be held at the Nevada Theatre and other locations.
This summit is one of six NFCB regional summits. Nevada City is the smallest host city and was, according to NFCB Chief Executive Officer Sally Kane, chosen, at least in part, because of its size (2013 population of 3,057).
Rural stations, Kane noted, are "literally a lifeline for public safety information, arts and culture and basic local news…If we want to live in a country where every voice matters—the very essence of a democracy—we must have strong rural stations."
KVMR Program Director Steve Baker said, "This is a true honor for us…I've attended about a dozen NFCB conferences, and they've never been in small, rural locales like this."
The station, according to Interim General Manager Julie Chiarelli, is just now beginning to plan conference details. To read the station's complete story, please see http://www.kvmr.org/news/whats-next-kvmr-hosting-regional-radio-summit.
This announcement follows fast upon KVMR's recent move to new and larger studios.
In 2013, KVMR and the Nevada Theatre Commission initiated "The Bridge Street Project," a plan to build a new studio for the station and to add backstage space to the 150-year-old theater that would then be the station's new neighbor. Complete project plans are available on the station's website.
The station's new space includes two state-of-the-art broadcast studios, a performance space and space for pre-production. Equipment combines the new and old, including turntables and CD players.
The station's move was inaugurated with a ritual passing of the mic, handing "a microphone from person-to-person…starting at the old studio and proceeding across the street to a studio in the new facility, each saying their name."
The station is also holding a community open house on Saturday, March 14. http://www.kvmr.org/news/tap-tin-kvmr-makes-its-move-within-week
In addition to improved sound and production capacity, KVMR's new studios are also already allowing the station to expand its community engagement.
Broadcaster training classes, regularly offered by the station, were previously required to be held off-site. But now, this April's class will train in the new building's Community Room with a view of the two main studios.
http://www.kvmr.org/news/surprise-kvmr-training-class-be-held-atkvmr
Also, this weekend's Open House celebration will be followed, on Monday, March 16, with a live radio theater broadcast from the now adjoining Nevada Theater. The radio drama "Zephyr of the Old West" by Joe McHugh tells the story of a young woman's love for a Pony Express driver and "will feature 30 local actors, cameo roles and sound effects team personnel."
McHugh says, "There's nothing like live radio…I love hearing something on the air that resonates with you. Radio at its best is ephemeral; it's in the moment. And that's the magic of radio."
http://www.kvmr.org/news/live-radio-theater-comes-nevada-theatre-kvmr-march-16
http://www.kvmr.org/events/zephyr-west-radio-theater
At KVMR, that magic, the magic of radio and of community radio in particular, just got considerably stronger. This week, Pacifica congratulates KVMR, on its new facilities and on the community-building it supports.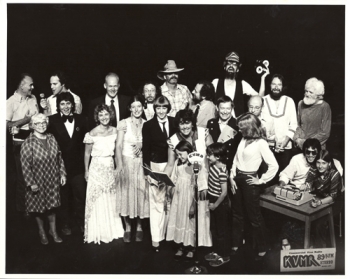 For more about the station's history, see http://www.kvmr.org/content/kvmr-story-0