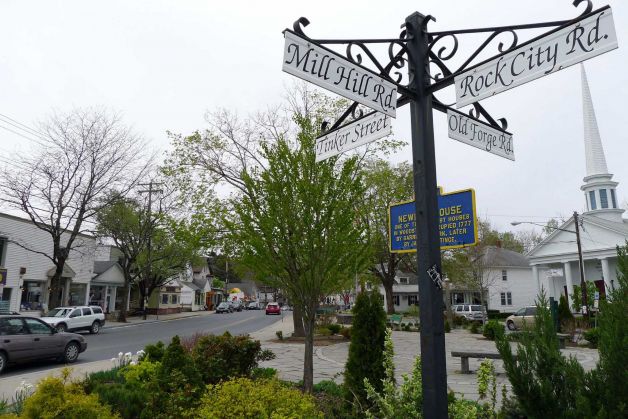 Most radio stations take using the name of their city of license for granted, as part of promotional activity and legal obligation. But if your city of license is Woodstock, New York, it may not be that simple. There, two local radio stations are coming into conflict over the use of the name "Woodstock."
WDST, is a commercial radio station that has been broadcasting from Woodstock since 1980. They trademarked the brands "Radio Woodstock," in 1994, and "Woodstock Radio" in 2002.
WIOF-LP is a newly licensed low-power station and Pacifica affiliate that went on the air in September 2014. According to Randi Steele and Felicia Kacsik, the radio enthusiasts behind the station, they have called their project "Woodstock 104" since they applied to the Federal Communications Commission for a radio construction permit in 2007. In a recent phone interview, Steele, WIOF Chief Executive Officer, said, "When we (also) submitted the paperwork to the state, that was to call our radio division 'Woodstock 104. Our New York State registration, stamped with a State seal and now hanging on our studio wall, is licensed to Woodstock 104."
WDST Station President Gary Chetkof claims that the new station's name constitutes infringement on WDST's trademarks.
WDST General Manager Richard Fusco told the Daily Freeman News on February 21, "(Steele) is perfectly able to say 'this is hippie radio' or 'tie dyed radio' – or whatever name she wants to call it – 'from Woodstock, New York'…The geographic location is what she is legally able to use. But associating it as the name of the entity…is an infringement on the trademark."
http://www.dailyfreeman.com/general-news/20150221/woodstock-radio-stations-in-war-of-words-of-slogans
Fusco argues that WIOF's use of Woodstock in its name will create confusion among listeners and notes that trademarks are critical to commercial success.
"We're an independent station in a market that has two of the biggest radio groups in the county," he says. "These are very aggressive well-financed companies that we compete with out there in the market and it's tough for us in this environment."
Steele says, "You cannot trademark the name of a town. That's restraint of trade." Steele doesn't believe any concession is necessary, nor does she believe the charges will ever go to court. Consultations with her lead trademark attorney have convinced her that WDST has no standing.
Steele has also pointed out that confusing the stations is highly unlikely because WDST is primarily a music station, and WIOF is predominantly talk format.
According to Steele, the dispute raises broad philosophic issues about the significance of local media and community service. She and Kacsik, WIOF's Director, assert that they have a right to name the town it has set out to serve.
Kacsik says, "We are a not-for-profit community radio station whose mission is to serve the community.Steele describes WDST's behavior as "predatory," noting that WDST's decision to trademark "Woodstock Radio" in 2002 coincided with the formation of Birds of a Feather Media, the 501(c)(3) non-profit through which she and her partner Felicia Kacsik first began the process of founding a local, community station.
According to Steele, WIOF and WDST are using the word "Woodstock" differently. Steele claims that while WIOF uses "Woodstock" to connote serving its local community, Fusco is justifying its use it for commercial success.
WIOF broadcasters say they intend to provide town-based information, including rebroadcasts of town board meetings, and to offer national programming provided by Pacifica, programming previously available only occasionally on local public access television. "Woodstock 104 offers itself as Woodstock's only noncommercial not-for-profit broadcaster to fill an audio gap," Steele said in her proposal.
"Woodstock 104" is equipped with dual backup generators and is thus able to provide vital emergency communications during inclement weather. Steele noted that, during Hurricane Irene, WDST was unable to provide emergency broadcasting.
Trademark infringement charges were made when Steele offered the town unlimited rights to rebroadcast station programming on local public access television, an offer that has now been sidelined by the current trademark dispute, although when Steele originally presented it to the Woodstock Town Board in February, it was initially well-received. There had been hopes for a mutually beneficial media partnership between the radio and television stations.
http://www.woodstockx.com/tag/woodstock-104/
http://www.woodstockx.com/2014/09/20/woodstock-airwaves-tested-by-birds-of-a-feather/
Steele, who moved to Woodstock in 2000, is a radio veteran with 40 years of experience in commercial broadcasting. She has become particularly interested in the differences between commercial radio and noncommercial radio as a community service. She has observed that, as a commercial radio station, WDST, which was once well regarded for its alternative music programming, has undergone changes over time, which have resulted in reduced services to the Woodstock area. Changes have included appealing to a narrower (older) demographic and a drastic reduction in live programming. Steele has also claimed that WDST has been reluctant to donate airtime to Woodstock's city government for emergency broadcasting or discussion about local controversies. Steele claims that these are exactly the kinds of public services that WIOF plans to re-introduce.
In a final analysis, Steele believes there is a fundamental difference between how WIOF and WDST are using the name of their community. Steele says that Fusco's suggestion that WIOF use names such as "hippie radio" or "tie dyed radio" as alternative tags are "condescending," indicative of a commercial station's narrow focus on easy association of the word with a now iconic festival (a festival that, it might be important to remember, didn't actually happen in the town).
Information in this article was drawn from a February 25 telephone interview with Randi Steele, from "Woodstock Radio Stations in War of Words of Slogans" by William J. Kemble (Daily Freeman News 02/21/15), from "Woodstock 104 Seeks to Fill Gaps on WATV" by Nick Henderson (Woodstock Times 02/17/15), and from "Woodstock Airwaves Tested by Birds of a Feather" by Gary Alexander (Woodstock Times 09/20/14).