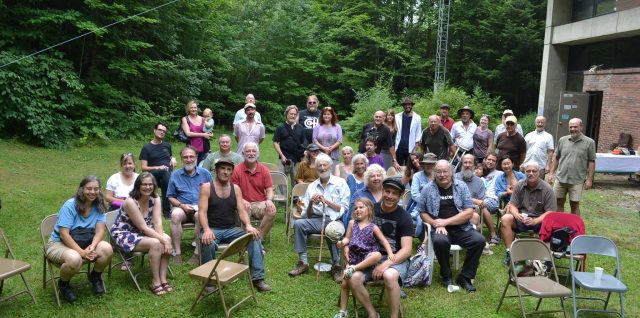 After nearly 50 years, WGDR is now community-owned. The Vermont station has changed hands from its original home at Goddard College to Central Vermont Community Radio (CVCR). In 2020, Goddard offered the radio station as a gift to the community, making it one of just a couple of full-power, community-owned and operated non-commercial stations in Vermont.
"It has been an honor to help this station continue and expand its role and legacy in the community. We hope that this gift to CVCR will sustain WGDR/WGDH well into the future," Goddard President Bernard Bull said.
"We thank Goddard College for this most generous gift to central Vermont!" said CVCR Board members.
The transferal of WGDR indicates a rare opportunity in community radio. Most of the time when college radio gets too costly, it simply gets sold. In the last 20 years, many university and college-owned stations have been sold off to compensate for tight budgets, including WUMD at Dartmouth, KTRU at Rice University, and WUEV in Evansville, Indiana.
Luckily, for WGDR, Goddard College made a different choice.
According to WGDR board member Jude Sargent, Goddard College was always a progressive school. Throughout the years, large rushes of students enrolled at specific points in history: in the 1950's when Goddard took a stance against fascim, when the G.I. Bill gave education credits to U.S. vets, and in 1967-1969, when the school attracted waves of counterculture applicants. By the early 1970's Goddard added a third campus and a graduate program in Massachussetts to keep up with demand. "Unfortunately, the college never had any endowment to make for a bit of security, and yet always made accommodations to try to fit a student's budget," said Sargent. "As the demographics shifted away from an abundance of traditional college age students to a smaller and smaller possible pool of applicants, New England colleges suffered substantial losses."
Vermont lost multiple schools to severe drops in enrollment, including Marlboro College, St. Josephs, Green Mountain College, Burlington College, and Trinity College. Hampshire College was also close to extinction, but due student activism, was able to pull themselves back from the brink.
When faced with the hard realities of low attendance and loss of CPB funding, Goddard College chose to pass the radio station on to the community; the one WGDR had been serving for half a century. Even in the beginning, the college station was open to the public as well as the college. The relationship was always there.
"We the Board of CVCR, wish Goddard all the best, yet know it is caught
in a larger situation in a world in which university after university is
cutting hard into liberal arts programs, and non-job focused academic
fields," said Sargent.
Now that WGDR is flying solo, they are exploring new ways of keeping their financial stability. "We're looking at underwriting, we're looking at writing grants, we're looking at big donors, and we're looking at many funding streams in order to keep this community radio station going," said board member Joseph Gainza.
In June, to help launch their newfound independence, WGDR announced a special goal of raising $30,000 in 30 days. As of June 25th, they are almost halfway there.
For decades, WGDR has been an independent voice in Plainfield, Vermont. They have long-standing popular shows like Acoustic Harmony, produced by the board's own Mark Michaelis. The other board members were proud to mention his program, noting his ability to dive into specific themes (every song he played on Arbor Day was about trees). Other beloved shows include Gathering Peace, and The Curse of the Golden Turnip (a program about gardening). They even have their own private weathercaster named Bob.
Talk more about the Turnip show here instead of the other shows?
So, what does WGDR hope to do with their new found freedom?
"We're lucky we've got so many great musicians through the hills here in Vermont, of all genres. And we've had lots of them," said board member and Acoustic Harmony programmer Mark Michaelis. "But you know, one of the things that I always like to do is have live guests on the program back when we could do that…just having this array of independent local musicians coming through is, you know, that certainly doesn't happen at a commercial station."
The board is also discussing ways to attract youth into the fold. In the past they had a large outreach program, which they are planning to revitalize.
"Radio is such a great medium that we have to keep alive, to find the younger generation that's going to recognize that and keep it going," said Michaelis. "I think it's such an important thing."
Inviting people from diverse backgrounds is equally important to the board.
"Vermont is a very white state, but we do have people of color living here," said Gainza. "And we want those voices represented in the programmers as well as our programs."
Board member Joseph Gainza agrees.
"We do need the diversity of voices that are diminishing across the major news and entertainment media. As the industry consolidates, the need for local low power stations, community radio, and the Pacifica Network grows more and more every year in this country. And if there's anything that I think is going to save our democracy, it's our ability to keep raising up the voices of the powerless… So, I think we can say that we're part of the democracy project," said Gainza.
To hear a live stream of WGDR in Plainfield, Vermont, click here.