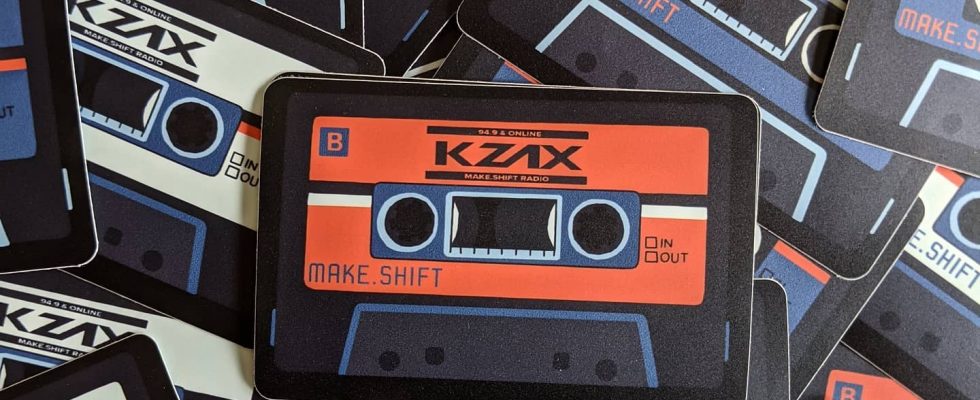 When Rick Chyme, KZAX's new station manager, moved to Bellingham in 2018, he knew that his first outing would be a visit to the local community radio station.
For the past few years, back in his native Michigan, Chyme had been hosting "Mind of Chyme," a weekly hip-hop show for WYCE, and he was hoping to bring that program to KZAX. A lyricist and hip-hop vocalist—he had once freestyled for over 17½ hours and was in the midst of recording 365 songs for 2018–, Chyme was eager to meet other Bellingham artists.
Chyme's proposal was accepted—his program still airs–; but Chyme also discovered an organization committed to supporting local arts and local artists unlike any he had previously known.
"I loved," says Chyme, "that an idea could go from just an idea to something that was here in the physical reality."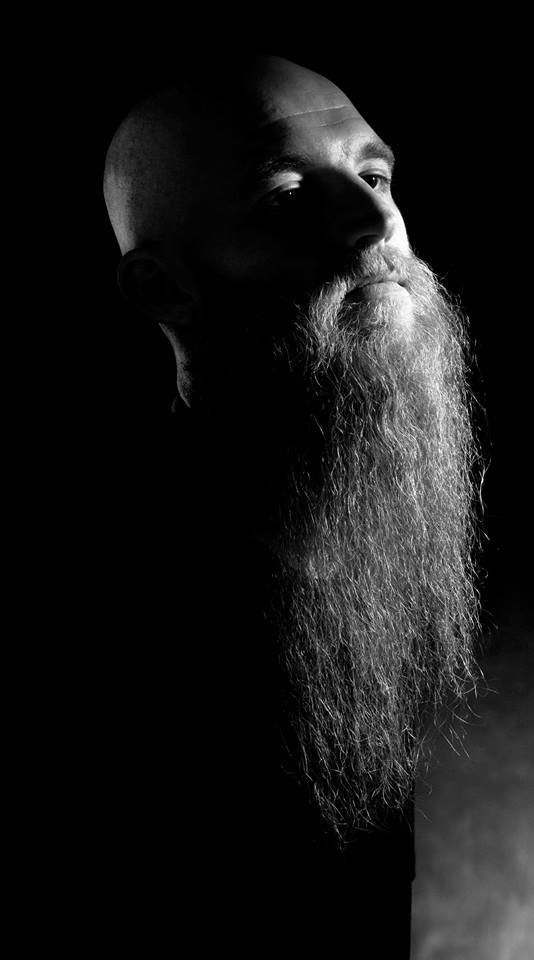 KZAX is one part of Make.Shift Art Space, a non-profit "maker's space" founded in 2008. Its first projects provided biodiesel vans to gigging bands and bike-generators for outdoor shows. Then, in 2011, a move into recently vacated space allowed the organization to expand. Today, Make.Shift offers 21 studios at affordable rental rates to visual artists and musicians, curates an art gallery, operates a performance space, and, since 2016, owns and manages KZAX.
This multiplicity, for Chyme, fills both artistic and personal ideals.
"I just think," says Chyme, "it's so unique that someone's band could be rehearsing in this room, getting a song worked up, now that song exists and [they] have an outlet for that to be spread to the community….As an artist myself, to know that you have a place that you can create and that it's going to reach—reach ears, reach hearts, reach friends—it's so important."
At 15, Chyme lost his father in an airplane crash, and, he recalls, "Sports and music quite literally…saved my life. When something like that happens, how we react to it and where our time goes and…more specifically where our time was going before that [protects you], so that you're not trying to find out what will I go to, you have some positive spaces to go to."
For Chyme, Make.Shift and KZAX have the power to be that positive space.
"That has me very excited," he says, "to provide spaces for whoever is coming up in this area, to have somewhere safe, somewhere that they know that their voice and their inspiration and their imagination can be watered,…that the 13 year old who is creating, maybe…in their bedroom, knows that this exists,…that the 5 year old who doesn't even know that they're going to be making that song on the piano just knows that this is where I go once I do my thing."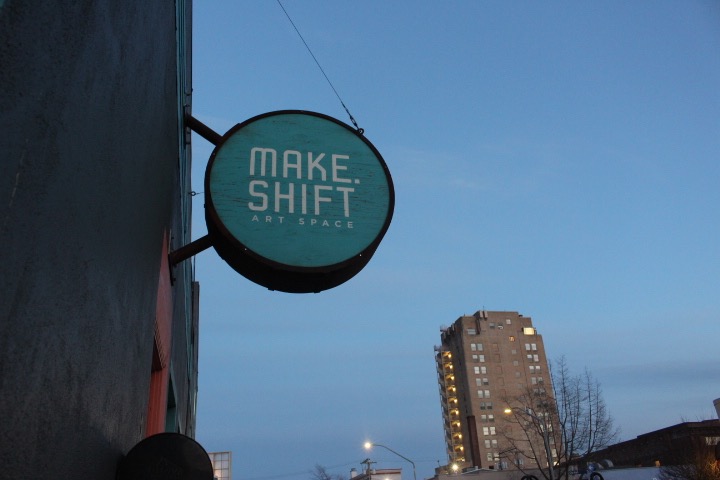 Chyme is supported in these efforts by Make.Shift's new Executive Director Jessyca Murphy.
Murphy, who stepped into her position in December 2020, has been with the organization from its 2008 beginning, as volunteer, donor, and Gallery Director.
From the start, Murphy says, she saw the organization as "a collective force to empower and also enable musicians to do more with their careers or with their aspirations." She always, she adds, "felt more drawn to organizations that were maybe a little bit scrappier,…that were willing to make more mistakes…and try to think about…consciously, 'Are the things that we're doing lining up with our morals and our ethics?' and I have always felt like Make.Shift was a place where those conversations were always happening."
A musician and textile artist, Murphy, like Chyme, has a background of work supporting people in need, victims of trauma, of sex abuse, of domestic violence.
"I think both of us bring a perspective of arts and music being the way that people can heal but also can be those protective factors that Rick was talking about….My goals," says Murphy, "for when I created art were the same as when I was doing counseling, that I wanted to be talking to people who were having a hard time and let them know that they're not alone….Those goals were simultaneous. Even though it was two seemingly different worlds it was the same objective….Creativity is not just an extra thing; for a lot of people it's your absolute foundation and needed in order for you to get through the worst parts of life."
These commitments, Murphy says, are embedded in the venue's slogan: "No drugs, no jerks, no booze."
"We have served a pretty vital role for folks that are overcoming addiction, people in the music and art scene who can't really get that involved in the community because most shows are at bars or most art openings have wine….We want to have a safer space that is inclusive… we also want a communal atmosphere where people feel like they belong, where there is a diversity of people, where we aren't harming each other,…that doesn't repeat the same injustices as the larger world."
As Executive Director, Murphy is determined to ensure that the local art scene thrives.
"I'm very passionate about the arts and…I've always wanted to dedicate my life to making community spaces where…new people and especially young people can come in, be creative and…find themselves….And a huge goal that I have both for Make.Shift and for my involvement in the scene is to make it sustainable in terms of people being able to have careers in arts and not have to leave Bellingham for greener pastures in order to reach their dreams."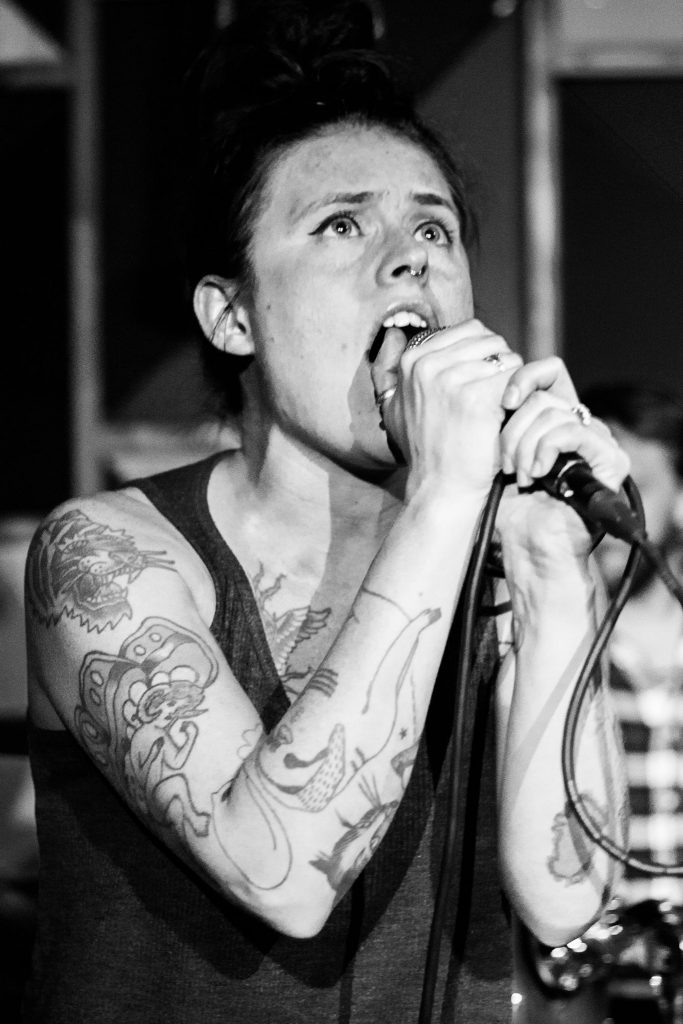 Since starting as Station Manager in April, Chyme, in collaboration with Murphy, has launched plans to expand the creative integration of station and maker's space. Current programs already cover a wide range of musical styles, all with an emphasis on local performers, on music of the Pacific Northwest. Now, though, Chyme would like to see the songs and art created in the studios more easily and quickly brought to a listening and social media audience, perhaps launching a show, a section of time that would be blocked off specifically for new local bands.
"I feel," says Chyme, "like a snowball that's going downhill and you just have to keep pushing." He imagines "creating some content to show the connection between Make.Shift and KZAX,…for instance, a time lapse of the artist who has a show happening in the Make.Shift set to a song from a local band with video shot by [an] intern."
The station, Chyme believes, has also been strengthened by KZAX's 2016 affiliation with Pacifica.
"One of the great things…about the Pacifica Network," says Chyme, "…is the great platform that you all have created to connect with other stations and other creators….We are going to be taking the steps to empower our volunteers to get their shows into that portal if they are interested."
Opening up again—like so many other organizations—after COVID restrictions, Murphy reflects, "I came on into this position in the middle of the pandemic. I was really floored by people's kindness of realizing that we were struggling…and people just continuing to support us even though I'm sure they were struggling also….I'm so thankful that, with so many people's time, we've been able to grow into a pretty central hub in downtown Bellingham for arts and music."
All photos used with permission by KZAX station manager Rick Chyme.