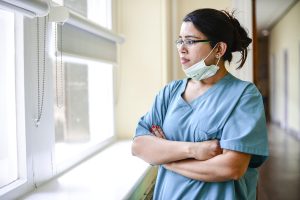 An interview with a nurse battling COVID-19 in the Bronx
For Patrick Simms's latest interview on KACR-LP, he began by disclosing a connection to his guest: he and Holly graduated high school together. For the past few years, Simms had watched Holly push back against right leaning classmates on social media. He said, "who better to hear from than a nurse in the thick of the pandemic epicenter of NYC, to get the insight, and to get the word out about her experiences and even now still having to defend herself from those claiming the coronavirus was a hoax."
After speaking with Simms on a lack of protective gear, an overflow of patients, and 13 hour shifts, nurse *Holly said the hard part of her job is that not enough people take the pandemic seriously. "And that's why sometimes I try to stay off of social media or talk to people just randomly because you run into that, and I don't know how to convince people any more than giving them numbers and giving them actual situations. It's-It's real."
In order to paint a current picture of America's hospitals, Holly gave Simms stark details, such as the 8 tractor trailers needed to transport bodies. She described how FEMA nurses were pitching in to relieve staff from burnout. "And we have other staff members that are sick. It's really hard to say how many at this point."
USA Inundated with Falsehoods
Nurse Holly recounted a grim reality amid our landscape of misinformation. Conflicting views on safety between doctors and politicians are heard daily on national television. Just, yesterday, the president of the United States implied that it might be a good idea to treat coronavirus by injecting disinfectant. Other ideas about the disease being a hoax or "just the flu," have also run rampant. As people have absorbed ideas suggesting the virus isn't serious, some have been protesting in the streets against "shelter in place" orders.
The protests have also taken place while the country has taken a record dive in unemployment numbers.
In her interview, Nurse Holly asked people to consider health care workers as people just doing their jobs with nothing political to gain. "Please stay safe people and stay at home. Help us to protect you."
*The name "Holly" has been used to protect the identity of the nurse in this interview.
Listen to the interview here.
Photo by rawpixel.com