Last October, WTSQ brought the Grassroots Radio Conference back to life. After a 3-year hiatus, radio folk were spending quality time together in lovely Charleston, West Virginia. Almost 150 people attended.
The conference opened with panel speakers from all around the country. Many presentations were given, including one entitled, Broke AF Broadcasting, by WTSQ's own Chris Long.
Amy Goodman of Democracy Now! delivered the keynote speech, noting the urgency of the condition in Gaza. She called for journalists to give voice to humanity wherever humanity was in need.
The local studio on 179 Summers Street was always open for visitors to check out, including of course, Amy Goodman.
When evening time came, grc-ers thrilled to mix in the downtown scene, with a beer or good food under little twinkling lights.
We spoke with WTSQ's President Damon Cater about his experience hosting the GRC.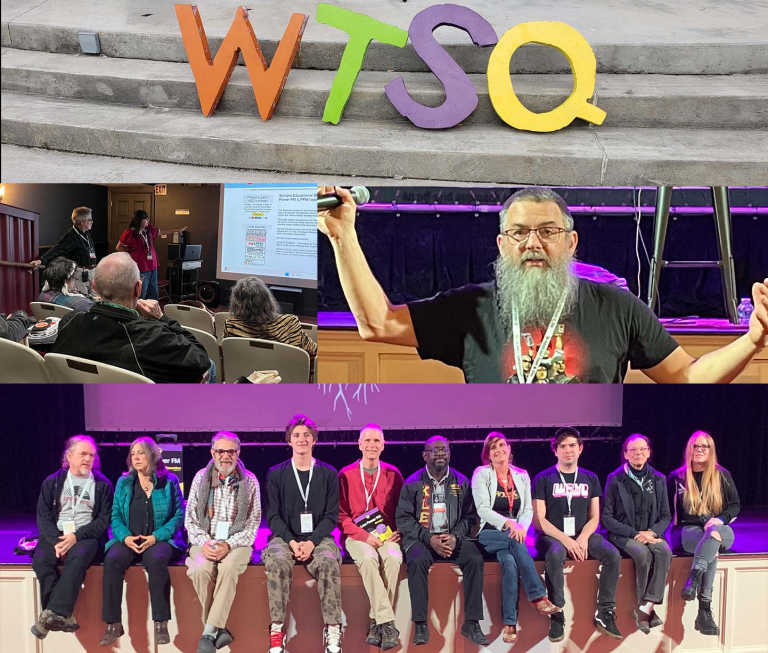 Congratulations on bringing the band back together after a 3-year hiatus! WTSQ hosted a lovely Grassroots Radio Conference in October. How does the accomplishment feel?
It always feels gratifying when things that you have dedicated so much time and energy to goes the way that you envisioned. But in addition to the sheer satisfaction of meeting our goals there is also excitement, and inspiration, having met so many interesting, and diverse people all dedicated to community radio. I am so proud of our community and volunteers for stepping up with so little reservation to make the GRC 2023 happen with such short notice.
Tell us a little bit about your team at WTSQ and how you came together to make the 2023 GRC happen.
So from the very beginning the only people at WTSQ that were involved were Chris Long, our founder and myself. In fact, our BOD was very hesitant in agreeing to this. We had to make the decision so quickly I think I might have created a little friction pulling the trigger on this. I have to give a ton of credit to the GRC steering committee, as they were the ones to help me frame up the concept of what we were aiming for. It would not have been nearly as successful without their guidance. Sharon Scott and Max Kelly particularly get a big shout out. Also I can't help but believe that Ursula Reudenburg from Pacifica was entirely instrumental in sealing the deal to get Amy Goodman to be our Keynote Speaker. And once it came to crunch time, our volunteers really stepped up to help make it happen. We partnered with Sage Soul Productions and Christopher Vincent to manage our venues and several of our DJ's stepped up to be greeters and runners and it all went off perfectly.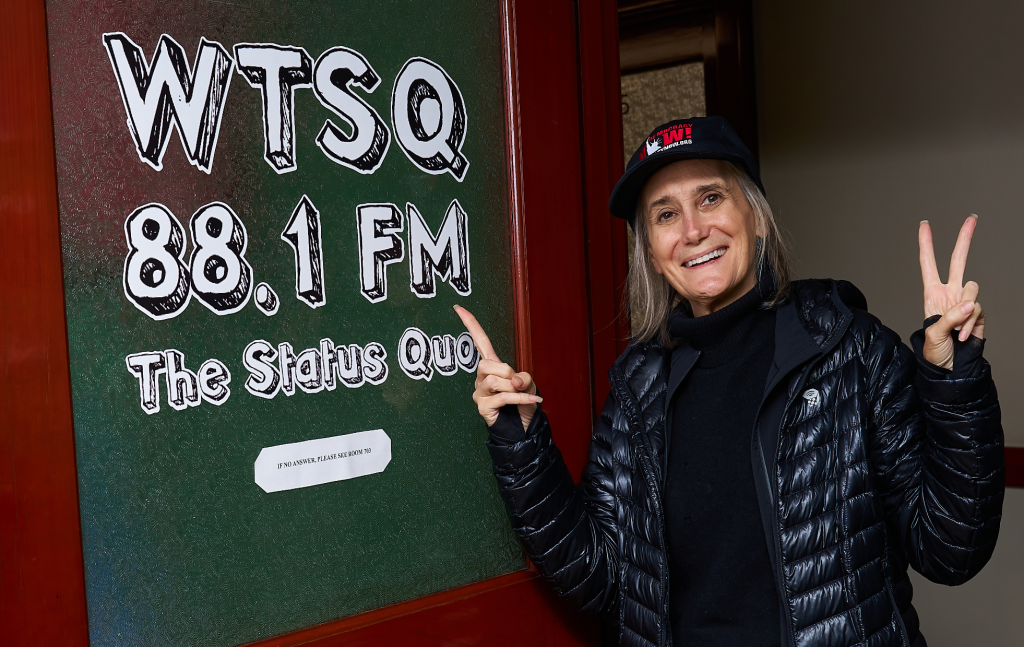 What was fun about hosting the GRC?
Any time that you are engaged in something that requires you to learn a lot of cool skills and build new relationships is fun. Especially when you know that these skills and relationships are going to be lasting and relevant to your future goals. So being the president of the station and knowing that there is so much to accomplish in this position, for our community, I found the entire process to be really exciting and fun. I'd never built a website from scratch before.
All of the underlying infrastructure had to be created, beginning with the outline, to the pro-forma spreadsheets, the basic organizational logistics of the conference to its execution and everything in between had to be learned. I loved the random phone calls out of the blue from people wanting to be presenters or vendors which would sometimes last for an hour. It was so interesting just talking to people who I'd never communicated with before and finding such a common bond. For instance the call just to confirm Amy [Goodman's] attendance with Denis Moynihan, ended up being a great conversation about community radio start ups and the dedication it takes to be the visionary for these projects.
What was challenging about hosting the GRC?
The most challenging part for me personally was juggling my time with my full time obligation as the CEO of Home Base Inc. I operate a statewide behavioral health and social service agency focused on the needs of children and families. I had a lot of overlapping obligations and had to make a lot of apologies to people while this was all being planned.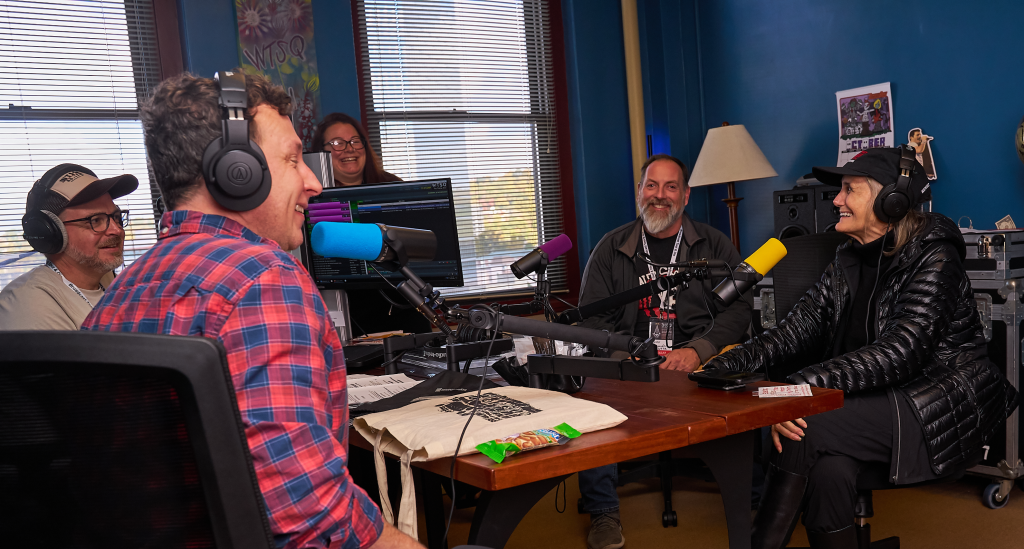 What is something you learned this year from the conference?
What I walked away with that I did not expect, was realizing the enormous untapped potential that this group of people and these organizations possess. I work with a lot of very smart people in my field. Everyone that I met throughout this whole experience presented as some of the most creative, and insightful people that I have met. And when you think of them as a collective, behind community radio stations, with purpose, and mission driven goals you have to realize that there is so much opportunity to effect change in our communities in this collective. And on a sad note it has to be realized that this is not happening. I also learned that while the potential is here, it is not being effectively utilized. There is a lot more that this group can be doing to impact not only their local communities but our national community writ large.
Keynote speakers and panel speakers touched on big themes this year, including war, wealth inequality, social justice, why community radio matters and the possibilities for radio's future . What message(s) from the conference do you think community radio stations should keep in mind as we move forward to 2024?
That operating a community radio station comes with a duty to serve the community. And that we need to always be considering and focused on the most marginalized people in our communities, whether that be a charity organization feeding the homeless, or a start up business trying to compete with a national brand in your downtown retail district. I will never forget Amy's advice to us all, "Go to where the silence is." We need to always be thinkng about handing our microphones to the people.
Any advice for future hosts of the GRC, as well as future online GRCs?
Yes. I'm glad you asked. I feel that this and future GRC hosts should be prepared to host for two years, not just one. In keeping with a lot of our previous questions, I believe that the GRC can be a much more powerful entity. I am imagining not having to focus so much time the second year recreating and building the infrastructure to pull off a conference and just focusing on getting the word out and getting as many stations as possible to attend. When you think about it, moving the GRC from city to city is , as Jim Ellinger would say, a "tried and true" conference paradigm. But when you think about national conferences that use this tactic to keep people coming, in most cases it's the same folks organizing the conference. When you recruit a new station each year, you have to expect them to build it from scratch each year, as we did. This requires the vast majority of the time and effort to be geared toward the how, where and who components. How do I advertise? How do I sell? How do I communicate? Where is this going to happen? Who am I even talking to? Now that all that work is done and in the bag, a second year conference can just build off of the existing infrastructure and the focus can be on engagement with new stations, spreading the word, creating post production material to build on the previous year. And with that, imagine 200 stations coming to the next conference!
And instead of passing on $1500 in seed money, maybe the GRC passes along $10,000 in seed money. Now we are talking about building influence and power for the GRC.
Aside from that advice or appeal, I would just add, get your community involved. This was not only a great event for our station and the GRC but our community got a lot of braggin rights as well.