The cultural melting pot of America. The capital of a state besieged by floods and corruption. The site of a high-profile police killing. A hub of Mardi Gras festivity. How could corporate franchise radio ever speak to the unique wealth and woe that is Baton Rouge? Simply put, it can't.
WHYR co-founder David Brown says he wanted to amplify the voices of the powerless.
We thought we could build on our call letters: Y R the politicians not listening? Y R we so poorly educated in Louisiana? Y R there so many pot holes?
Brown's weekly program Third Place grew from those principles. In sociology, the third place–neither home nor work–is where people gather and democracy happens. His interview show has addressed issues from the local bus system and break-away school districts to corrupt state governance and environmental issues.
WHYR is rightly proud of its talk programming. The arts and entertainment program Art Scouts provides excellent, detailed coverage of art in the Baton Rouge area. There's a high-quality poetry show, Poesis, and the locally produced Groks Science Radio Show. Environmental Update originates from the local Sierra Club chapter. Another producer started a live call-in show, A Pause for Thought.
Challenging Institutional Racism
Recent events in Baton Rouge—the police killing of Alton Sterling and the subsequent killing of 3 policemen—prompted special efforts from some of the station's producers. Eric Hatfield, Perry Daniels, and Gerard Piper, hosts of The Louisiana All-American Sports Show, provided two extended-hour programs to address the community's unrest.
Apart from sports ("Go LSU Tigers!"), the show has always been about social justice. Coach Daniels says the mindset shown by the Baton Rouge policeman who killed an unarmed neighborhood man "is exactly why we started this show." The hosts encouraged their guests' expression of grief and rage, but urged listeners to stay peaceful. "Violence, that's a war we can't win," said Hatfield. "We'll lose."
The Katrina Years
The station was licensed in 2004 as a coalition between LSU students and local activists but was forced to suspend construction when Hurricane Katrina hit the Gulf Coast in August 2005. When the organization finally regrouped, its founders discovered that their license had been hijacked. According to co-founder Brown:
Someone had hacked into the FCC website, represented herself as a member of our board and methodically changed the board of directors so that all of our names were eventually removed and replaced with a new slate. Her organization is called Heaven Sent/Ethics Incorporated…. You just can't make this stuff up.
It wasn't until several years later, when President Obama appointed new FCC members, that the station founders won their complaint and were given a fresh start: 18 months to be up and running. The rest is history: WHYR recently celebrated its fifth birthday on air.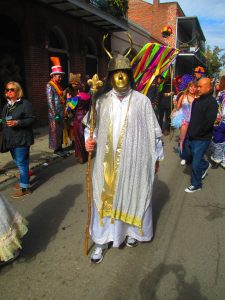 "If you're living life right, it's always Mardi Gras."
The Gulf Coast region is synonymous with great music. You could say it takes the raw ingredients of country, blues, jazz, rock, and hiphop, and simmers it up into a unique jambalaya. Or, you could just listen to what Robert Sherman has to say. His two-hour music show, Down the Road, kicks off WHYR's 7-hour block of Louisiana music on Sundays. According to him:
Early rock-n-roller Ernie K-Doe once said, 'All music comes from New Orleans.' Fifty years ago, it was early rock and roll; 50 years before that, it was early jazz. But believe it or not, no other local station plays what we play. It's a crime. Music is part of our culture. If you're living life right, it's always Mardi Gras.
Diversity is the station's hallmark. Look at the station's Facebook page, and you'll see black, brown and white volunteers working side-by-side. The on-air volunteers range from a professional Cajun fiddler to the one of the nation's most authoritative voices on jazz. Indeed, it's the same coming together of people from all walks that the region's annual festival inspires.
WHY community radio? WHYR is becoming exactly what this unique locale needs: a rich cultural treasury in an age of corporate homogeneity, and a visionary community that transcends the difficult struggles in which its members are, of necessity, deeply engaged.