XXTRA Special & Free is an extension of CELIE, a national non-profit organization aiming to expand access and opportunity to underserved and multi-cultural populations. XXTRA Special & Free acts as an online public affairs, media, and policy platform created for women of color by women of color. Recently, XXTRA has expanded it's to include radio. Founder and Publisher of XXTRA Special & Free, Anita Estell, says that she can see the change that is happening in media and the decline of local programming, specifically in regards to programming aimed at underserved populations such as women of color.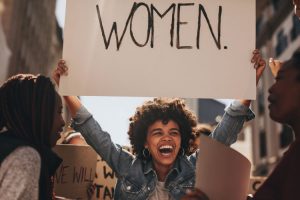 "We also noticed that there was not a specific non-profit platform addressing the public affairs concerns of women of color."
Estell says that XXTRA Special & Free stands for women taking responsibility in action. In November 2016, CELIE hosted the first Public Policy Conference for women in Washington D.C. Estell recalled. "The men and women who participated … were of every age every ethnicity every political persuasion. We had Independents, Republicans, Democrats. I think someone was 80 and then we had a 22 year old." She goes on to say, "It really was the result of that first conference where for the first time in U.S. history, a group of women responsible for leading policy efforts at the national level got together and identified their shared concerns … so it kind of really grew organically out of that gathering in just wanting to do something more indelible not only for current generations but for future generations."
The next steps for XXTRA Special & Free now is to build outward by adding programming to their radio. Programming that is of relevance to their audience. They are also planning to expand into local communities as well as do outreach in various other communities.
As XXTRA Special & Free continues to expand its online platform, they currently are lining up new contributors and content for the remainder of 2018, 2019 and beyond. Estell invites all to visit their website and tell them how they're doing. "The most important thing," Estell says, "is if there are ideas or content that anyone wants to contribute we have the platform; all folks are welcome. You don't have to be female; you don't have to be a person of color; what you have to demonstrate is that you are writing or making a contribution that's relevant to the advancement of women of color and their children in the United States and abroad."
We are excited to add XXTRA Special & Free to the Pacifica Network family. If you have content you feel would be applicable to XXTRA Special & Free's audience please visit their website at xxtra.org; go to the "contact" page; and email ideas you may have.