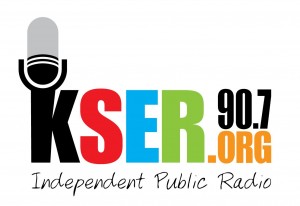 This week, KSER FM 90.7 and KXIR-FM 89.1 launched a month-long program of community conversations. Promising to be "Radio That Listens to You…," the sister stations serving Washington's North Puget Sound are hosting five sessions, an hour and 45 minutes each, in five different communities throughout their listening area.

The gatherings are intended to provide information about the stations' commitment to community and, the website invite adds, an opportunity to "listen to ideas about how we can continue to promote understanding, tolerance and civil dialogue by addressing social, cultural, environmental and civic issues."
http://www.kser.org/content/community-conversations-april
KSER, which serves Snohomish and Island Counties, is the only full-power public radio station licensed in Snohomish County. The station is proudly independent, claiming "the courage to sound different, to be different….and adventurous, by design."
Their community is passionate about quality music and about providing comprehensive public affairs programming.
From their website:
Operation of KSER is made possible by the dedication and efforts of over 100 volunteers who provide the programming, do the filing and bookkeeping, handle the cleaning, and perform all the other support needed to keep a radio station on the air. KSER's volunteers contribute over 25,000 hours annually to make their communities a better place to live and work.

Our local news and public affairs programming runs the gamut from County election coverage to environmental, labor, human rights, and social justice issues in the Sno-Isles. Our music programs cover the breadth and depth of musical creativity, from Bluegrass to blues, local to World music.
Currently, the station has approximately 13,000 weekly listeners, almost 1,000 members, and 3 paid employees. Nearly 50% of the budget comes from listener support.
Founded in 1991, KSER was initially licensed to the Jack Straw Foundation, the same foundation that, in 1963, had funded KRAB, the station established by public radio pioneer Lorenzo Milam and credited as being the second non-commercial, community-supported station in the United States.
KRAB went off the air in the early 1980s; but, in time, money from its sale funded the non-profit Jack Straw Production facility and KSER. In 1994, the station was turned over to the KSER Foundation, an organization created by a group of listeners.
http://www.kser.org/history
More recently, sister station KXIR grew out of KSER's dedication and success:
On Nov. 12, 2013, the KSER Foundation launched a new public radio station — 89.9 KXIR FM — that expands the reach of commercial-free, community-focused radio to 700,000 residents in the North Puget Sound.

By owning and operating KXIR, the KSER Foundation retains local control of the last full-powered signal in the North Puget Sound, ensuring programming will be influenced by the communities KXIR serves.
The new station broadcasts from Freeland, Washington, and will reach more than 712,000 listeners, at least some who currently cannot clearly receive KSER. The combined stations have the capacity to reach more than 1.3 million residents in 5 counties.