On Sunday, April 12, WRFN 103.7/107.1 FM – "Radio Free Nashville" threw a birthday party at the local Yazoo Brewing Company, toasting its first 10 broadcast years.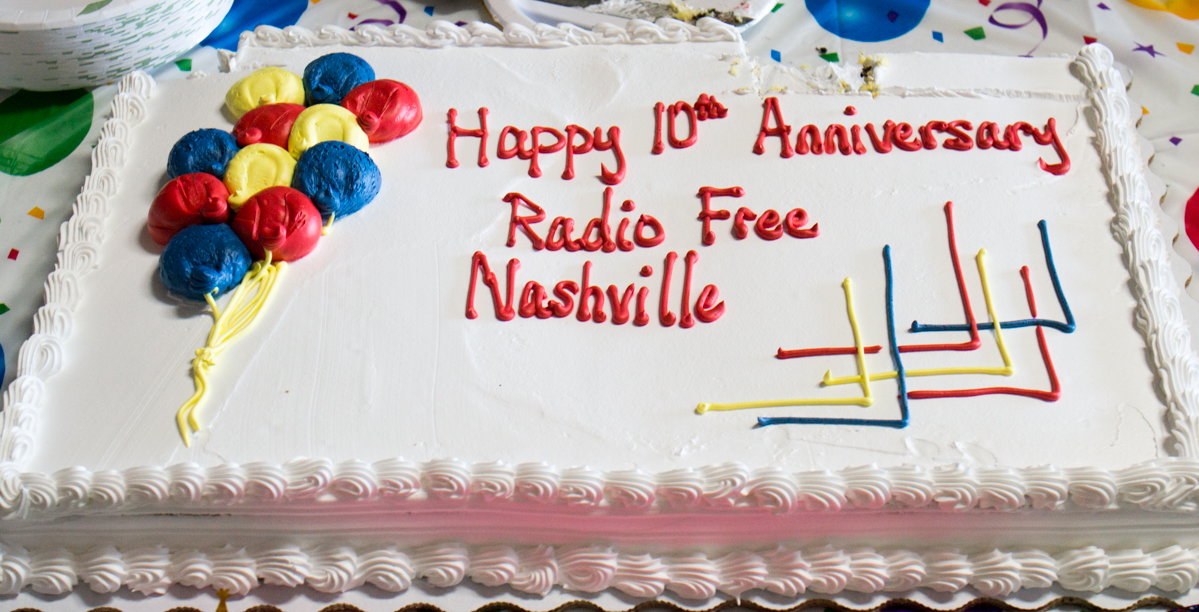 The party also celebrated the progressive station's "going citywide," and served as a benefit for raising money toward its second decade.
Close to 100 community supporters shared cake and ice cream, danced to local bands, won prizes, played games, recorded promos and IDs for broadcast, drank beer…and a good time was had by all.
This was principle and determination rewarded, gratitude at play, for the success of a station conceived some 18 years ago and born of a dedicated labor.
This is their story:
In 1997, a group of local residents, concerned by the Telecommunications Act of 1996 and the media consolidation that it legitimized, decided to form a non-profit in order to lay the groundwork for their community's first progressive, local radio station.
The group determined to reclaim the mandate set by the 1954 Supreme Court: "[that] the widest possible dissemination of information from diverse and antagonistic sources is essential to the welfare of the public, that a free press is a condition of a free society." http://www.radiofreenashville.org/Index/AboutUs
In 2000, in anticipation of the FCC's intent to open LPFM licensing, that group began working with the Prometheus Radio Project ensuring that, in 2001, when the licensing window opened, they would be ready to make application. In 2002, they received a tentative construction permit.
And so began some months of legal wrangling in response to a co-adjacent station's filing of a petition to deny. During those months, Prometheus continued to work closely with the new station, helping to prepare another application that, in 2003, won reinstatement. In the end, they were one of the very few progressive applicants (out of thousands granted) to receive LPFM licenses.
For the next 2 years, community members planned and worked at building their station, clarified legal and engineering issues, acquired essential radio production skills, bolstered always by generous local donations.
Then, from April 1-3, 2005, the station became the site of an inspirational weekend barn raising supported by Prometheus (as the project's seventh radio barn raising) and some 150 volunteers from around the world. Pacifica and Free Speech Radio News organized programming and production training workshops focused particularly on gathering local news. Dozens of other technical workshops were offered by dozens of volunteers.
One party invite recalls:
"It was a weekend of true team spirit and effort. We built our tower, and pulled it up by hand! We built our studio from the ground up, too, from pouring the foundation to pulling the wires to signing on the air! We even climbed trees!"
Come April 5, 2005, WRFN 98.9 FM was on the air.
For a look at that weekend, check out their birth video and watch the station rise from rain and mud to Station Manager Ginny Welsch's joyful first words: "98.9 WRFN—Pasquo: This is Radio Free Nashville officially signing on."
(The Nashville Project: "Low Power to the People" (12:53) Produced by Erez Gudes Motion Graphics & Cinematography by Erez Gudes and Ana Noguiera. Featuring Radio Free Nashville, WRFN 98.9, Prometheus Radio Project and hundreds of grassroots volunteers. Visit radiofreenashville.org)
In 2009, the station switched frequencies to 107.1 FM, and then, in late 2014, added a second frequency, 103.7 FM. With that acquisition, the station extended its range so that it's now heard all over Nashville.
WRFN's first 10 years have been busy.
A party press release notes:
Since its inception, RFN has had over 250 local programmers on the air, and has broadcast locally produced shows on everything from dog training, fire safety, church and state issues, healthcare, and holistic medicine to fantasy sports, transgender talk, Native American culture and immigration. Musical programming has been diverse and eclectic, too, with programs exploring mojo blues and zydeco, jazz and Americana, gypsy folk and nothing but vinyl, choral music and children's music, to name just a few. Programs have aired in English, Ethiopian, French, Czech and Spanish, and programmers have run the gamut in age from 17 to 82.
The station is locally owned and operated by volunteers from the Nashville and Middle Tennessee community and is the "only outlet in the middle Tennessee area offering broad-based media education and training to the community at large."
National and international programming is provided by Pacifica and through a variety of independently produced programs from around the world.
No two days are alike. Today, WRFN is still Nashville's only community radio station and is still driven by its founding principles.
From their website:
"…democracy cannot function if only a few have access to the media….We believe that since the airwaves belong by law to the public, the public should have access to them….as basic a right to speak on the radio as to listen…. WRFN is the tool by which those denied access to the corporate media are given a platform to speak and be heard."
http://www.radiofreenashville.org
And that founding mission still holds its urgency.
Their website also notes:
In Nashville alone, Clear Channel owns five of the largest stations on the air….This lets Clear Channel select music based on whether artists pay Clear Channel promotional fees or whether Clear Channel agrees with their politics or message. Clear Channel's cost saving measures and "efficiencies" have virtually eliminated local music and local news….Corporate dominance of local markets in general, and Nashville in particular, has translated into less public interest reporting on consumer, environmental, minority and labor affairs. As a result, the identity, values and informational needs of the local community are at risk.
WRFN is the antithesis of the corporate media.
This week, Pacifica joins the Nashville community in congratulating WRFN on its 10th birthday and on its clear and sustaining dedication to building strong local media.