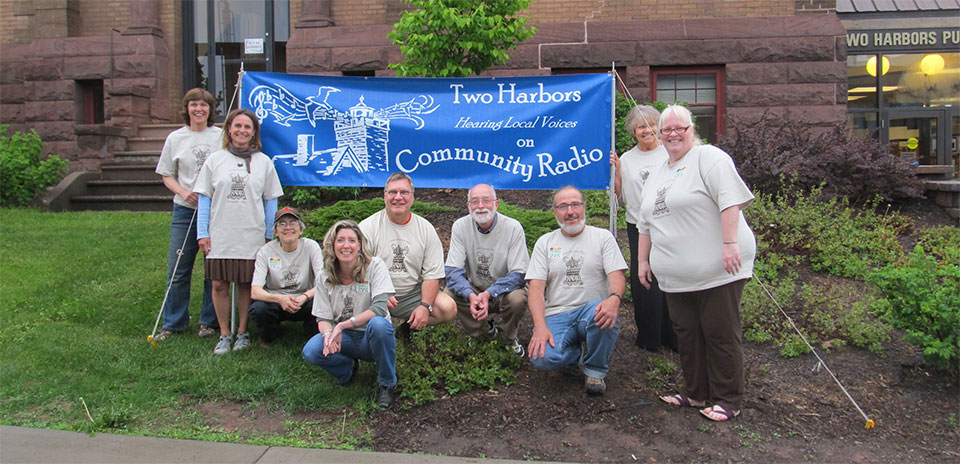 By Diane Reinhardt – All photos courtesy of ktwh.org.
On January 13, 2016, Two Harbors Community Radio (KTwH 99.5 LPFM, Minnesota) celebrated four months on air.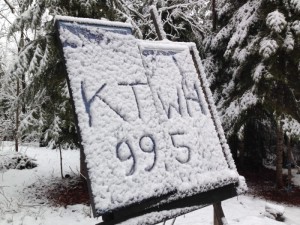 This achievement is a story of particular people dedicated to a particular place; but, as such, it is also the story of community radio everywhere—the story of how commitment to local media inspires community action, strengthens local lives, and, station by station, builds a worldwide network of engaged citizens.
Board member Fran Kaliher says, "It all started with me; it's my fault," and then adds, "But, if you happen to run into Amy Goodman, she needs to know that this is really all on account of her. In January, 2011, I was listening to Democracy Now!, and she talked about the Local Community Radio Act. I had no previous interest in radio at all, but I thought, 'Wow! That sounds just perfect for Two Harbors.' All of our media came out of Duluth; everything was Duluth-focused here, culturally and even economically."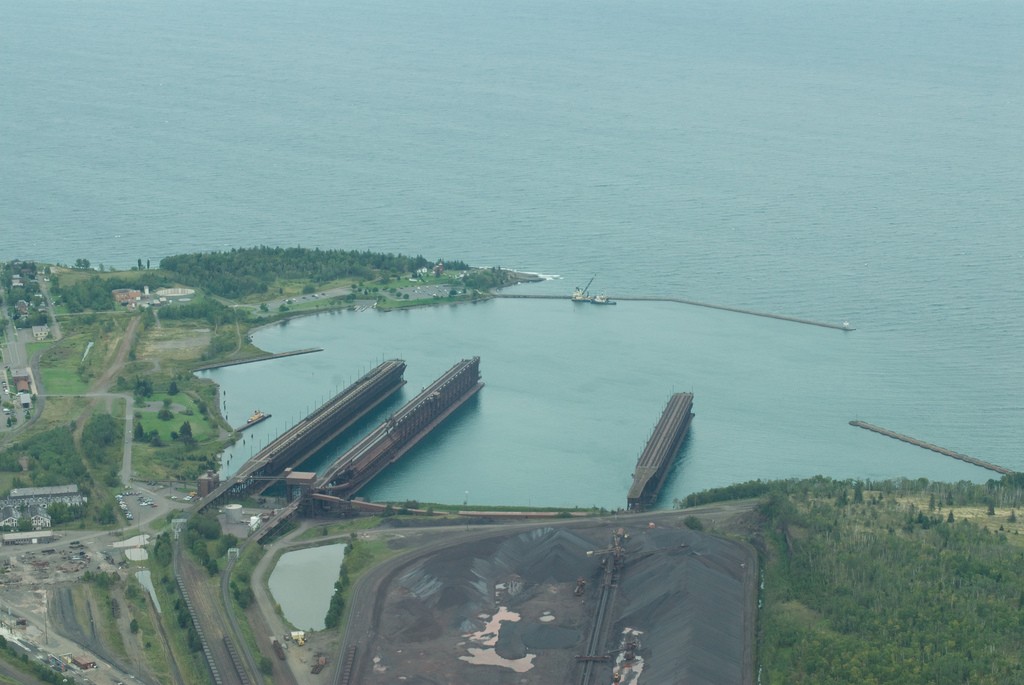 Located on Lake Superior just over 20 miles northeast of Duluth along Minnesota Highway 61, Two Harbors is 3.3 square miles and houses a population of approximately 3,700. Founded in 1885 and bordering two natural harbors, the town grew through local resource-based industries—particularly the mining of iron ore and tachonite—and benefitted from railroad expansion. The town center is nestled in acres of wooded land and surrounded by 8 state parks.
Board Member Leo Babeu says, "This is a blue-collar town. There is a fair amount of both lower end poverty and working middle class. We've been through our ups and downs because we're a resource-based economy." Kaliher adds, "We're pretty solidly Democratic; we vote Democratic, though somewhat more socially conservative, I guess."
Kaliher's idea lay dormant until sometime during the winter of 2012. Then, Kaliher reports, "As part of a study group, I saw a video in which someone from a community radio station in Madison talked about the Madison Uprising that previous spring. That reminded me of community radio and the Local Community Radio Act."
So she began to recruit. Babeu signed on.
"I'd been in contact with community radio my whole adult life one way or another," Babeu recalls. "I grew up in central New Jersey and listened to WBAI as a 17-year-old. Then I moved out to Oregon, listened to community radio there. I was a very big fan of a community radio station in Wisconsin, the Lac Courte Oreilles station, WOJB. Fran reached out to me knowing that I had been a volunteer programmer for around five years with a 100,000-watt station at the University of Minnesota in Duluth back in the 1980s. I think the very first thing I asked Fran was, 'Do you know how much work this is going to be?' And that didn't seem to phase her a bit. So here we are."
Initial progress was slow. "It didn't look good for about six months," Babeu says. "Then, suddenly, it snowballed. We had a meeting where more than Fran and I and one other person showed up, a meeting in our public library on the night of a great big flood that had stranded people from their homes. We all looked around and said, 'This is exactly why we need to be on the air, so we can tell people what's going on during this chaos.'"
That commitment fueled action. The newly formed Two Harbors Community Radio Project held community listening sessions, volunteer information meetings, and met with local high school teachers. By early 2014, the group had been granted 501(c)(3) status, had received their FCC-approved construction permit, and had secured donated office space.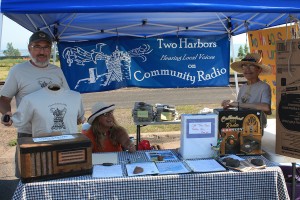 Funding efforts also bred success. Grants were won—$500 from the Coop Light and Power's Round-up Program, almost $5,000 from the LaBounty Fund of the Two Harbors Area Community Fund, $20,000 from the Lloyd K. Johnson Foundation, and $1,000 from the Wallin Foundation of Minneapolis. Fundraisers were held—a Heritage Days celebration, a December Raise the Antenna campaign—and station-branded merchandise was sold and raffled—mugs, buttons, CDs by local musicians, a kayak. A Station-Builder Drive raised $25,000 for equipment. 2015 began with the station's Cabin Fever Reliever Radio Variety Show, an evening featuring local music, storytelling, and a radio theater troupe held in the town's recently renovated movie theater.
Simultaneously, the group began planning and recording their first programming. A partnership was forged with the Northland Foundation's Age to Age program to have local youth record the memories of the town's elder residents. Youth skills development workshops were offered. News stories were prepared as podcasts ready for the station's website launch. A "Local Voices in the Community" recording series was instituted covering everything from the origins of a local Environmental Learning Center to talk about a local resident's life in Korea.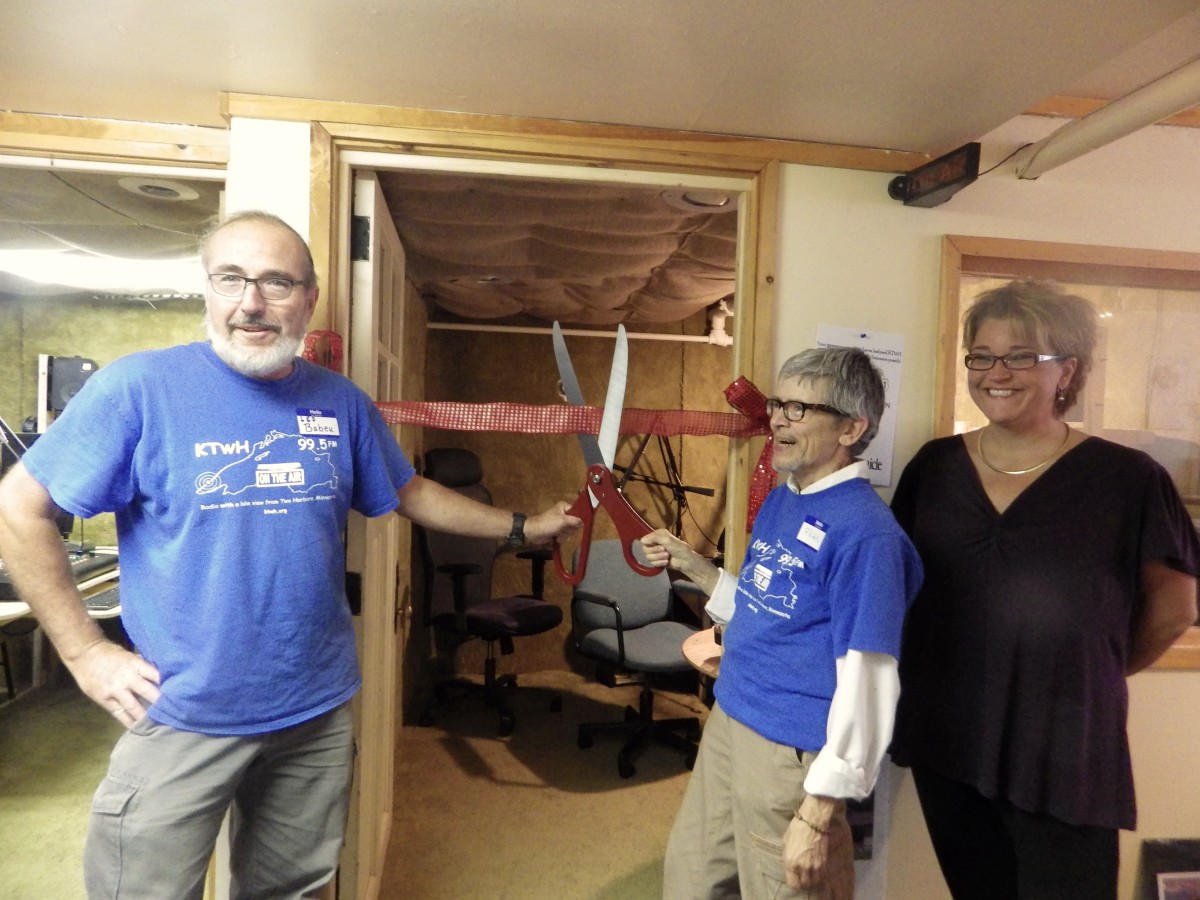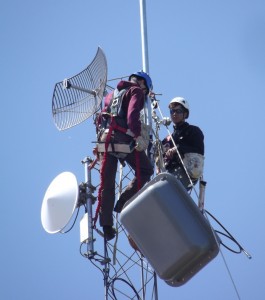 By 2015, the group's three-year dream was set to become a physical reality. Their studio was leased. The antenna was positioned. And, finally, on September 13, 2015, the station went on air. Two Harbors residents, as one of the station's tag lines says, began "Hearing Local Voices."
Many of those voices are musical. Board Member Shane Dickey says, "We have an admirable breadth of local music programming. We have fresh local music ranging from traditional Nordic music to modern electronica, dance music, and lots inbetween, including some more straight-ahead blues and jazz programs. It's a real strength of ours."
One of the station's most unique music programs is Nordic Roots, hosted by local resident Arna Rennan. A musician herself, Rennan is a scholar of the music, having lived in Norway for 15 years. Dickey says, "Her passion and knowledge is just incredible. She has real flair."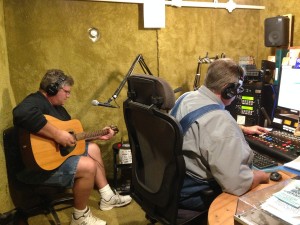 Another surprising show is Big Dave's Beat Farm. Dickey says, "Dave is a musician of 45 or so years in the area who has connections to many musicians who have roots here, most of whom have long gone out of the public eye. He gets these people in every Friday for his show. There was a fellow on the show today who had been Dave's guest for the program's demo and we saw the sparkle in his eye when he talked about being here."
Kaliher adds, "A couple of folks have come in threatening to do a polka show. We even have a name for it: Give Polka a Chance!."
While current programming is about 60 percent music, the station has also developed a substantial and inventive number of local news and information shows.
A Veterans' Services Officer spends ½ hour a week discussing veteran support programs and ways to access available services. The Lake County Sex-Trafficking Task Force produces a monthly show that may soon be made available to other local community stations. The Soil and Water Conservation District, a state government entity, provides a program entitled Conservation Corner, another program in which other stations have expressed interest. A local chef just started an hour-long cooking show.
And Ian Fritz hosts The Shipping News. Kaliher says, "People snicker sometimes when they hear The Shipping News is coming on in Minnesota. But we have the port of Duluth, and here in Two Harbors iron ore and tachonite gets shipped from the iron range of Minnesota east to the steel mills. Ian does an annotated shipping news, not just the times and the boats coming in. He talks about the people that the boats were named after and the history, incidents from that ship's past and what they're carrying."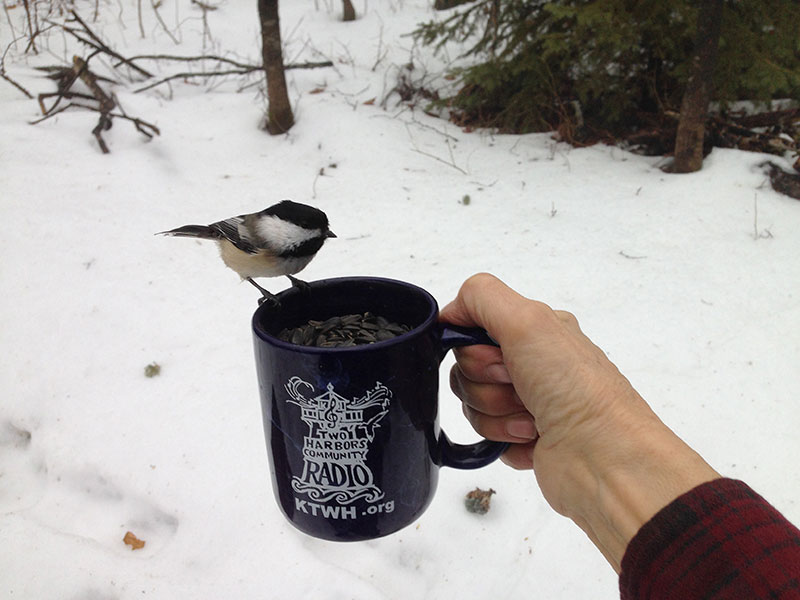 On weekdays, the station's programming begins with The Morning Show, anchored by a different host each day. Kaliher says, "Each is so unique and brings such a different ambience to their programs." Fridays on the Fritz, hosted by Ian Fritz, serves up a series of masterful short satirical pieces.
Local youth offer two programs on the regular schedule. Will's Sports Wrap is a Wednesday evening show, hosted by a high school senior, that features interviews with high school athletes from every sport and with the Athletic Director discussing how local programs work. A small group of students in grades 9 to 11 prerecord The High School Show, a Friday afternoon show focused on various aspects of high school life, tackling significant issues such as coping with ADHD.
Already, additional local programming is being developed. "We feel good about the outside programming that we air," Babeu says, "But we do consider ourselves in the midst of a constant push toward a 100% local line-up. That's our guiding principal."
There is strong interest in expanding the station's environmental programming, in taking on controversial issues, climate change, and in adding programs that address human and health service issues.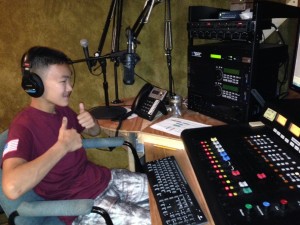 A newly-won grant from a local foundation will allow further development of Kef Media – radio and satellite, supporting some six hours a week of student instruction. Eventually, the station plans to air a monthly intergenerational show in which young people interview long-time local residents. Kaliher says, "We have an oral historian who got a grant to interview elders in our community about when radio was king, in the '30s, '40s, '50s. The intention is that she would also train students to work with her. We'll hook this to our year-long grant." As part of a long-term plan, the station hopes to one day create a satellite studio in the local high school.
Field broadcasting kits are on the station's wish list. The equipment would allow Kaliher to revisit the possibility of airing field recordings, an expansion of a smaller earlier project, Sounds of the Seasons—Water and Wind in April. More practically, board members look for this equipment to expand their weekend programming.
Kaliher says, "Right now, weekends are pretty much all prerecorded. We want to expand that into more live programming. People seem to like the idea of having a roving reporter visit the farmers' markets, the rummage sales, calling in about what people are selling out there."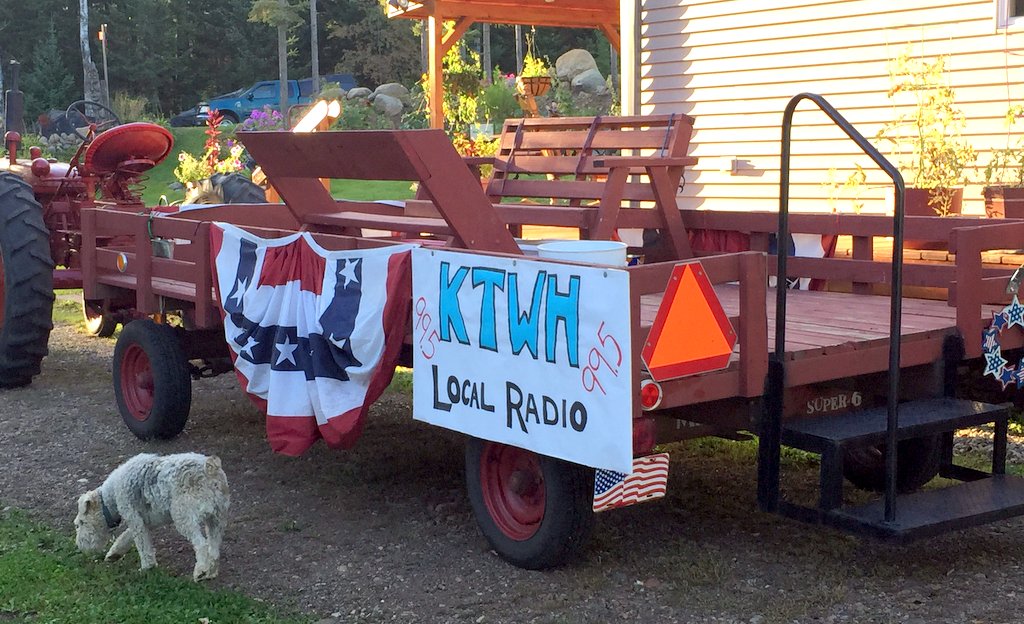 These projects are also designed to attract more volunteers. The station already has between 20 and 25 programmers and some 40 active volunteers. Babeu says, "We're recruiting people for weekends, primarily to speak the station IDs, announce community events and run the board. That's a whole new set of volunteers; maybe it's a gateway drug to getting more excited about radio."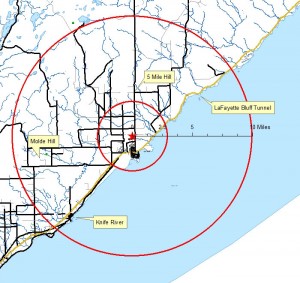 The station's range both creates some obstacles and offers further possibilities. Kaliher says, "We have about 5,000 or so in our listening area. The geography makes us a little unique. Everybody within the city limits and the rural population on the fringes of town can hear us well. We go up and down the shore seven to ten miles, but going inland, because the terrain rises up from the lake and then levels out, is very touchy. I live about twelve miles as the crows flies inland, and I have one radio in exactly one spot on the dial that is the only place I can hear us. But then we can reach across the lake to parts of Wisconsin. We haven't heard from anybody over there yet. We mention them once in a while. Eventually we will make real efforts to reach out to them. We have a lot in common."
Asked what might be important to say that hadn't yet been discussed, Babeu's response brings the conversation full circle, a reminder that this is both a story of particular people in a particular place and the story of community radio everywhere: "We want to provide a platform for folks who might not have a voice otherwise. Maybe this goes without saying because of our endeavor. It's important that we do whatever we can to allow folks who might not have any other way to be heard and to hear their neighbors. It's strictly about folks' voices and their ability to say what needs to be said. We want people to know that we are open to anything that fits our mission of the respectful sharing of ideas."