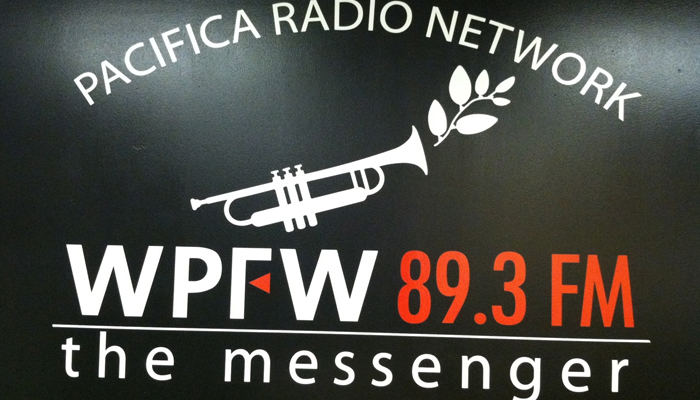 Beyond Mainstream Media brings you a special presentation on Pacifica, WPFW and grassroots media. Watch and listen to it live here!
Streaming live video by Ustream
4:00 – 5:00 pm: The Story of WPFW and Pacifica Radio in Washington, D.C.
Pacifica Radio was founded in 1946, making it the oldest independent noncommercial broadcaster in the country, perhaps in the world. Pacifica Radio Networks established WPFW in D.C. in 1977 and the station offers a platform for local political discussion, and local programming including talk and music directed toward the region's diverse community. Much of the programming is made possible by the local volunteers. Unlike NPR, Pacifica does not accept commercial underwriting. Like many other independent media operations Pacifica faces funding challenges.
What is the value of Pacifica Radio to local communities? What are the operational challenges of community governance combined with a national structure?
Featured Speakers
Askia Muhammad
News Director, WPFW
Jean Yves Point du Jour
Chair of Local Station Board, WPFW
Moderator
Mark Lloyd
Director, Media Policy Initiative, New America Foundation
5:00 – 6:00 pm: A Crisis in Grassroots Media: Local Outlets and Global Content
Free Speech Radio News is a daily global news program that offers first-hand reports featuring an in-depth level of reporting that is rarely achieved by public or commercial journalism … and for a fraction of the cost. Despite the value of this service, Free Speech Radio News is in the midst of a funding crisis that, without a major infusion of funds, will likely force operations to cease in coming months.
Free Speech Radio News airs primarily on noncommercial, college, and community radio stations, like the full-power FM station WPFW in Washington, D.C. The station is possible because of the work of hundreds of volunteers and a small staff. WPFW responds to the information and cultural needs of local listeners by providing services like Free Speech Radio News.
How can in-depth, community-responsive media be sustained? What is the role of the government, particularly the FCC, in protecting this non-commercial service?
Featured Speakers
Catherine Komp
Producer, Senior Editor, Free Speech Radio News
Alice Ollstein
D.C. Correspondent, Free Speech Radio News
Moderator
Mark Lloyd
Director, Media Policy Initiative, New America Foundation
This event is part of the Beyond Mainstream Media series. Visit the series webpage for more information and a schedule of upcoming events.