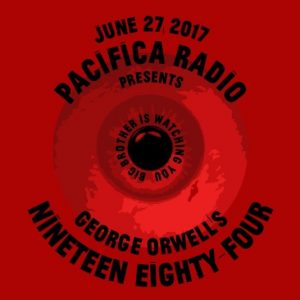 George Orwell's Nineteen Eighty-Four
The Pacifica Foundation and the five Pacifica Stations are pleased to announce Special Programming on Tuesday June 27, 2017: The Fifteen Hour National Broadcast of George Orwell's Nineteen Eighty-Four.
This will be broadcast simultaneously on Pacifica's flagship station KPFA 94.1 FM Berkeley, KPFK 90.7 FM Los Angeles, WBAI 99.5 FM New York, WPFW 89.3 FM Washington DC, and KPFT 90.1 FM Houston.
With the advent of Fake News and the rise of violence and intolerance at rallies during the 2016 Presidential election cycle, we all saw surprising similarities to many of the fictional horrors of George Orwell's novel. As Orwellian concepts of Newspeak, Double Speak, and The Two Minute Hate came to rise in our reality, George Orwell's classic novel Nineteen Eighty-Four has returned to the Best Sellers list. And now Pacifica brings this novel to the airwaves in its entirety over 15 consecutive hours.
Open Culture writer Colin Marshall says this about Pacifica's 1975 production:
"Every era, it seems, produces its own 1984, and this one sounds as resonant in the 21st century — a time even Orwell dared not imagine — as it must have in the 1970s."
BROADCAST SCHEDULE – TUESDAY JUNE 27, 2017
9am-midnight EST | WBAI, WPFW
8am-11pm Central | KPFT
6am-9pm PST | KPFA, KPFK
The mission of Pacifica Foundation is to provide Accurate News and space for the creative, political, and cultural needs of the community. A creative and informed world is a better place for all.