John Morgan, Programming Director for new community station WEJP, spends a lot of time listening—to his new station, of course, but also to a wide variety of syndicated programming and podcasts—determined to design that perfect mix of engagement and challenge suited to the station's Wheeling, West Virginia home.
"I grew up in a Quaker family," Morgan says, "and I'm not comfortable with the extreme political polarization we have in the country now—the labels we throw around. I come down on the side that asks, if we're going to write off everyone we disagree with, how do we build on that? We have a lot of Trump supporters in our listening area. If we can talk about policies about which we disagree, that's good, that's appropriate. I would rather keep them listening. Maybe there's some common ground; maybe I can learn from them and they can learn from me.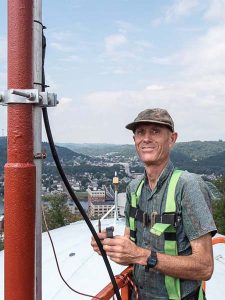 On air since the beginning of October 2017, WEJP offers an eclectic and ever- changing mix of syndicated news, public affairs and music reflective of Morgan's careful guiding hand (a full schedule is available on the station's Facebook page).
Syndicated programming is drawn from a number of different sources. Tom Hartman is aired sometimes for only two hours instead of three, depending on what else Morgan feels worthy of fitting in the schedule. The Zero Hour with RJ Esckow airs at 11 AM, Monday through Wednesday. At 3 and 4 PM on weekdays, listeners usually hear a choice of Flashpoint, Real News, Letters & Politics, or Rising Up with Sonali
"It's a challenge," Morgan says. "I sample programs and decide which is best. I love it when I get programs that are straightforward and honest about what each party has done right and wrong. If we aren't going to be honest, then we're living in quicksand."
Broadening the Debate
Ohio Valley Peace, the station's license holder, was founded in 2002 to oppose the Iraq War and has, over time, expanded to address issues of Environmental stewardship, social Justice and Peace, a mission Morgan built into the station's name…WEJP. From inception, the organization, a not-for-profit Ohio corporation with active members in both Ohio and West Virginia, has emphasized the importance of responsible news reporting and steady, persuasive citizen engagement with local legislators.
"I have always been concerned about the lock of rightwing and mainstream news on the air, especially concerning foreign policy and economic issues, and, in our area in particular, where we're far from any Pacifica stations."

Local Programming
The 100-watt station is still hampered by its studio being in renovation but is adding local programming as it becomes available. Feeling Alright, a blues-folk-reggae-rock-soul program hosted by Wheeling local musician and mentor Bob Heyer, debuted in November. Two other new programs, My Roots Are Showing produced by Suzanne Polinski and Radio Science News with Robert Strong and Richard Pollack, began airing in January. ACTive, a half-hour drama program, featuring local students has had its first airing. The station encourages listeners to submit program proposals. "We are committed," Morgan says, "to having as much local programming as we can generate."
Getting on Air
In 2013, Morgan learned from Prometheus about the LPFM application window; and, when another group member proposed the idea of applying, Morgan's enthusiasm was sparked. Wheeling West Virginia has been the meeting place of Ohio Valley Peace for many years, and is the largest population center in the area, so it was the clear choice for transmitter location.
The project was beset by a number of delays, including a year to get a construction permit (CP) due to a competing applicant for the chosen frequency and the struggle to find suitable locations for the transmitter and studio.
Eventually, in January 2017, they were able to lease a centrally located unused small building and antenna mast from the city of Wheeling. Morgan recalls, "Our CP deadline was Oct. 10, 2017; so, after three years, we had only nine months to put it together. The building is still uninsulated so we have avoided heating it this winter." In those first days, Morgan, who lives outside the listening area, camped out at the station, working day and night, learning to program and troubleshoot. Currently, he's programming and operating the station remotely.
In its short time on air, WEJP has earned strong community support. Listeners offer feedback through the station's Facebook page or by email, and Morgan is pleased that he's hearing from people he didn't previously know.

Support from and for Pacifica
On the Resources page of its website, Ohio Valley Peace prominently features a quote from Bill Moyers defining the urgent need for communities to call for media that offers alternative content, mentioning specifically Democracy Now!
Morgan also offers a particular thanks to Pacifica: "Pacifica is a big asset because it's a ready source of a lot of material."