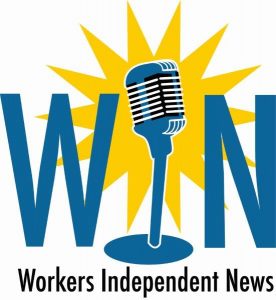 On November 17, 2017 Workers Independent News, or WIN, had its last broadcast. What was WIN and what can we learn from the 15 years of content they provided? On March 27, 2018 I got the chance to talk with Frank Emspak, the Executive Producer, and one of the founders of WIN. Right away talking with Frank, he explained the situation that was unfolding when he decided to take action. Simply put, union workers would strike for various reasons and media would report the company's viewpoint and opinions, instead of reporting and interviewing the strikers on their opinions and viewpoints. Obviously, this gave way for heavily biased public opinions. There needed to be a place where the labor class could speak out and express the truth of the situation from their perspective, to create an equilibrium.
In the 2000's internet and community radio was taking off. Everyday people could more easily get their voices heard. These advancements created space for movements of all kinds, and there was a mutual feeling of change in the air. WORT and a group of other producers started planning a conference to see who would be interested in a new project. Broadcasting the voice of the labor class. When the conference came the proof was in the pudding. So many people attended they had to hold them in the biggest venue they could find. People wanted to be involved and people wanted to act.
Shortly after planning started, they discovered if they wanted to have a professional level broadcast they needed to have production staff and set up a newscast. After getting their affairs in order WIN produced their first broadcast in 2002.
Challenges
The challenges that WIN experienced were mainly financial. Even though WIN did not overcome this challenge in the end, they continued to push ahead.WIN utilized grants for training purposes, but their income came predominantly from unions, sponsoring the news. About a twenty percent came from individual donors. Despite being "on the edge with resources", as Frank put it. WIN continued to grow "As a news service, WIN is devoted to bringing the voices of workers, their families, communities and organizations to the widest public possible, using all means of electronic media." Says Laborradio.org.
Aside from financial difficulties WIN found it a challenge to reach their intended audience-an audience that would extend beyond "the choir". To that end WIN explored commercial radio. For three years they had a broadcast on NYC's 1010 WINS- sponsored by a coalition of the building trades at a cost of several hundred dollars per minute. But the audience was huge, according to arbitron about 250K each day. Station managers of commercial stations were often reluctant to broadcast the WIN News, but over time reported back to WIN that the volume of positive calls received regarding the WIN program was greater than they usually received for any news program. WIN also turned to Public Radio, but Public Radio declined to utilize the WIN news service fearing the loss of federal funding. Despite the challenges faced by WIN there were huge successes.
Successes
WIN has a lot of successes to be proud of. Concerning breaking stories, WIN covered the court decision on Janus v. AFSCME. WIN also interviewed a person who helped craft the Taft-Hartley Act. He explained their strategic approach to limiting union growth as a way to eventually bring about their demise. Having relevant news for the labor class was always a reason for pride. Frank commented on how he continuously hears from people saying they heard things for a WIN Newscast, tried it, and it worked. People would take action and feel better and feel like they are not alone. "People took heart, people took action, and there is a need and that need is still there."
Because of advancement in radio and internet WIN was able to reach many people with a specific and special voice. WIN is a success story of many things, including bringing the voices of workers, their families, communities and organizations to the widest public possible.