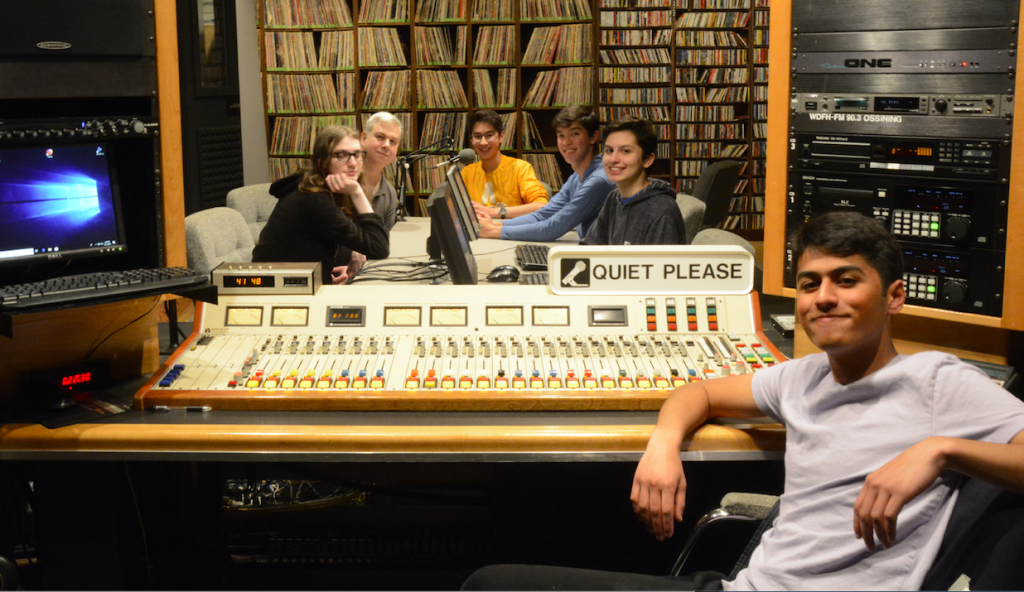 OutCasting and OutCasting Overtime are available on Audioport for stations that want to broadcast the programs under their own names.
In recognition of his work, Marc Sophos, founder and Executive Producer of LGBTQ youth radio program OutCasting, has been named a 2018 AARP Purpose Prize Fellow.
While the award has technically been made to Sophos as an individual, not to the show, he is quick to credit the young people, more than 50 since the program's inception, and the many others with whom he's worked over the years. "This falls on all of us," Sophos insists. "I would not have been able to do this without the kids, without the support of their parents, our donors. I see this as something I earned because of the activity of other people."
The AARP Purpose Prize
Awarded yearly, the prize "honors extraordinary individuals" who, based on work begun after the age of 40, "use their life experience to address tough social challenges." AARP notes, "…winners and nominees are role models. They are makers and doers who create new solutions that make the world a better place for people of all ages."
This is a prestigious national honor. With over 1,000 entries submitted, AARP named just five winners and ten fellows. Fellows receive monetary awards and are offered media training, technical assistance, and networking opportunities.
How OutCasting Came to Be
In 2010, when Marc Sophos first drafted the founding documents for OutCasting—an LGBTQ youth-issues radio program that would be powered by a high school age production team—, he had good reason to believe he was onto something important.
Youth programs were common fare on public radio, and the internationally-distributed weekly LGBT radio program This Way Out focused on issues faced by a general LGBTQ population; but Sophos didn't know of anything that brought those two together and aimed at a general public audience.
"When do you hear about LGBTQ youth?" Sophos considered. "When they kill themselves. You've got the obligatory television news story with the candlelight vigil, and the kids crying, saying they didn't see this coming….but nothing else, no context, no questions. What issues were going on in their lives? Is being LGBTQ a risk factor for suicide?"
And then, the intention carried a more personal weight.
Sophos had, for many decades, struggled to find comfort with his identity as a gay man. "By the time I was 3," Sophos recalls, "I had the idea that I was wrongly born…I didn't come out until I was 39."
Though his life had been full of varied public achievements—in music, law, decades of work as Executive Director, Program Director, and Chief Engineer of community station WDFH—alone he lived a different truth. "I became an image," Sophos remembers. "I figured that people would hate me if they knew who I was but maybe they would like me for what I'd accomplished."
With the founding of OutCasting, Sophos saw, he could now do work that would be a fulfillment of the totality of his life experiences, a realization he sums up simply: "I had always felt that young people had a great deal to contribute."
The program as it has emerged over these past eight years is a remarkable success. OutCasting, a now-monthly show,and its two shorter supplements, OutCasting Overtime and OutCasting Extras, educate listeners about the complexities of sexuality and gender identity. The participants' personal stories help to lift the sense of isolation felt by many LGBTQ youth, and group members—both LGBTQ and straight—have a safe space and the right to claim achievement sprung from identity undisguised.
This Is Something That Has Made Us All Glow…
The award recognition, he notes, is particularly important for the young people who have given so much to the program. "Now it's legitimate to say that it's a nationally recognized program and that lifts everyone's morale. OutCasting for the kids is often the central activity of their high school years. They are working in a substantive way—they're actually doing interviews and research and editing, coming up with ideas, discussing LGBTQ issues and finding experts and people who have personal stories to tell. Being able to add that it's a nationally honored program…is something that has made us all glow. It's empowering, an outside recognition that what we're doing is important."
Beyond intent, beyond production, radio programs survive on content. And here OutCasting shines. Remarkable for the professionalism of its young hosts, OutCasting touches hearts and opens minds.
Time, Plans for Growth
Since 2013, OutCasting has been nationally distributed to some 55 stations by Pacifica Radio on Sprouts; and, for the past two years, OutCasting Overtime has been regularly aired on This Way Out, which is heard on over 200 community radio stations world-wide.
Sophos, who on Christmas Day, 2018, celebrated his 50th anniversary in radio—(he launched his first station at age 10 from his parents' basement)—is working now both to expand the project and to secure an organizational structure that ensures the program's long term continuation.
"I feel so grateful to Pacifica for allowing us to be on Sprouts," Sophos says. "Now we have a foundation; it's time both to turn into a self-sustaining organization and to establish other production groups in other parts of the country."
These are objectives that require additional personnel, which, of course, requires raising additional money.
As he plans for the future, Sophos hopes that the recognition that comes with the AARP Purpose Prize will also bring the program donors and greater financial support.
For more information, full length episodes, and to donate visit the Outcasting website. Be sure to sign up for their newsletter and like them on Facebook, Twitter, and Instagram. OutCasting and OutCasting Overtime are available on Audioport for stations that want to broadcast the programs under their own names.