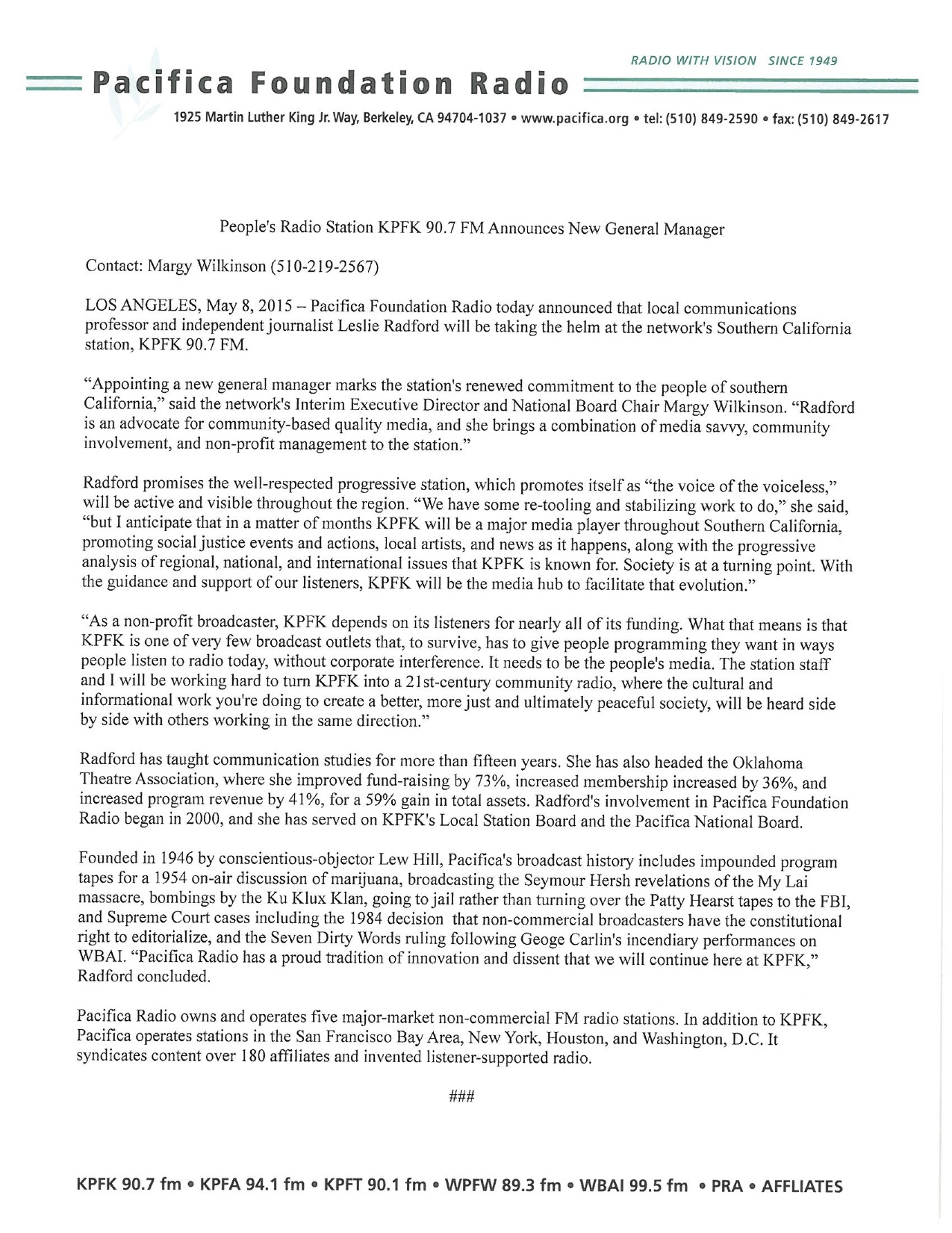 People's Radio Station KPFK 90.7 FM Announces New General Manager
Contact: Margy Wilkinson (510-219-2567)
LOS ANGELES, May 8, 2015 -Pacifica Foundation Radio today announced that local communications professor and independent journalist Leslie Radford will be taking the helm at the network's Southern California station, KPFK 90.7 FM.
"Appointing a new general manager marks the station's renewed commitment to the people of southern California," said the network's Interim Executive Director and National Board Chair Margy Wilkinson. "Radford is an advocate for community-based quality media, and she brings a combination of media savvy, community involvement, and non-profit management to the station."
Radford promises the well-respected progressive station, which promotes itself as "the voice of the voiceless," will be active and visible throughout the region. "We have some re-tooling and stabilizing work to do," she said, "but I anticipate that in a matter of months KPFK will be a major media player throughout Southern California, promoting social justice events and actions, local artists, and news as it happens, along with the progressive analysis of regional, national, and international issues that KPFK is known for. Society is at a turning point. With the guidance and support of our listeners, KPFK will be the media hub to facilitate that evolution."
"As a non-profit broadcaster, KPFK depends on its listeners for nearly all of its funding. What that means is that KPFK is one of very few broadcast outlets that, to survive, has to give people programming they want in ways people listen to radio today, without corporate interference. It needs to be the people's media. The station staff and I will be working hard to turn KPFK into a 21st-century community radio, where the cultural and informational work you're doing to create a better, more just and ultimately peaceful society, will be heard side by side with others working in the same direction."
Radford has taught communication studies for more than fifteen years. She has also headed the Oklahoma Theatre Association, where she improved fund-raising by 73%, increased membership increased by 36%, and increased program revenue by 41%, for a 59% gain in total assets. Radford's involvement in Pacifica Foundation Radio began in 2000, and she has served on KPFK's Local Station Board and the Pacifica National Board.
Founded in 1946 by conscientious-objector Lew Hill, Pacifica's broadcast history includes impounded program tapes for a 1954 on-air discussion of marijuana, broadcasting the Seymour Hersh revelations of the My Lai massacre, bombings by the Ku Klux Klan, going to jail rather than turning over the Patty Hearst tapes to the FBI, and Supreme Court cases including the 1984 decision that non-commercial broadcasters have the constitutional right to editorialize, and the Seven Dirty Words ruling following George Carlin's incendiary performances on WBAI. "Pacifica Radio has a proud tradition of innovation and dissent that we will continue here at KPFK," Radford concluded.
Pacifica Radio owns and operates five major-market non-commercial FM radio stations. In addition to KPFK, Pacifica operates stations in the San Francisco Bay Area, New York, Houston, and Washington, D.C. It syndicates content to over 180 affiliates and invented listener-supported radio.