June 14 Houston – Pacifica National Board member Teresa Allen and WORT News Director Molly Stenz receive Pacifica Network's annual Outstanding Service to Community Radio at the Pacifica Affiliates Meeting during NFCB Conference.
Molly Stentz was recognized for her outstanding reporting this year on the political events and mass uprising in Madison Wisconsin. Molly began her career working in the Indymedia movement and community radio in Champaign-Urbana at WEFT and WRFU-LP. She came to WORT in Madison as a news volunteers, and became News Director in 2009. She built WORT's news programming into a vibrant and relevant force ion Madison. Molly seeks to improve WORT's overall programming as well as the station's presence in social media and on the web. In addition to her work at WORT, Molly reports for Free Speech Radio News. She reported from the UN Climate Conference in Copenhagen and the World Social Forum in Dakar, Senegal. Her commitment to community radio leads her to put in long hours…but she still has time to farm and raise chickens in her backyard.
Teresa Allen was recognized for her outstanding service in building the Pacifica Affiliates Network. Teresa joined the struggle to stop the corporate takeover of Pacifica in 2001 by getting arrested for civil disobedience at KPFT-Pacifica station in Houston Texas. With the Pacifica settlement in 2002, Teresa became a member of the Interim Pacifica Board, a transitional governing body.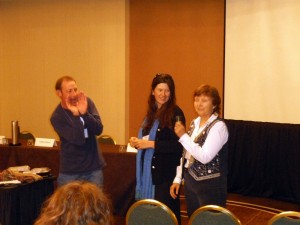 Within this capacity, Teresa started a committee to revive the Pacifica affiliates program, which was collapsed during the struggle, and hired Ursula Ruedenberg to build and manage the program in collaboration with numerous representatives from affiliate stations. Teresa ensured that affiliates would have 2 representative seats on the Pacifica National Board. Teresa has continued to sit on the Pacifica National Board for numerous years (with some breaks) and within that capacity she continues to support and advocate vigorously for recognition and understanding of the importance of Pacifica's affiliates.
She works to keep the Affiliates Task Force an active and beneficial committee of the National Board and has been the secretary for that group for 5 years. She is a dedicated and vocal ambassador for community radio and caring board member.