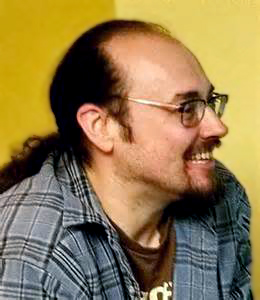 Todd Fisher Wallin
Todd Fisher Wallin, friend and colleague to many in Community Radio, passed away on July 29, 2017 at the age of 40. He died from injuries when he fell from a tree at his newly purchased home near La Crosse, Wisconsin. Todd was a devoted husband, father, and grandpa. He was married to Heather Fisher and had a "blended family" of children; Johnathon, Ben, Leopold, and Zahara.
It is not an exaggeration to say that Todd leaves behind an empty space. Many feel this is partly due to his exuberant, generous, and affectionate personality. Others remember him for the help and support he gave to the field of Community Radio.
Todd, Technology, and Community Radio
Todd had an Automotive Technician Associates Degree and a talent for technology. However, his passions were computer software and radio technology – particularly in service to Community Radio. He served as an Operations Coordinator for WDRT in Viroqua, Wisconsin, where he also had a heavy metal show. Once, while at KKFI Community Radio in Kansas City during his show's scheduled time, he hosted it live via the Internet and open sourced software.
Todd co-founded Phantom Machine Works with David Klann around 2014. Phantom Machine Works is a service business for radio broadcasters, providing computer and technical support for numerous Community Radio stations around the USA. Todd was also pivotal in the construction and launch of several new stations. These stations include KHOI in Ames, Iowa, KKWE at the White Earth Indian Reservation in Minnesota, and WNUC in Detroit, Michigan.
Recently, Todd was offering tech support to Simon Frech at KMUD in Redway, California. According to Frech, "Todd and David drove out to California, in August of 2015, to set up a couple of PC's with Rivendell and train station staff. Both Todd and David have since given us tech support. I was on a long support call with Todd only a few weeks before Todd's accident. They had had a storm, and [the] Internet was out at his house, so he drove to the nearest library. The library happened to be closed, but their WiFi was working, so he did the whole support call, including screen sharing, from his truck."
"I miss him, I feel he did so much good for so many people, including a lot of community radio stations."
Observations from Community Radio
To paint the picture of who Todd was and what he contributed, we offer observations from a few other people, who did Community Radio with him.
Ursula Ruedenberg
Pacifica Affiliate Network Manager, Station Manager of KHOI, Ames, IA
Todd was the person who knew how to configure our new transmitter when KHOI went on the air in 2012; he was literally the person who flipped the switch to launch KHOI. Two memories I hold dear: seeing him hurriedly record KHOI's first legal ID, using a hand recorder in a cornfield (we had forgotten to prepare one), and once we were on the air, watching Todd stride into the room where we held our launch party. We had laid out a red carpet for the engineers at the party and he was grinning from ear to ear, bursting with pride for community radio.
Michael White
Independent producer of Baroque and Beyond, La Crosse, WI
I was attending the La Crosse Linux User's Group meeting where Todd and David Klann gave a presentation on how they used open source (free) Linux software. Todd said to me, "We need DJs! You have to do a (classical music) show for us! We need you!" I replied, "Go away. I am a dermatologist. I don't have time. Go the heck away!"
But I learned how to do it and submitted some 4 hours of a classical music show and now there are some 12-15 stations that download Baroque and Beyond, around the country. Todd didn't even like classical music that much.

David Klann
Engineer for WDRT Viroqua, WI and Todd's partner at Phantom Machine Works
Todd and I met over our mutual interest in Linux and community radio. We eventually co-founded Phantom Machine Works, a business for providing technical services to community radio. We also helped package Rivendell software as automation systems for community radio. He definitely was still very much committed to helping radio stations when he died, he was just helping a station in California.
Ursula Ruedenberg: Todd was KHOI's Plan-B, back-up engineer. It was important for me to know he was right over there across the Big River to call on. Two years ago, he came over and led our operations self-audit.
David Klann: Todd's involvement in our medium was a perfect example of the value of community radio. Because Todd did not have a formal education in broadcast engineering or credentials on paper, I suspect he would never have found a home in public or commercial radio. Yet he was able to do things for radio stations that few can do because he had knowledge, and more importantly, curiosity and drive to do stuff right. He immersed himself in countless research hours on the Internet and in the library, reading texts to understand how things work. Community radio affords people like Todd the space to be that expert who shares their talents and skill.
Reverend Joan Ross
Station manager, WNUC Detroit, MI
It was an honor and a great experience to have Todd and David Klann in my life. You need the right team to keep a dream alive and God sent me the right team. WNUC would not have a radio signal if Todd and David had not been committed to living the dream of community radio and low power radio across the country.
The problems with launching WNUC were great and I could not find anyone in Detroit to help me. Todd and David made the 10-hour trip from Wisconsin to Detroit many times. They did everything to get us on the air and also had to do a lot of babysitting, because I did not even know what I did not know. They wired the office for telephone and Internet, ordered the supplies and equipment, help arrange an extension for the construction deadline, installed the equipment, stopped me from overspending on tower rental, got a permit and erected a tower up on our building. They even offered to go into the basement of the City Council building to find the original building plans, when the station ran into problems getting a building permit from the City of Detroit!
David Klann: Todd and I met Reverend Joan Ross at the Ames Grassroots Radio Conference in 2014. She ended up asking us to help in Detroit. The chance to build a radio station from scratch was an awesome opportunity and we had fun. Todd was a great friend. I loved him and would have done anything for him. I think the same was true for many others because there is nothing he would not have done for so many. This pulled people together. They say community radio is 10% radio and 90% community. Todd ballooned the technical part to 50% because of his expertise, but he equally embraced the human and community aspects.
Reverend Ross: I can remember one time, when Todd drove the 10-hour trip to Detroit, took some measurements, drew some diagrams, took some pictures, slept in the parking lot, and then drove back to Wisconsin.
David Klann: Todd was unique in how he intentionally did not need much. He always sought the most economical solution to a problem in terms of money, energy, or other resources. He was passionate about making do with very little.
Reverend Ross: Not only did Todd stay on budget, he made sure things would be cost-effective and run right in the future. I remember once getting an email from him in the middle of the night a few days after we had gone on the air. He had returned to Wisconsin and was rethinking things, instead of sleeping. He had gone over the numbers regarding the tower and something did not look right to him. It was only after he arranged a conference call with the tower company and the Radio Frequency Engineer that it was determined that it was a typo. There is no way you can pay for that kind of help. He had a way of getting really quiet for hours when thinking something through – I'd have to say, "Remember to take care of Todd!"
Ursula Ruedenberg: What was especially delightful was that when he came over to Iowa, he often brought his family, and I had the pleasure of enjoying a slice of his family life. Along with technical help, he always offered the finer things in life, like companionship and neighborly relations!
Michael White: He often came by to visit. He loved coming over for breakfast with his kids (either my home made waffles, or scrambled eggs from my free range chickens) and he didn't mind taking home some of the honey from my bees. So, if you listen to Baroque and Beyond, think of Todd.
Joan Ross: Every day when I drive to WNUC, the first thing I see is that radio tower on top of the building. I always think of Todd and David when I look at it. In my heart, Todd will remain part of us in Detroit. He and David became part of the community; they loved the computer store and went to restaurants I had never even heard of! Building a station is emotional and fun, we bonded over dinner and music.
I want to offer words I once read, in Todd's memory: "A complete life is led when you know that others have joined efforts you are working on. And if you die, you know that they will continue forward in celebration and in joy of sharing a path together."
Michael White: . If any of you ever get to western Wisconsin, drop by and visit. We will raise a glass in memory of my friend, Todd Fisher Wallin.
Support for Todd's Family
You can support Todd's family by contributing online. You can carry on the spirit of Todd by volunteering at your community radio station and helping to keep independent media alive and active for the people in your community..