As expected, the 2016 Grassroots Radio Conference this past weekend was driven by the energy, enthusiasm and needs of new low-power (LP) stations. The host, KUHS of Hot Springs, Arkansas, is an 2-Watt LP station that went on the air just this year. Other newly licensed stations from Arkansas, Arizona, Indiana, New York and elsewhere came to learn the basics of radio production, engineering, and management.
At a time when some radio lovers fear the loss of audience to other digital media, particularly cell phones and Internet-based media, several presentations showcased the unique role that LP-FM stations can play in emergencies. Their hyper-local orientations, along with the robust medium of radio frequency, which can't be interrupted by outages or hackers, make LP-FM stations the go-to communication medium when disasters strike. Players from last year's story of Wimberley Valley, TX were on hand to reinforce the case.
That robustness is enhanced when the station gets its energy from solar panels. The transmission tower of KUHS is fully solar-powered, as will the refurbished station building–which will also include a pizzeria and brewery.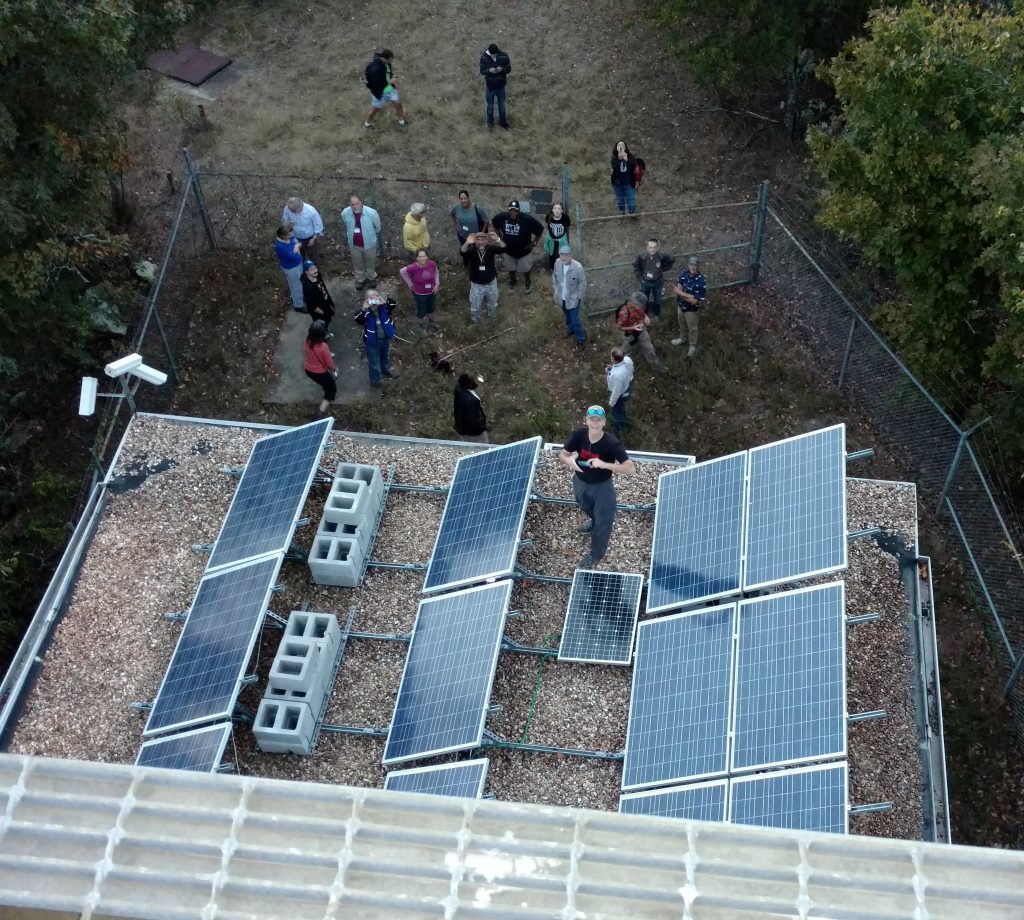 Addressing concerns about the changing user behaviors of radio listeners, Ken Freedman–a pioneer in building the bridge between radio and the Internet–gave a sneak preview of his new open-source software, Audience Engine Project, already in use at his NYC-area station WFMU, which will allow stations, primarily the radio base station, to build positive, content-based online communities (think: Facebook) around their radio programming.
On the other end of the power spectrum from LP stations is the now-defunct KAAY out of Little Rock, the 100,000-Watt AM station, where Keynote Speaker Clyde Clifford DJ'ed from 1966 to 1972. His overnight broadcasts, reaching from Cuba to Canada, transformed the medium through free-form rock and thoughtful meditations delivered on top of spacey soundtrack beds. His skills as mellow raconteur were thoroughly enjoyable, along with an authentic Arkansas-style barbecue dinner, at one of the conference venues, Low Key Arts.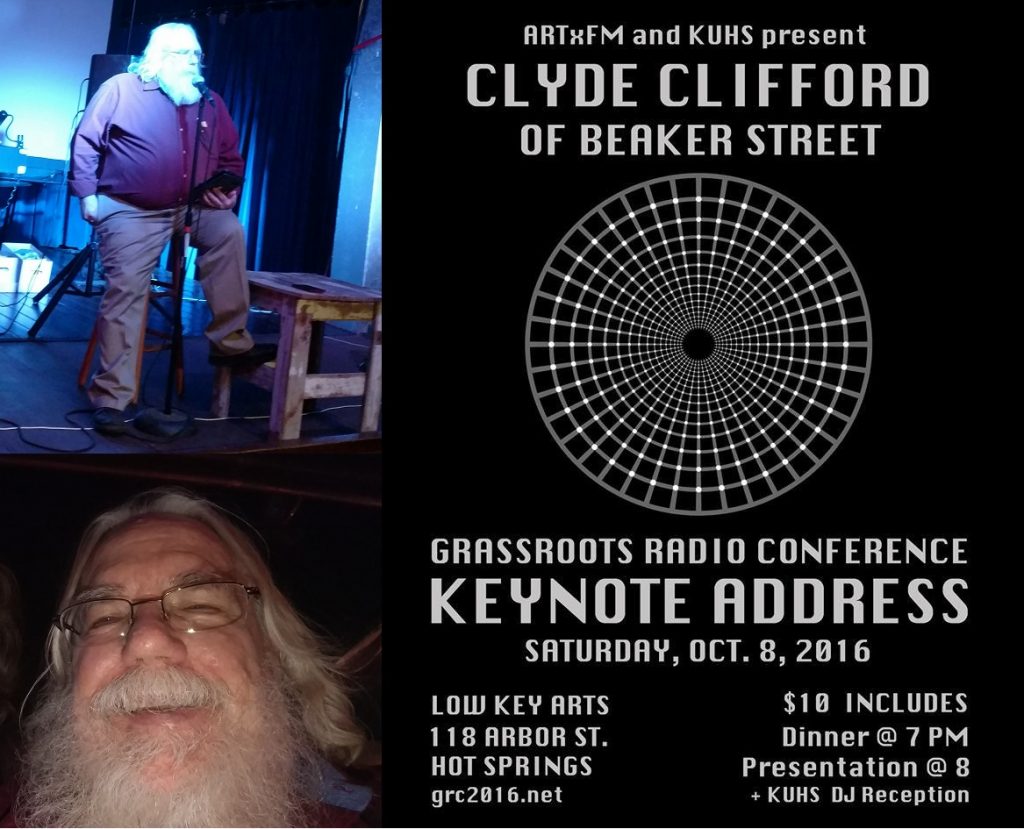 Of course, the real resilience of community radio comes from the creativity, intelligence and generosity of the people involved. The LP-FM attendees were complemented by the many veterans of this field who have helped them obtain their licenses and build their stations.
At the end of three and a half days, the roughly 75 out-of-town attendees were unanimously grateful to the "host family" of KUHS–Cheryl, Eureka, Zephyr and Zac (pictured below)–for their hospitality. Dozens of local KUHS volunteers and businesses assisted in making this conference in the historic spa town of Hot Springs a friendly, natural space to glean insights and inspiration.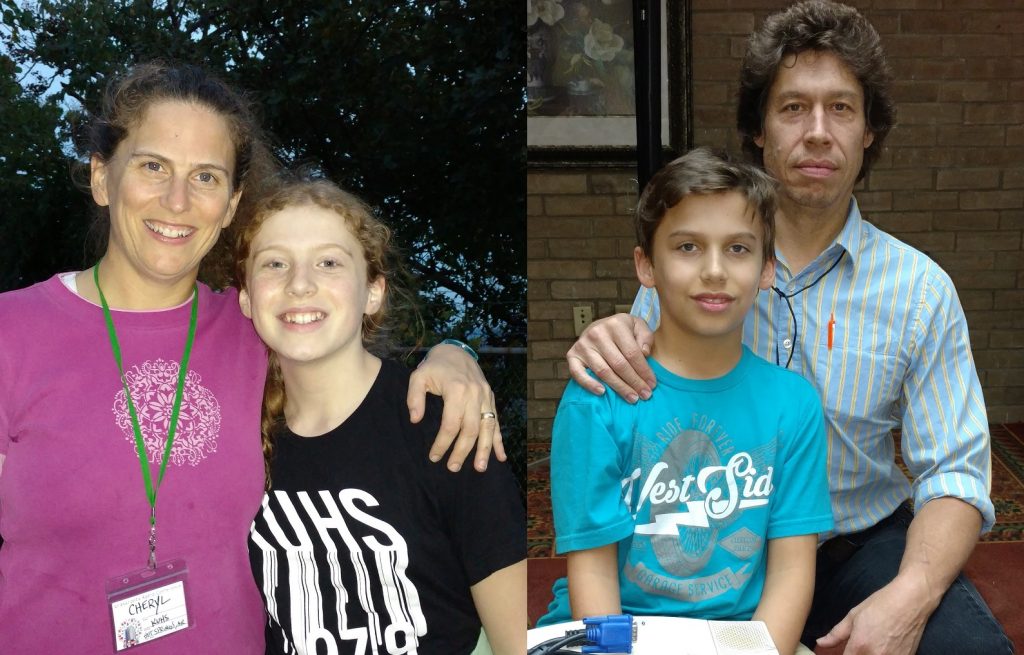 We at the Pacifica Affiliate Network enjoyed catching up with long-time affiliates and introducing community radio newcomers to the benefits of Pacifica affiliation. We recommend the Grassroots Radio Conference, held by a different host station each year, for anyone who wants get involved in community radio, enhance their station's operations, and meet the living legends of grassroots, community radio.