For the 2020 Grassroots Conference, Sharon Scott and WXOX FM were determined to have everyone get together, even if people couldn't be in the same room. Traveling during a pandemic was a non-starter this October, so the Louisville team decided to host the first ever Virtual GRC.
About 200 people attended the conference this year, speaking on what WXOX coined as the Three P's"- the pandemic, the protests, and the president. Highlights included live musical performances and keynote speaker, Chuck D from Public Enemy.
The 2020 GRC was a gift of fellowship when community radio needed it most. Here are some reflections with Co-Founder and General Manager of WXOX FM, Sharon Scott.
The (first ever!) virtual conference went so smoothly! Tell us a little bit about your team at WXOX and how you came together to make the 2020 GRC happen.
Hosting this year's Grassroots Radio Conference was a little like running towards the horizon, reaching a cliff and diving into the water below, not knowing what was under the surface. Video conferencing is brand new to me and I just wasn't sure what was going to happen. I was on pins and needles the entire first day — my heart just racing! There are so many technical elements, so many points of possible failure when you coordinate so many remote set-ups but somehow everything went very smoothly. Big kudos to our Conference Manager Mary Yates, Conference Concierge Cate Gaglio-Inge, and Technical Director Allen White whose professionalism and expertise got the ship to sail and kept the conference running smoothly throughout.
The speaker presentations were so engaging that I slowly found myself able to let go of the apprehension and enjoy how everything was unfolding. I was overwhelmed with pride by how well we were tackling the critical issues in community radio today – and doing so with the most esteemed professionals in their field. Once we got to the keynote conversation with Tia Marie and Chuck D, I was flying so high! Seriously pinching myself . . . overwhelmed by this feeling that everything we had dreamed of was suddenly coming true!
While I would say it was some kind of miracle, I know the success of the Virtual GRC had everything to do with the hard work our very amazing team. I couldn't be more proud of WXOX. Our DJs really understood the importance of this conference and embraced the challenge of making it happen in such a critical year.
What was the hardest part about having the conference online?
Obviously, not being in person with all our radio friends was the most heartbreaking part of this conference. We had to get creative and think of new ways for attendees to connect even though they were divided by the miles. From Discord channels to Zoom parties, we experimented with the many virtual options available to us. The live musical events – The Late For Dinner performances as organized by Jeff Jobson and the WXOX DJ Showcase curated by Jaxon Lee Swain – – were such interesting multimedia events! It was exciting to highlight Louisville musicians and get the conference attendees up and dancing every night. So excellent to cut loose after an intense day of looking into a computer! So uplifting to discover new ways to celebrate with our long-distance friends!
What was fun about hosting?
We got to set the rules. Since this was the first ever Virtual GRC, there was no precedent, no expectation. That gave us an immense amount of freedom to follow our ideas down whichever paths they led us. As we were planning this event and I was worrying over some detail a friend said to me, "Relax. The worst thing that could possibly happen to this conference has already has." Many organizations cancelled their gatherings this year due to the pandemic and I completely respect that. Safety is the most important thing right now. At the same time, if feels really good to have embraced the adventure of hosting a conference despite the challenges of 2020. We learned so much and ended up developing new channels of communication that the Virtual GRC become a true silver lining in this very dark year. While I hope more than anything that next year's conference will be in person, it is reassuring to know that we have the capacity to come together online in a meaningful way, to share ideas, information, and experiences, as we continue to build the grassroots radio network.
What is something you learned this year from the conference?
During this conference, I really came to understand the resilience and resourcefulness within the Grassroots Radio community. Everyone has been experiencing such hard times. Many of our stations are sounding and feeling differently than we ever imagined just one year ago. Studios that were such hubs of community and creativity are now eerily quiet – DJs alone in the soundbooth or broadcasting remotely from home. At the same time, we have felt our responsibility to the community increase exponentially. Though our permeable signals and free-range sounds radio can, like no other medium, provide emergency information and a sense comfort to listeners so sadly isolated at home. During GRC 2020, it was inspiring to see how community radio stations world =wide have stepped up to serve their local communities in such effective ways, through the most challenging situations.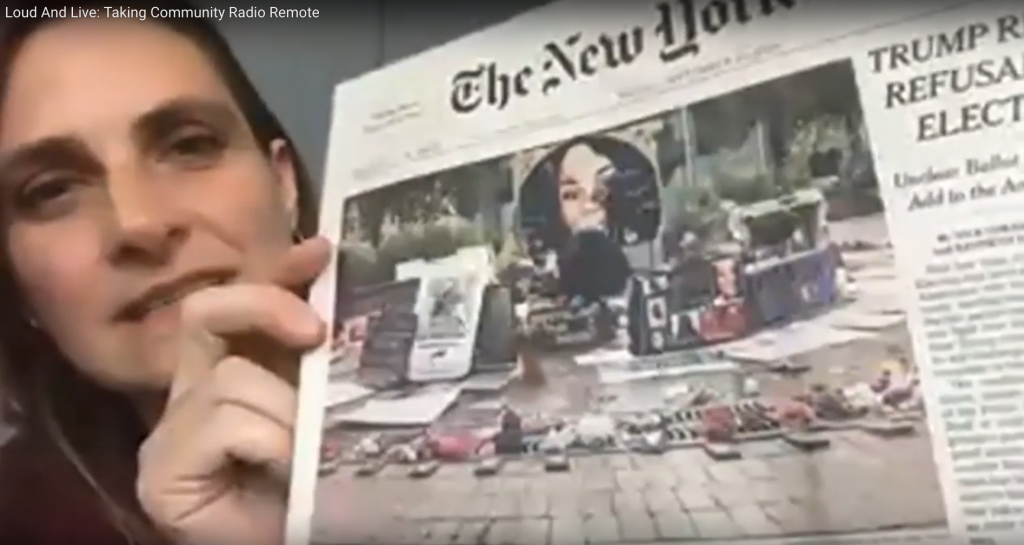 In your welcome address for the conference, you talked about the awakening of the grassroots movement, racial justice, and defending American democracy. What do you think community radio stations should keep in mind as we move forward to 2021?
We are so fortunate to have our frequencies. It is a right — and a responsibility – – that must never be taken for granted. In 2020, the year of vision and clarity, so many things have been brought to light and while we may not have all the answers, we have the power to ask the questions. Each of our stations is powerful within our own community – penetrating minds, elevating consciousness. We must recognize and embrace this – every single time we go on air. But the thing to remember is, we are not islands. We are transmitters – beaming out music, news and conversation with a freedom that cannot be heard anywhere in mainstream media.
While we maybe separated by hundreds of miles, our signals stretch out into the airwaves weaving in and out of one another. If we mobilize on our overlapping signals and activate a nationwide grassroots radio network, we can make unbelievable things happen. We literally are POWER and working together we can increase each other's wattage exponentially. Wither it is to demand human rights or defend our democratic institutions, our frequencies in sync can make the entire world hum. There is so much untapped potential in our grassroots; it is time we start coming together regularly, not just once a year. In these new and unprecedented times, stations must concentrate their power and use it to amplify the voice of our global community.
Any advice for future hosts of the GRC, as well as future online GRCs?
GRC is a magical event. For over 20 years this conference has brought together college and community radio stations to share ideas, information, and inspiration. The Grassroots Radio Conference has continued to exist, some say, precisely because of it does not exist at all. There is no guiding organization, no by-laws, no template or instruction booklet. There is a quilt and a fistful of dollars that is passed from one community radio station to the next. As such, each conference takes on a personality of its very own. Truly, you never know what to expect! My advice for future hosts of the Grassroots Radio Conference would be to plant the seeds of your conference with new ideas, water them with hard work, and bathe them in the sunshine of your station's personality. Create fertile ground for community stations to come together. When they arrive bearing gifts of knowledge and information, you will be amazed as your conference grows into a strong and fruitful garden.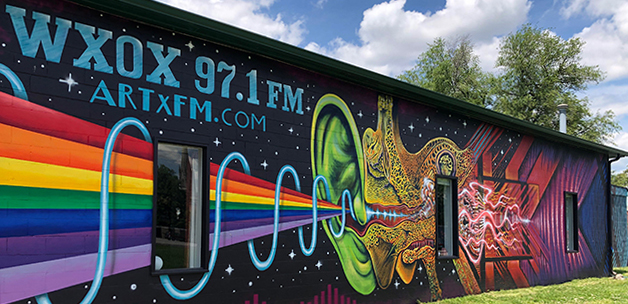 WXOX / ARTxFM celebrates the all embracing definition of the artist. It includes, "It includes painters, performers, educators, philosophers, scientists, and more — the trained and untrained, the local and the superstar." WXOX / ARTxFM was founded in 2011.