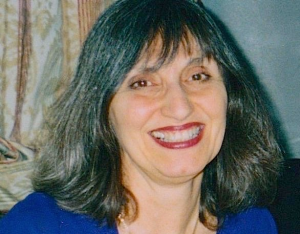 The Pacifica Affiliate Network team includes a few volunteers whom we prize for the valuable work they do in helping make things come together. Our longest-standing volunteer is Diane Reinhardt from Brooklyn, New York. She has worked with us since 2004. Last week, on August 30, we finally asked Diane to speak about herself and her work with Pacifica. Here is some of the conversation she had with Ursula Ruedenberg, Pacifica Affiliate Network Manager.
Ursula: Diane, how did you learn about the Pacific Affiliate Network?
Diane: I was a WBAI – Pacifica listener in New York, so I knew about Pacifica through my local community radio station. After I retired from teaching, I was looking to stay involved in some way with the outside world, so I went to WBAI's website, thinking, "Well, let me see what's going on there." And you had posted a little note on their website saying that you were looking for someone to help with research and writing for the Pacifica affiliate program. I really didn't know what it was. But I knew it had to do with Pacifica. And so I called and I spoke to you and Pete Korakis, who was Pacifica's webmaster at the time and was living with you in Brooklyn. Pete suggested that I come out to Brooklyn to meet you – I was in Manhattan then. I did, and, by the end of our conversation, I was hooked; the more you and he talked to me, the more it seemed like the right thing to do.
Ursula: What was the deciding factor for you?
Diane: This was in 2004 and things felt like a turning point politically. The election had just happened. Pete showed me a map he had made showing the correlation between states that went for Bush and states that didn't have Pacifica affiliates. I clearly remember looking at it and thinking, this is really important. This is something that, you know, could have dramatic influence in changing an election.
Ursula: Describe what you ended up doing as a volunteer.
Diane: I actually went with you, once, to make a presentation to the Pacifica National Board when they met in New York. I told them what I did, so I'll refer to the notes I made for that. I listed four things: building a volunteer base, building a website, building a newsletter, and preserving the history. I understood that I was kind of in on the beginning of things as the new affiliate program was being planned and built. To sum it up, the idea was helping to build a bigger, stronger network.
For starters, we built the Pacificanetwork.org website and started a newsletter. As Pacifica's webmaster, Pete Korakis helped us a great deal with this. But then in 2006, preparations started for the Federal Communications Commission's filing window that was coming in 2007, for full power noncommercial frequencies. We began working with other grassroots media leaders to get the word out about that. So, one of our first big projects was contacting people about applying for radio frequencies and eventual licenses. A lot of it was reaching out to local organizations across the country and winning over people who were not so sure. We asked them, "would you want a radio station?" and said, "we'll help you."
Ursula: The Radio 4 People Coalition we built, together with NFCB, Prometheus Radio Project, Public Radio Capital, Future of Music, and various other organizations, lawyers, and engineers dedicated to promoting community radio in this filing opportunity. Was that project interesting for you?
Diane: Oh, that was great, because like everything I've done as a volunteer here, it fleshed out the abstract ideas you and Pete had introduced me to. It was just a great introduction to the world out there and put me in touch with so many organizations and committed people who have strong ideals and a sense of community work. It's so important to know that those people are out there, many of them are volunteers with absolute commitment.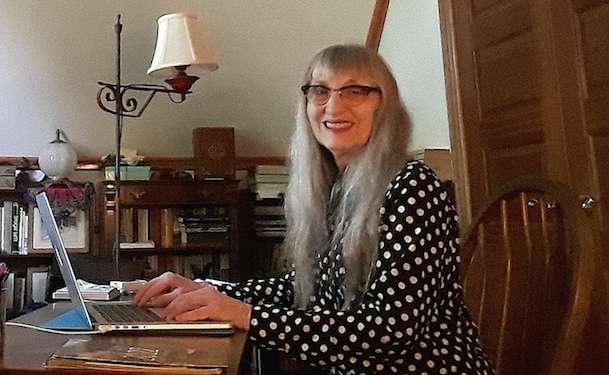 Ursula: Let's talk a little bit about building the Pacificanetwork.org website.
Diane: That was a real learning experience for me. There were all kinds of writing for the actual content for the website. We planned the different sections of the website, with Pete Korakis's help, and put together language about the advantages of signing on for Pacifica affiliation. We worked quite a while on that, which is now the section of the website called "How to Affiliate."
Ursula: How have you continued working over the years?
Diane: Once the website was set up, the next thing was to write stories for the website. I think the first articles I wrote were in 2012 about stations that use alternative energy sources. They were WJFF with hydropower in Jefferson, NY; KIDE with solar power in Hoopa California, and KRCL with wind energy in Salt Lake City.
I've continued writing stories and it's changed over the years. I've always looked through affiliate station websites for stories. At first, I mostly reposted stories from affiliate stations' websites, with their permission. Then at some point, I began writing stories by interviewing people. Now I collaborate with Stephanie Schubert, your Network Operations Coordinator, who is a great supervisor, with suggestions and direction about what to cover. That's our approach now.
Doing interviews takes longer, so I don't work as quickly now. I never feel like I get enough done. What's always in my head is really wanting to pay tribute to the work that community radio people are doing. I always go back to conversations we had about preserving their history and documenting the work that they do. I want to write something about every single station in the network; there's a part of me that believes that the stories I write, station by station, is a way that the history gets recorded.
Ursula: That's a beautiful answer. Looking back, can you share something that sticks out in your memory, in terms of what you've experienced as a writer for Pacificanetwork.org?
Diane: Well, one thing is that, when I interview people at affiliate stations, they usually thank me for my interest in writing about them. I always feel like I should be thanking them because they're the ones doing the work. You know, with the Trump election, the pandemic, the war, climate change and whatever, these are grueling times and it's hard to find things that can make you hopeful or keep up your sense that there really is a lot of goodness in this country.
Community radio people I talk to never fail to inspire me – at every station I talk to. They are just such amazing people; there's always this sense of their community commitment, the work they do protecting community, the power they put into the issues that they're involved with. Yeah. I tell everyone I know that this is just utterly inspirational. In these times, when, you know, a third of the world is flooded, suffering drought, or at war. And, and yet, you've got these people who are just working, just doing what they do for the commitment of it, including you and Stephanie. That's really what I take away from all this.
At many stations, people I've talked to are operating on the smallest budget that you could possibly imagine. They hardly have what they need, but they keep pushing on and doing it. Many are in the minority, in conservative or right-wing areas and they know that it's important to bring programming to their area, that can maybe draw people away from those information vacuums. They're really working so hard to be a voice that says, "consider something else, here's another way to look at it."
Ursula: That's nice to hear. Would you recommend volunteering for the affiliate network office to others?
Diane: Absolutely, yeah, because it will inspire them and elevate them and make them feel a whole lot better about the world. On the other hand, do it because this is important to do; the work ensures that local media survives, and listeners get the best of local media–unfettered by money or outside control. Building community radio is important if you believe that an informed public might make this a better country, world. Volunteering lets you help to make that a reality – I still recall that 2004 map of Pacifica affiliates we started out with, which was much smaller than it is today.
I would say to someone who is considering volunteering: you'll get something out of it, but also think about how absolutely important it is that our affiliate stations survive. Community radio is important as antidote to both commercialization and consolidation, and every effort to strengthen local stations work matters.
And I mean, obviously Pacifica is important in helping those stations survive in these difficult times. It was Pacifica that first defined the freedom-from-commercial-pressure-and-control ideal at its founding, and Pacifica's programming–archived and current–stands as an embodiment of what public service media should be. Having a part of Pacifica dedicated solely to the affiliates' work supports independent journalism because of Pacifica Network's commitment to making affordable programming available to these stations. It enables local stations to be remarkable sources of otherwise unavailable information to listeners across the country.
And credit for the survival and success of that project goes to you and to your work to establish the Pacifica Affiliate Network as an independent entity within the Pacifica Foundation. What you've developed is program support and station-building support. Those who work at affiliate stations have gained some certainty of both Pacifica's support and of the support of its world-widening network of other community stations. Under your guidance, the network has grown; stations have found the means to survive. I know because I was there near the start and because I'm still talking to those stations.
Ursula: Wow. That's a lot. It has been and still is a great pleasure to work with you. You have a fantastic work ethic and moral principles. Also, you and I think the same things are funny so working with you has always involved a lot of laughs. Diane, tell us a little bit about who you are. What is your background?
Diane: I was born in Brooklyn, but by the time I was three, my parents had moved to Long Island to a community that was strongly divided. It's an area called the Five Towns. Four of the towns were really wealthy communities. Back when these towns were first created, a fifth town, where I lived, was established as a living space for the servants of the wealthy. Economic, religious, and racial divisions were built in, and have held on, so, when I was young, I got a good education about these divisions. It shaped a tremendous amount of my understanding of the world.
I went to college on Long Island but spent a lot of time in the city, so, after college, I moved to Manhattan and started teaching English. I taught for 30 years, worked as Vice President of the Union and as the Grievance Chair of the Union. I taught 10th, 11th, and 12th grade and teamed up with a social studies teacher to do a special three-period block course of American literature and American History specifically designed for the average student, an exception to the special programs which were more routinely offered only to the honors track.
I loved teaching but I wanted to have a life beyond it, so I retired as soon as I could and started volunteering soon after.
Ursula: And now you live in a Victorian house in Brooklyn?
Diane: Yeah. Built in 1925, in a small neighborhood called Victorian Flatbush.
Ursula: Do you do any writing other than for our website?
Diane: I do. Fiction, short stories – two, three pages. My stories are about moments of contemplation. Usually about women who are somewhere on the fringe of things in life and who are at a point of making maybe a small decision that nonetheless has larger implications. Or about women that are older and experiencing something that triggers a memory of an earlier decision.
Ursula: Why do you write?
Diane: It's a kind of total absorption that I don't really get from any other activity. I never think about anything as strongly or as much as I do when writing about it.
Ursula: I can appreciate that. Thank you so much for your years of work with us here at the Pacifica Affiliates Network and for taking this time to talk. What are your last words?
Diane: I just feel lucky that I came upon this program, came upon you, and came upon the world of the many community radio people I have been able to talk to. It has been a significant part of my life. It's just been so incredibly enriching.
Ursula: That's beautiful. Thank you.
If you are interested in supporting community radio, we welcome new volunteer writers! Contact stephanie@pacifica.org.