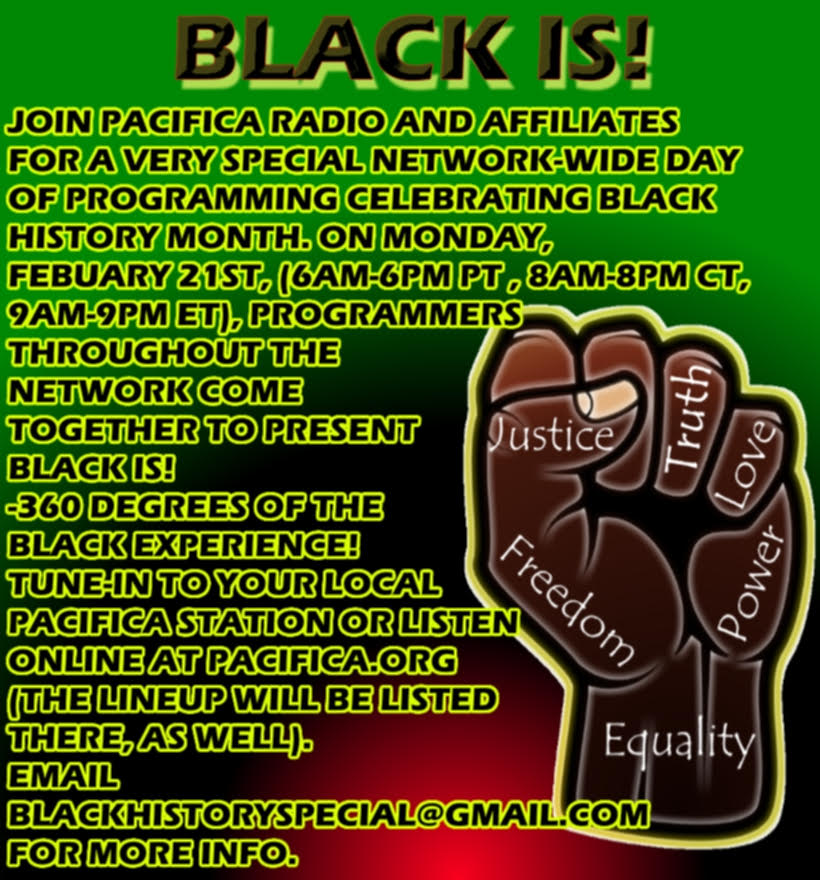 BLACK IS
BLACK HISTORY MONTH SPECIAL on FEBRUARY 21
12 Hours of Special Programming from Around Pacifica Network Celebrating Black History

Monday February 21, 2022

On February 21, Black Is will be a day of special Black History programming for 12 hours, featuring black programmers from throughout the Pacifica Sister stations and affiliate network stations. Programmers of African heritage will come together to articulate truth, unity, pride, and love for who they are, despite past and ongoing injustices. It is meant to be a day of connection, reflection, healing, laughter, and tears.
This network-wide collaboration is executive Produced by Jeannine Etter, at KPFA-Pacifica, in Berkeley, California. Jeannine said, "This will be a day to hold our heads a little higher upon seeing our greatness and voices uplifted and amplified. It is my hope that this will be the first of many network-wide celebrations of the heritages of marginalized peoples that center their voices and perspectives."
The special will air on KPFA.org via live stream on February 21 at:
9 AM – 9 PM EST
8 AM – 8 PM CT
7 AM – 7 PM MT
6 AM – 6 PM PT
A list of topics to be heard throughout the day is listed below. All Times given here are Eastern.
9:00 AM Discussion of Black History Month, great black thinkers, and the black Presence in Europe.
9:30 AM Life of Dr. Carter G. Woodsen and the basics of the origins and meaning of Black History Month.
10:00 AM News Headlines
10:05 AM MLK Speech at 1963 "Los Angeles Freedom Rally," one of the largest civil rights rallies in the country predating the famous 1963 March on Washington by three months.
10:30 AM Dick Gregory's son Dr. Christian Gregory about the life and legacy of the late comedian.
11:00 AM News Headlines
11:05 AM "The One Drop Rule" exploring the historical definitions of race in America and how it continues to shape racial identities.
11:30 AM "Blackface: This is How We See You" reflects on the origins and influence of the theatrical tradition of blackface, and it's detrimental effects on people of African descent.
NOON News Headlines
12:05 AM Interview with Langston Hughes
12:30 AM Poet Nikki Giovanni and Jazz artist Javon Jackson on their upcoming musical collaboration/soon to be released recording.
1:00 AM Documentary excerpt on Elaine Race Riots of 1919 in Phillips County, Arkansas.
2:00 AM Historical Fact Under Attack – discussing the bans on Critical Race Theory and the attacks on teaching history as it happened.
2:30 AM The American Psychological Association recently issued an apology to Black People for longstanding contributions to systemic racism. Is an apology enough?
3:00 PM News Headlines
3:05 PM Dr. Maya Angelou- From a Poetry Celebration for her son, Guy Johnson, in 1995 in Oakland.
3:30 PM Interview with Keith Kilgo, Jazz Musician and one of the founding members of the group The Blackbyrds.