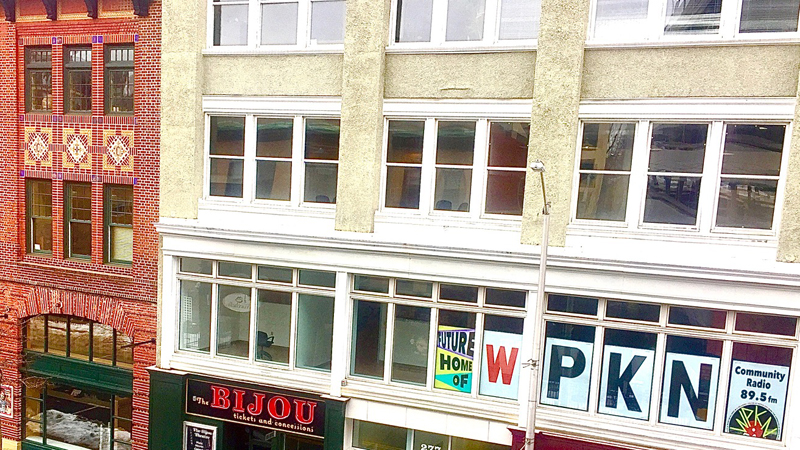 The carpet is in. Since November, WPKN has been juggling multiple projects to get their station relocated to downtown Bridgeport; and along with old walls taken down, new walls put up, polished floors and fresh white paint, the carpet has now been installed in the studios. Like any large undertaking, there have been some hiccups, but if things stay on schedule, the Connecticut station will be fully moved by mid September.
WPKN's new location is exciting because it's smack on Fairfield Avenue, the bustling middle of downtown Bridgeport, close to bus and train stations, and many other venues.
"There's other non-profits, there's other community theater groups there, there are gallery spaces, restaurants, you know, and that's just a more lively place to be," said station manager Steve di Costanzo. "And maybe actually, [it's] probably easier for us to fulfill our mission of being a community radio station, because Fairfield Avenue is a pretty main road, right through Bridgeport."
The Connecticut station has been around for a long time, since 1965 in fact, when it was first a college station at the University of Bridgeport. The station kept its home in the Student Center for over 50 years, even when the station became independent in 1989.
"We loved being at the University of Bridgeport," said di Costanzo. [Although] "yeah, there was always a little bit of mixed branding, like, 'Okay are you a college station?' And even though we're like more than 55 years old, sometimes perceptions don't disappear real fast. So we just thought, you know, it's time for us to take that step, move downtown, where we were offered a really good lease situation. And let's really engage with the community."
Partnership with the Bijou Theater
The new lease situation came from Phil Kuchma, a local property developer and owner of the Bijou Theater.
"He's [Kuchma] always been a supporter of the arts and culture, and a big booster of Bridgeport," said di Costanzo.
In 2014, WPKN began collaborating with the Bijou Theater. They ran a series together called Music on Film, featuring documentary films about music. Di Costanzo said that, when they worked together on these events, Kuchma was always asking them, 'when are you going to move downtown into one of my buildings?'"
"And when we finally decided that maybe the time was right, he put together a very, very aggressive package to have us move in," said di Costanzo. According to WPKN's press release, the station's move committee explored 26 possible locations before deciding on the building next door to the Bijou Theater. But they had a good feeling about it from early on. "It was pretty ideal to be right next to a performance space that is actually owned by the same person who is our landlord," said di Costanzo. "It made a lot of sense for us to think about the idea that we could not only be a community radio station, but we could be a co-producer of potential community events, music, and film events."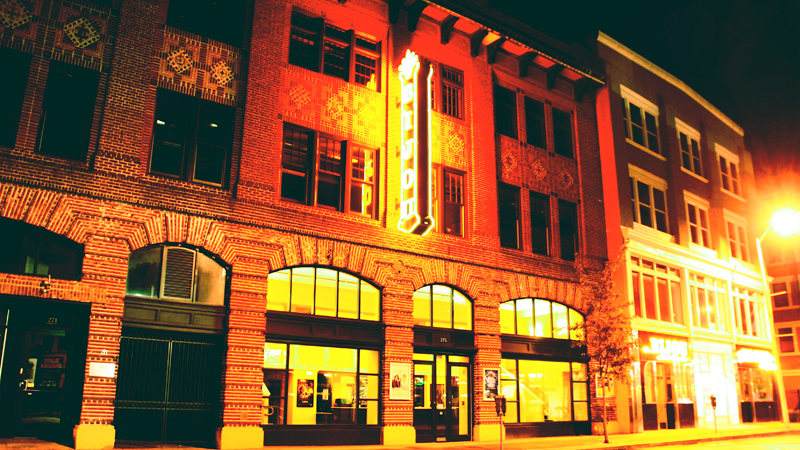 WPKN has had some waves of luck and generosity while planning for its new location. A station ally, Fairfield County's Community Foundation, was able to find a donor family with a keen interest in Bridgeport. The family gave a $40,000 grant to the station to help bring broadcasting and podcasting access to the underserved. Additionally, the station took out a small business loan, and set ambitious fundraising goals for new equipment and renovation. So far listeners have generously answered with more than $266,000.
Di Costanzo also found fortune in a connection he had with a firm that did acoustic architectural recommendations. They had a reputation for doing high-end work for places like the Kennedy Center and Lincoln Center. During the first thrust of the pandemic, the firm wasn't building much of anything, so di Costanzo gave them a call, letting them know about the move, asking if there was any assistance they could give. And "they did most everything pro-bono, which was incredible," said di Costanzo. "I mean, they gave us the recommendations for all the studio, how to build studio doors, what kind of glass to use, how to install it, what to do with the floors, what to do with the walls, you know, they gave us a lot of free information, which was helpful because…we're trying to get to that next level of listenership."
A Modern Space with Modern Capabilities
For WPKN, getting to the next level of listenership means reaching out on multiple platforms, like livestreaming. The station found two non-profits to help underwrite the cost of the cameras and the technology. "Most of us thought that if we're going to move to a new location, and you know, looking at where things are going in terms of content, and media, and also just to make sure that we don't fall off the kind of the age spectrum where everyone under 30 is using video aggressively," said di Costanzo. "To learn about everything-new music, new bands, that we better follow that track as well and get smart and have livestreaming capabilities." So far one studio has been equipped with livestream ability. Di Costanzo said they plan to have it in every studio as funding allows. Furthermore, one of the studios will be equipped for podcasting, a third studio space has been constructed for educational and cultural programs, and the building as a whole is compliant with the Americans with Disabilities Act (ADA).
The layout of the building is spacious because it used to be an old car dealership with giant elevators. With the new renovations and 12-foot-high studio ceilings, the station very much has its own character. "I'm excited about the fact that we're coming into a new space which is, a very kind of clean and open and friendly and also that we have a space to actually invite people in from the community," said di Costanzo.
The realization of a new WPKN location has been driven by a multitude of support. The staff and around 130 volunteers, including the DJ's, have dedicated time to help the station move. "We have a lot of people helping us with moving and even small building projects. Some of our volunteers have access to equipment such as moving trucks, panel vans and dumpsters and other helpful elements to complete our move," said di Costanzo. The board of directors too have put in countless hours of zoom meetings almost every day of the week.
With a signal of 10,000 watts, and a transmitter high up on a hill, WPKN gets a share of listeners from Long Island, New Haven and all of Fairfield County. Di Costanzo said supporters have consistently shown up for fundraising efforts. "They are so generous," he said. "I mean so, so generous. We always see the comments on the fund drives…and it's very interesting, because every show is a part of the puzzle." Di Costanzo added that some people talk about some shows being better or worse, or notice that some shows make more money during fundraising. But he stressed that there are audiences out there for everybody, and it's critically important because the goal is to serve, especially to reach people who are underserved.
Find WPKN radio streaming at wpkn.org
Photos shared with permission of WPKN station manager Steve di Costanzo.