Paul DeMain on Rootstock Radio
This week on Sprouts, Rootstock Radio talks with Paul DeMain, managing editor of Indian Country Communication, Inc. The piece is produced by Charlie Knower and hosted by Theresa Marquez of Roostock Radio in Viroqua, WI. Rootstock Radio is a part of CROPP Cooperative, a coop of organic farmers in America.
DeMain talks about Native American food sovereignty through Midwest Native history and the need to focus on clean water efforts. He believes that going back to the idea of feeding ourselves is critical to reversing the health issues pervasive among all Americans. DeMain also reminds us of the Native community model that all things on the earth are living entities and deserve respect. DeMain
Indian Country Communication, Inc. is an independent and Native-owned business located on the Lac Courte Oreilles Ojibwe Reservation in northern Wisconsin. They produce IndianCountryTV.com and publish News From Indian Country in an effort to provide news and information from Indigenous Nations to the public. They are also one of the few tribal oriented publications that is not owned, or politically controlled by, a tribal government.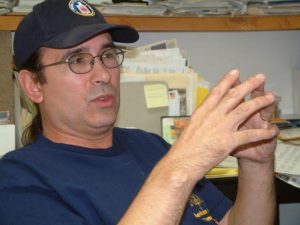 A Relationship with Food and Earth
Theresa knows DeMain through her 30 years of work in the organic food industry. "I enjoyed my conversation with DeMain immensely. [I] learned a lot about the issues facing Native peoples today as well as the work they are doing to protect our shared earth."
Paul's Ojibwe name, Skabewis, means "messenger," a very appropriate description of his life. He is a speaker, journalist, teacher, and a member of the Oneida tribe of Wisconsin. DeMain is also on the board of Honor the Earth, Winona LaDuke's organization working to support Native environmental initiatives.
Charlie hopes the show will encourage people to be more serious about supporting the organic industry and local farmers. He says, "I think the two part series will wake people up to…the connection of spirituality, religion, and food."
"[The story] is important to local and non-local communities. [It] affects my neighbors, it affects you down in Ames, people in Manhattan. It's all part of the difference between leading a good life and not such a good life. We choose to lead a good life."
Sprouts
Check out our map to find out if Sprouts is aired at a station near you. You can also always listen to current and past episodes through our SoundCloud.
Sprouts is a weekly program that features local radio production and stories from radio stations and local media groups around the world. It is produced in collaboration with community radio stations and independent producers across the country. The program is coordinated and distributed by Pacifica Radio and offered free of charge to all radio stations. For information, or if you would like to feature your work on Sprouts, contact Ursula Ruedenberg at ursula@pacifica.org.