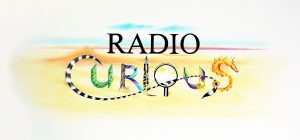 For 28 years, Radio Curious, Barry Vogel's half-hour interview program, has brought listeners stories and news on an expansively wide variety of subjects. http://www.radiocurious.org/ Check the series' index, and you'll find 39 categories*, ranging from "Air Pollution" to "World History," with intriguing stops along the way for "Evolution," "Humor," "Police Brutality," "Science," and "Sex." Guests are sometimes instantly identifiable—President Jimmy Carter, Daniel Ellsberg, Andrew Kramer, Terry Gross—and sometimes of intimate and personal weight, Dr. Lillian Brown Vogel, his mom.
Most are simply thinkers—students of art, history, science—like Denis Dutton who shows how evolution nurtured our instinct to make music, tell stories, paint; or Attorney Kent Spriggs who preserved the first-person stories of 26 lawyers who helped to end racial segregation; or Shankar Vedantam who explores how the unconscious mind controls our decisions, electing Presidents, waging wars, saving our lives. These are programs that invite listeners to eavesdrop, to share that most precious human exchange, a conversation spurred on by a curious mind.
Now, this entire body of work—over 1,000 shows—will be archived and preserved for future generations in the Library of Congress.
This acquisition is a distinction of particular note. When making its request, the Director of the Library's Department of Recorded Sound observed that there is no other thing quite like this, that, while individual libraries or record collections are always appreciated, this is unique, a quarter century of history, a collection of amazing breadth.
"This invitation," Vogel says, "is a great honor. Doing this program is like wearing my favorite clothes; it's part of me. I was proud to hear him say that and ask my permission to have it included."
Good Questions
Vogel's years of experience—as both a lawyer and radio host—have made him a careful, skilled and conscientious interviewer. Early on, he contacted Terry Gross seeking instruction, and still today she serves as a guide. "Whenever I listen to her," Vogel says, "to me it's a tutorial. I listen to what she's asking and I phrase for myself the next question I would want to ask if I were her."
At work on a recent two-part interview with Dr. Terry Allen Kupers, author of Solitary: The Inside Story of Supermax Isolation and How We Can Abolish It, Vogel explains how he indexes the text under consideration so that, "if my guest brings up a topic, I can go to it in the book while we're talking."
He continues, "I want an answer with content. I don't want a yes or a no. And I don't want to give the guest the opportunity to choose which part of the question to answer….When someone says to me 'Good question!' I like to think [the question] coalesces the concepts we're discussing, that I've asked the guest to think about a perspective that hadn't been considered before.
But Vogel's primary quality as an interviewer is his determination to engage. "In my 48 years as an attorney, I've [learned] to phrase questions in a broad spectrum of ways—sharply pointed for court but open and welcoming in an interview. My idea is to be seriously curious as to why someone is saying what they say, what is the background and what does it mean to them."
And that engagement is key to the program's appeal, the standard by which Vogel measures success. "When someone says 'I was listening to your program the other day and I had a meeting, but I sat in the car and listened…I was late for the meeting'…to me that's the highest compliment."
A Gift to Listeners, A Mosaic of Our Times
So, treat yourself—visit the show's website. The table of contents opens with an offering: "These programs are a gift from Radio Curious host and producer Barry Vogel."
And listen…to Randall Kennedy who traces the history of the N-word, its power to do harm, its use in politics and literature; to Eric Schlosser, author of Fast Food Nation, who asks "Do You Really Want to Eat That?; to Dr. Onaje Woodbine who celebrates the transcendence of street basketball, religion and hip-hop. Listen, randomly, led by topic or guest or chronology, but listen most by curiosity. The preservation of these programs constitutes the preservation of an audio legacy, a 28-year record of our varied occupations and pursuits, of our rich and curious lives.
Pacifica congratulates Barry Vogel on his achievement and on this recognition from the Library of Congress.
Radio Curious is aired on 70 public radio stations across the country.
Thanks are due to Barry Vogel for taking the time to talk about his life and program.
*And special thanks are due to Heidi Dickerson for her article "On Leadership: A curious quest" (Ukiah Daily Journal, November 24, 2017), a source of additional information, particularly her delight in the program's table of contents.
http://www.ukiahdailyjournal.com/article/NP/20171124/FEATURES/171129971