This week we're highlighting responses to recent national events: the unrest in response to social injustice in Ferguson, Missouri and elsewhere nationwide, and the changing relationship between the U.S. and Cuba.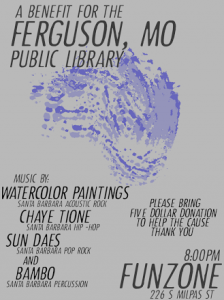 Tonight, December 19, KCSB in Santa Barbara, California is hosting a benefit for the Ferguson Public Library, a place that has become a safe haven during the city's last few tempestuous weeks. The event will feature several musical acts, and they are asking for donations to help out the Ferguson Public Library.
Meanwhile, on Thursday, December 18 KCSB program "Culture of Protest" dedicated their menorah lighting to the #blacklivesmatter movement, and this week they're playing Chanukah music to revive and support "the social justice meaning of Chanuke."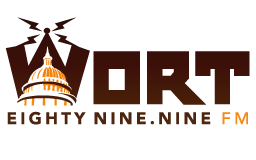 On Thursday, December 11, "A Public Affair" from WORT in Madison, Wisconsin discussed topics such as recent protests in Madison surrounding the erection of a new jail, the Ferguson protests and how Madison is responding to the movement.
Finally, below is a release form for video of "Just Peace" host Heather Gray's recent trip to Cuba amidst recent developments in the relationship between the U.S. and Cuba.
---
JUSTICE INITIATIVE
FOR IMMEDIATE RELEASE
December 18, 2014
Contact: Heather Gray
Comments from Former Cuban Ambassador Dario Urra
about Cuba's Relationship with the United States
By Heather Gray
In June 2014 I joined a group from the United States to visit Cuba and learn about the Afro-Cuba history and present relationships. While there we also met with a number of leading officials, including former Cuban ambassadors to Africa and the United Nations.
Former Ambassadors Oscar Oramas Oliva, Dario Urra, Angel Dalmau in Havana
Given the wise decision by President Barack Obama to begin efforts to normalize relations with Cuba and for releasing the Cuban Five who have been imprisoned in the United States, I wanted to share the video presentation of the statement from Dario Urra.


It was during the June 2014 presentation at the "Institute for Friendship with the Peoples" in Havana that Dario Urra shared the following comment from Cuban President Raul Castro regarding a desire to dialogue with President Barack Obama. Urra said the following:
"Like Raul Castro our president said: "We are open to talking with President Barack Obama. When he won the election the first time, the country (Cuba) was open to talk to Obama. And we said we wanted (to meet with him) in the U.S., in Cuba, or Guantanamo Bay – Gitmo – anyplace.
He said that Cuba was ready to talk without preconditions.
And we also have another topic that we are carrying around the world for (and it is for) the Cuban Five – political prisoners in the U.S."
The link to the video with Dario Urra's comments is as follows:
For more videos of the trip to Cuba in June 2014 including the complete video of comments from the ambassadors please go to the following links.
(1) Visiting Cuba in June 2014 – Part I http://youtu.be/MwhCTggs_g8
(2) Visiting Cuba in June 2014: Part II "Learning from Sara Daisy" http://youtu.be/MMoDU6vpocs
(3) Visiting Cuba in June 2014 – Part III "Art & Religion" http://youtu.be/777GPY3yD-w
(4) Cuban Ambassadors on Cuba's Assistance to African Liberation – Part IV http://youtu.be/Wxq0w-dYM24
(5) Havana Farmer's Market – June 20, 2014 http://youtu.be/HXzmrxPGh4M
(6) Visiting Cuba in 2014 – Sara Dancing http://youtu.be/5gH-eF-KRI4
HEATHER GRAY produces "Just Peace" on WRFG-Atlanta 89.3 FM covering local, regional, national and international news She lives in Atlanta, Georgia and can be reached at hmcgray@earthlink.net