Pacifica Welcomes KMRE-LP—Remade and Remodeled
A Community Saves Its Local Station
In 2018, residents of Bellingham and Whatcom County learned they were about to lose their local community station, KMRE.
Founded in 2005—and Bellingham's oldest public station, KMRE had from inception been located in the Spark Museum of Radio and Electricity. The format was vintage, tribute to its home, classic programs from the early twentieth century, radio's Golden Age. But, now, the museum had decided, it no longer wanted to maintain an in-house station.
Determined to retain the FCC license and to preserve their community radio, a group of volunteers organized, forming non-profit Kulshan Community Media. Daylight Properties, owner of the Bellingham National Bank, donated basement studio space. A new transmission site atop the Bellingham Herald building was secured, expanding the station's range to the entire city and beyond. A new motto summed up their intent: "We help Whatcom County people tell their stories."
And, finally, in April, 2019, KMRE—remade and remodeled—went on the air.
Program and Music Director Julie Marletto says, "Kulshan Community Media set a vision for KMRE," crafting "a strongly supported, deeply valued and crucial community resource, one that promotes underserved voices and enhances social, cultural and environmental awareness."
The station's new format offers a mix of locally-produced community talk—programming that emphasizes arts, music, and public affairs—and roots music—Americana, folk, blues, all post-1965. Marletto, who joined the station in 2018 to build the music format, points out that the musical menu is central to the redesign. "Many themes in roots music," Marletto explains, "support the vision and purpose behind our public affairs and cultural programming elements."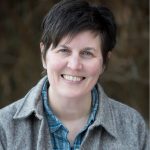 Community response to the format change has been enthusiastic, gaining, Marletto says, "an increase in listeners, community partnerships, volunteers and financial support." And, though challenged by the pandemic, KMRE's uninterrupted service has further fastened community ties.
In April, 2020, the station launched KMRE Coronavirus Stories, interviews with neighbors, conversations about lives impacted and helping hands. "There was a lot of bonding during the recording of those episodes," says Marletto. "Community members were amazingly open and vulnerable."
KMRE joined the Pacfica affiliate network in October, 2019. Asked about the decision, Marletto cites the importance of the access Pacifica offers to content produced elsewhere at an affordable price.
And, she adds, "A bonus for me, as Program Director, is the camaraderie and education I receive from the Pacifica led video conferences with programmers and station management from across the country."
Today, there's new music in Bellingham, Washington. And more community conversation in the air.
Pacifica welcomes KMRE-LP, community-powered and rooted in song.