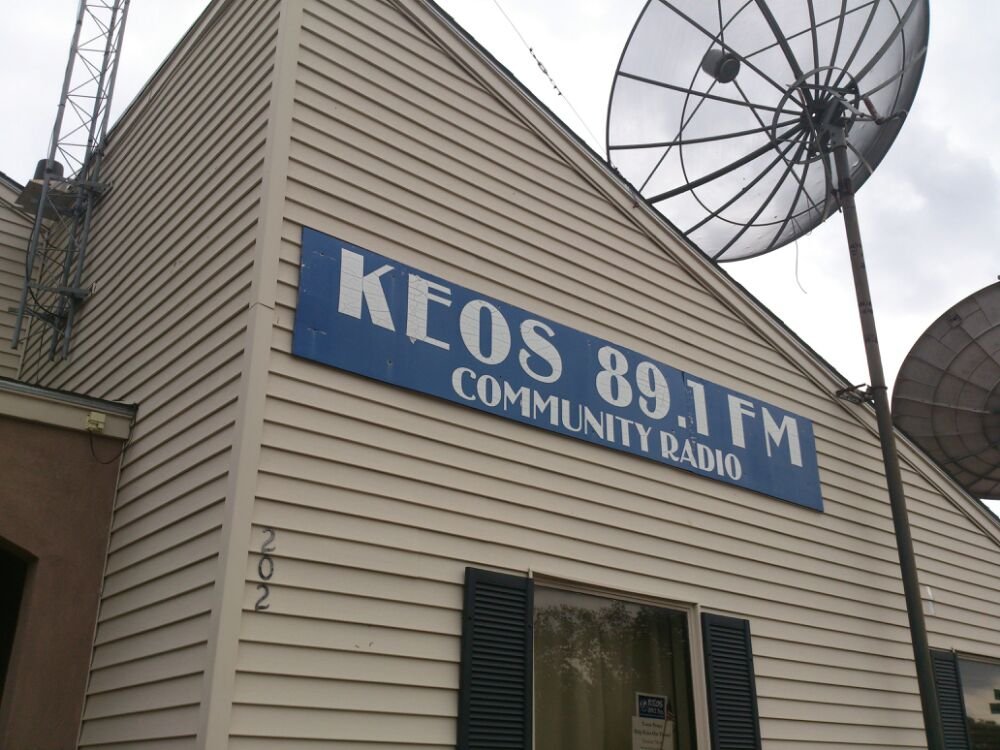 This week, the Pacifica Affiliate Network says, "Happy Birthday KEOS!"
http://keos.org
On Saturday afternoon, March 28, the all-volunteer staff at KEOS 89.1 FM in College Station, Texas will be serving cake and soda at a studio open house, marking the station's twentieth birthday. Previous and current volunteers are invited to record their stories and experiences, preserving memories to be broadcast throughout the coming year.
http://keos.org/keos-20th-birthday-open-house/
The gathering is a thank-you to loyal listeners, "the lifeblood of the all-volunteer, community-supported radio station."
KEOS, which began broadcasting on March 25, 1995, has, from its beginning, relied on an all-volunteer staff; and its website notes that today it is one of few that still does. In fact, several of their DJs have been there from the start.
The station is completely supported by local donations, contributions from listeners and local small businesses, and small grants from The Arts Council of the Brazos Valley and the Plass Foundation. The community has, for 20 years, paid the monthly bills, and, in times of need, funded critical updates of station air-conditioning and broadcasting equipment. Recently, a pledge drive was held for funds to raise the station's tower and increase its broadcast range.
http://keos.org/twenty-years-of-all-volunteer-community-radio/
Strong local support has also allowed the station, since its founding, to twice improve its studio facilities. KEOS's first studio was a former Tio Gordo Tortilla production plant, earning its moniker as the Tio Gordo Studios. In 2002, the station moved to a building formerly occupied by The Early Bird Shop that, fittingly, subsequently became The Early Bird Studios. Then, in 2006, KEOS settled in its present location, the Bell Studios, a building purchased from Bob and Judy Bell.
http://en.wikipedia.org/wiki/KEOS
KEOS staff members identify themselves as educators.
The station promotes local, state, and national live music concerts, notably its Lone Star Music Series, and looks forward to the return of Weirdsville, USA—Weird Music for Weird People. Their website notes, "By offering a variety of tonal, rhythmic and harmonic styles, KEOS educates listeners about music."
The schedule includes "educational programming such as Bioneers, Sprouts, Sierra Club Radio, Bare Bones Biology, and Earth & Sky." Candidate forums and forums sponsored by the League of Women Voters are standard fare. An open door policy encourages "listeners to call and join the conversation;" and affiliation with various national and international media networks, such as Pacifica, insures that broadcasts "provide different points of view as an alternative to mainstream sound bites." Photos on the station's site feature a visit from Amy Goodman.
For local students, the station sponsors "significant participatory opportunities to students of Texas A&M University, Blinn Community College and other area schools and colleges." New volunteers join every week.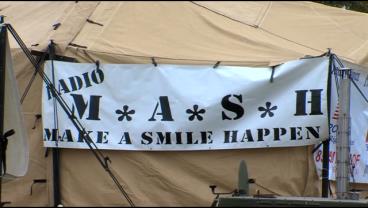 Read a past feature on KEOS's annual Radio M*A*S*H event here, in which the station gathers toys and funds for local children in need.
On its masthead, KEOS bills itself as "the left end of the dial done right." Today, Pacifica celebrates with the station in appreciation of 20 years of continuous on-air broadcasting powered by an all-volunteer staff. Congratulations, KEOS!