Olympia's Only Full-Time, Full-Power Commercial-Free Public Radio Station Celebrates Four Decades of College and Community Service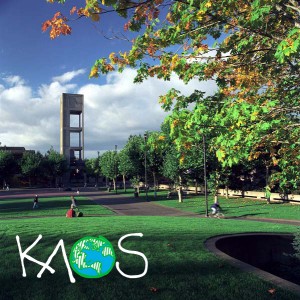 This year marks a milestone for KAOS (89.3 FM) and for the school and community it serves: KAOS is 40. Broadcasting from Washington's Evergreen State College since January 1, 1973, today, the station is lauded, not for its endurance alone, but, more significantly, because it remains determined to serve the underserved, to program what others don't, to be both itself and ever-better. KAOS, at forty, has a foundation, a mission and a plan.
Jerry Drummond, General Manager for the past 10 years, praises the station as "a haven found after a desperate search to get out of commercial radio and be free of the constant progression of ownership changes and consolidation." Further, he notes, "We program what others don't provide. A few years ago, we lost our CPB funding partly due to our decision to stay with our "quilt" programming. Even with a long-time pirate station and an LPFM broadcasting in our area, we still serve as the alternative to other local offerings."
Throughout this year, the station has hosted a series of small anniversary concerts in various Olympia venues and a series of live-studio performances, concerts that feature and promote local artists. One such show, held at the Olympia Ballroom in April, treated its audience to "Afromassive" (experimental Afrobeat and electro funk) and "Kasata Sound" (an electronic music project of kora player Kane Mathis). Then, in August, the station hosted a "Love Your Local Fest" featuring a long-list of local musicians, an artisan marketplace, and hula hoops.
The design is fit: Since 1978, KAOS has been unique in its "Independent Music Policy," a trademark policy prominently defined on its website: "KAOS promotes music from new artists, small record companies, and material that receives little (if any) airplay in the United States. KAOS is committed to ensuring that at least 80% of the music played on the station comes from independent record labels and distributors." The page goes on to explain how small record producers and labels are simply and grossly out-distributed by large, more-amply funded operations and that, therefore, "Philosophically, the policy supports independent artists and businesses who are pursuing an alternative to "business as usual" in the music industry. … KAOS has gained a national reputation for its support of independent music and artists."
Check their playlist any time, and you will discover artists you've not heard before, clear designations as to who is new and who is local, and a comprehensive index of artists, disks and labels featured in their shows. Drummond adds, "Our veteran programmers have great faith in our policy. Youth is often challenged by limited knowledge. If they play Tom Petty, we encourage them at least to go for the lesser known tracks."
This anniversary is also a time for the station to celebrate its many long-running programs, tributes to the station's commitment to diversity in music and public affairs. Music programs, like "Retroactive" (roots rock, r&b, soul), "Music from the Underground" (psychedelic), "Excuse All The Blood" (metal), "El Mensaje Del Aire" (Spanish-language), and "View From the Shore" (Native) that have been around for over ten years are complemented by public affairs programming such as "Parallel University with Kim Dobson" (Live call-in discussion). And, as a long-time Pacifica affiliate, KAOS appreciates, Drummond notes, "both Pacifica's well-established reputation and the variety of programming available through the network," broadcasting "Democracy Now," "Free Speech Radio News," "Sprouts," and a wide selection of other Pacifica programs on a regular basis.
KAOS has also used this occasion to expand its community and college outreach, both off and on air.
The station's three administrators, General Manager Jerry Drummond, Training and Operations Director Ruth Brownstein, and Development Director John Ford, have increased the station's involvement in community events. The station participated in a wine-tasting at a new venue, tabled at a fund-raising event for a local cat adoption agency and also at this year's "Coopatopia", a gathering of co-ops from the western part of the state, where John Ford served as Master of Ceremonies. In June, the station held an open house and offered tours of its remodeled studios.
In addition, the administration has initiated a program whereby the station dedicates a month to a local community organization, producing public service announcements for that organization and providing increased airplay. As a result of this new program, Drummond says, "Community groups now look to us, feed us, turn to our website." Further, in the coming year, Drummond notes, "The station plans to conduct a community survey in order to better adjust programming to improve community support." And a local newscast is in the works.
Station personnel have also been prompted to establish new collaborations with Evergreen State College. Drummond notes, "We try to be evenhanded in direct service. We're looking to be more closely tied to the academics. Currently, there is no degree in broadcasting or communications, no broadcasting classes." Professor Leonard Schwartz, a poetry teacher, hosts a 1-hour weekly poetry show and listening is a course requirement. On occasion, guest lecturers are broadcast. And, next semester, Operations Director Ruth Brownstein will co-instruct a media class.
Perhaps KAOS' greatest college/community collaboration, however, is made evident in its commitment both to its volunteer work force and to its extensive free community programmer training.
Their website notes, "Programming on KAOS is made possible by the work of dedicated volunteers!" The station's Program Director, Music Director, and office assistants are all students who commit to at least 19 hours a week. Volunteers, again according to the station's website, may help with "Events, Fundraising, Music Library, Production, Sound Engineering, Local News, and Office Maintenance." The station boasts approximately 100 regular volunteers, 60% from the community and 40% students. Drummond says, "When I'm working with all the volunteer DJs, I realize KAOS gets the best people that both Olympia and The Evergreen State College has to offer. Our success is due to our diverse and talented volunteers." The Evergreen State College newsletter reports that, "Over its 40-year history, KAOS has become one of Thurston County's largest volunteer-based organizations" and that, "Their varied perspectives and sensibilities make KAOS a unique resource for information and entertainment often ignored by major media."
In support of this volunteer work force, every three months, the station offers free radio broadcast training to both community members and college students. Enrollees meet once a week for 6 weeks, complete both outside and home work, are tested at the course's completion and are expected to put together a demo showing what they want to do as broadcasters, with an emphasis on demonstrating what they can bring that is new and currently unaddressed. Drummond says, "We want our students to succeed and so their slant must be new. They must bring to the station something we're currently not providing." Classes serve a maximum of 15 students; there is usually a waiting list of 50 or 60.
This anniversary has also allowed time for retrospection. KAOS has found occasion to honor and remember those who founded the station and whose commitment fed the station's independence, originality and rebel spirit.
The story goes that Dean Katz, a student at Evergreen State College, altered an application for a station license for KESC (for "Evergreen State College") to KAOS, tribute to bumbling secret agent Maxwell Smart and his program "Get Smart." The station's first full-time paid employee, John Foster, served as KAOS' music librarian; and, as he labored up to 80 hours a week, listening to "stacks and stacks of records that no one ever filed" and "a ton of music that no one knew anything about" and was joined by others, Toni Holm and Dave Rauh, who shared his growing "indie" taste, they designed a station that would be open to the local community and committed to playing non-commercial music and to public education. And so, the Independent Music Policy was conceived.
For this anniversary, in addition to expanding its long-established tradition of broadcasting live in-studio performances by local musicians (The station hosted an early appearance by Nirvana on April 17, 1987—their second public appearance and first ever radio broadcast), KAOS has improved its documentation of its performance broadcast history. Its website notes, "Since 1980, audio students at Evergreen have been creating compilations albums of music by fellow students. All of the songs are composed, recorded, produced, and mastered by students. The albums span many genres, and have been released on multiple formats, including vinyl, cassette, CD and flash drives."
And now, volunteers are creating a compilation album of recordings from in-studio performances broadcast over the past 40 years. The website reports, "The Evergreen Student Music Project (ESMP) has a new web page with archives of recordings from throughout the project's history. You can stream songs online, or download them for listening on your favorite media player. The recordings offer a nice tour through some of Olympia's rich and eclectic musical history."
To complete its historical review, the station has issued a wide call for submission of archival materials. Drummond notes, "Evergreen alumni have returned a variety of artifacts." And the website asks listeners to "(s)ubmit Archival Materials (recordings, photographs, videos, newspaper clippings, old KAOS merch, stories)."
KAOS' determination to take a road-less traveled has garnered the station both national and local recognition. Its music policy has become a model for other independent stations across the country. In 2012, as reported in The Evergreen State College newsletter, "Performer Magazine recognized it as one of America's top ten noncommercial radio stations based on the diversity of artists aired, and The Princeton Review selected it as one of America's top ten most popular college radio stations. The Princeton Review ranking was based on student surveys conducted with more than 122,000 students at 377 colleges across the nation." Both awards acknowledge the station's wide range of programming in music, women's issues, Native American, Spanish language, and public affairs reporting.
And locally, again as reported in The Evergreen State College newsletter, "KAOS was chosen by Weekly Volcano readers as "Thurston County's Best Radio Station" in the "Best Of Olympia 2013" issue published by the Tacoma- Olympia alternative newsweekly," a repeat of 2012's designation. Drummond notes, "The best part of this award is that it makes two in a row for KAOS. We were voted the best radio station last year as well. These local awards certainly mean as much as the national honors, since we were selected by the audience we serve."
And Drummond adds, "With KAOS' official designation as a hybrid station that combines serving as both a college radio station, as well as the community station model, receiving praise for our focus in both areas makes these rankings all the more impressive. The efforts of our many student volunteers, joining with the long-time community- member programmers, have gotten us this nationwide notoriety."
So, this is KAOS at forty: true to its mission; filled with music, with voices, various and diverse; sure of its heritage and ready with a bevy of plans for an improved future.
KAOS first went on air on January 1, 1973. KAOS is licensed to and supported by The Evergreen State College, Washington's innovative four-year college, nationally acclaimed for its interdisciplinary studies in the liberal arts and sciences.
The station broadcasts at 89.3 FM at 1100 watts, 18-22 hours a day, 365 days of the year. Its coverage area includes Olympia/Lacey/Tumwater, Thurston County, Shelton, Mason County and portions of Lewis, Pierce and Kitsap Counties.
The station streams its broadcasting live on the World Wide Web, at www.kaosradio.org, and can be heard on Comcast cable in Thurston County on TCTV Public Access channel 22 as well as on Comcast Digital Cable channel 982.
The station is a member of the National Federation of Community Broadcasters, Washington Public Broadcasting Association, Washington State Association of Broadcasters, Pacifica Radio Network, and Public Radio International.
Information for this article comes from an interview with Jerry Drummond, General Manager (August 30, 2013); from the KAOS website; from articles that appeared in the Evergreen State College newsletter (2012 and 2013); from Olympia Power and Light (April 7, 2010); and from Wikipedia.