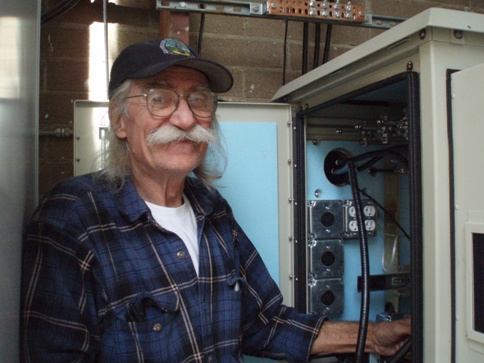 Tom Voorhees is a retired radio engineer living in Washington State. There is a possibility that you have heard of him because he gets around: when a community radio station is in need of an engineer, Tom climbs into his rugged truck full of equipment, goes where the station is, and stays until everyone is up and running. It can take months. This is a godsend to most in community radio since his level of expertise usually comes at a high price and is hard to find.
Tom is one of the best in his field. "I was a communications engineer all my life, so when I retired, it was just the natural course to take," said Tom.
Tom has dedicated his retired life to community radio. He designs and builds new community radio stations and does problem-solving needed for a multitude of different issues that come up at new stations. When Low-power stations (100 watts or less) upgrade to full-power capacity (more than 100 watts) Tom engineers that as well, and takes care of difficulties older stations have, as problems arise and technology changes. Much of the work means long hours at radio tower sites out in the elements.
Tom has helped many Pacifica affiliates, including KRBX in Boise, Idaho, KHOI in Ames, Iowa, WVQR in Vieques, Puerto Rico, KRFP in Moscow, Idaho, and Native station KKWE/NIIJII Radio, in White Earth, Minnesota.
When Ursula Ruedenberg, Pacifica's affiliate network manager, led the construction of KHOI Radio in Ames, Iowa, in 2012, Tom drove to Iowa to get them on the air. "Building a radio station has a lot of moving parts and the community can do much of it." said Ruedenberg, "But when it came to managing construction at the radio tower site – that part is a big project requiring professional expertise. Tom rolled in with his old truck and things got real right away. He whipped the team into shape, worked long days, and stayed for months to make sure everything was done right. He even installed the soundproofing properly for our studio! It's amazing to experience such professionalism."
Wherever Tom goes, he literally expands the reach of free speech radio and opens airwaves to progressive voices. Low power radio stations Tom helps are often built by ordinary people who have few resources and can be isolated; in many cases, they are the sole point of communication in their community, as well as connection to the world. Tom has worked with various communities including Indigenous peoples around the US, Central and South America, and Mexico.
When asked why he volunteers this way, Voorhees says, "It gratifies me. I became a member-listener of KPFA-Pacifica in 1954 when I was in high school and have been listening ever since. It was obvious to me even then that the world was out of balance, and I was not getting the information I needed. So, I turned to KPFA. Community radio gives me what I look for to build a better world."
Tom pays it forward by helping the five stations Pacifica owns. "It's crucial to keep them on the air," he says. He recently saved KPFA thousands of dollars by assisting with flood mitigation. Currently, he is in Los Angeles, addressing critical technical problems at KPFK-Pacifica, and then will return to KPFA, to solve a Dish Network tower encroachment problem on the Monterey peninsula. When finished there, he will go to Pacifica affiliate KMUD in Redway, California, to design and build a new studio-to-transmitter link.
Ursula Ruedenberg said, "Nothing lasts forever and while Tom is offering this, we are infinitely fortunate to have a professional specialist of this caliber in our world, and even more so that he volunteers his work. It is part of what makes our radio community culture so special – and possible – that we have treasures such as Tom's work. He is absolutely priceless."
Tom supports himself with Social Security, but his volunteer work comes at a cost to him. He must raise money to meet these expenses. We encourage you to support Tom's work. Tom is currently conducting a fundraising campaign to offset his expenses for a trip to several stations in California. Approximately $5,000 are needed for travel expenses, truck fuel, and equipment needed for work being done at KPFK to address weather issues and translator problems.
— To help, send your check or money order to: Tom Voorhees – Pacifica Maintenance, PO Box 601, Clinton, WA 98236.
Photo of Tom Voorhees used with his permission.