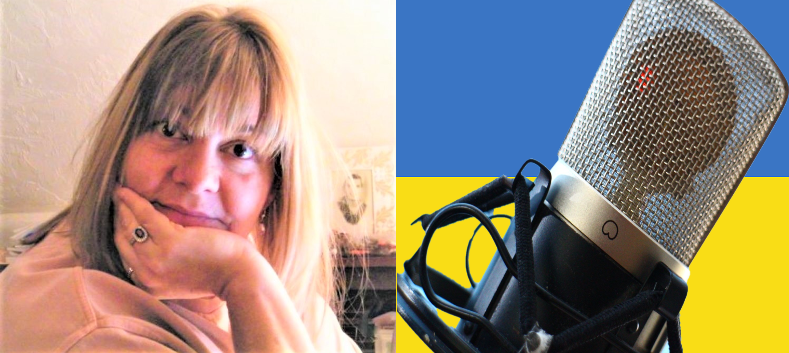 Bringing local stories to global audiences is a usual practice in community radio, but some radio producers at Pacifica Network's member stations are taking the initiative to bring a global story to local audiences. One of these radio producers is Anne Levine, at WOMR Community radio in Provincetown, Massachusetts. The story is Ukraine.
What does community radio have to do with the war in Ukraine? A lot.
As with all wars, communication is not only needed between military personnel in the field, but it is also the essential component of safety and morale of ordinary people caught in the crosshairs of the violence and atrocities. When building communication links, there is power from the bottom up.
When the world's largest radio broadcast tower was bombed in Kyiv by Russia, Kraina FM, a powerful commercial all-Ukrainian talk and music network, was knocked off the air. That sudden adversity led to creativity and rebirth in a new form: their slogan changed to "Radio National Resistance" and they took on the work we share in community radio; in this case, fighting for safety and democracy in war, reaching 27 cities in Ukraine.
And after the tower was taken down, Kraina FM staff asked the military what they should do. Instead of carrying weapons into the battles, the military said keep doing what you do best: radio. Now, the general manager and program director are running the operations from a hidden location. There are about 30 formerly paid employees, now volunteers (in the best community radio tradition), engaged in their host communities: each community helping each other.
In terms of value to the people of Ukraine, if the Internet is knocked out, people in shelters still have their transistor radios. Radio Kraina regularly runs requests from the military for current needs, and listeners do their part. They announce alerts, how people can escape the attacks. The radio network provides on-air psychiatrists to help listeners deal with stress and trauma and help for parenting during war, and they play lullabies and kids stories in the evening.
Anne Levine, who is a radio host at Pacifica member station WOMR Community Radio in Provincetown Massachusetts, says, "I came across an article published by the New Yorker on March 18 about Kraina FM. I wanted to talk to them. Since I have been a radio host of 15 years, their story lit a bonfire in my belly. When Russia began bombing Ukraine, it touched me personally because my own family roots go back to Ukraine. Prior to World War Two, one grandparent fled Kyiv and another fled Odessa. Both were fleeing genocide. So, I was looking for a way to respond to bloodshed that is happening today in Ukraine."
Reaching and engaging Kraina FM was not easy, but Levine was persistent, and it paid off. Once they spoke, a bond was formed through the shared goal of community service. Levine initially interviewed the Kraina FM staff and the recordings were aired via Pacifica network by more than 100 radio stations. Kraina FM General Manager Bogdan Bolkhovetsky's story can be heard here.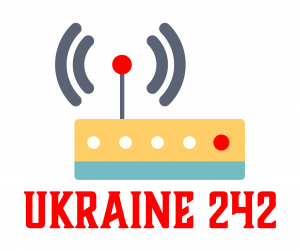 The Kraina FM staff, whose difficult work leaves little spare time and energy for communicating with other media, have made Anne Levine their USA Media Liaison and limit most of their international communication to arranging interviews for Anne with key people in Ukraine to report on events and the stories behind them. WOMR and Pacifica are collaborating to craft these interviews into a weekly show called Ukraine 2 4 2 (as the invasion is referred to in Ukraine). The show will air weekly on WOMR in Provincetown and will be available to all 225 Pacifica network member stations, as well as the unedited interviews.
Ursula Ruedenberg, Pacifica Affiliate Network Manager says, "When there is a situation where people are suffering and facing aggression, there is always a desire on our part to find a way to report on it by getting their own voices on the air. It is very difficult to do this, so we are extraordinarily lucky that in this case, a network member did the hard work of finding Kraina FM, who can work with us as a media partner in such circumstances. We are supporting this collaboration on the network level. and we are being rewarded with deeply insightful interviews telling us how ordinary civilian professionals are adapting to service during war time."
Many want to help the people of Ukraine and the community radio station is a big part of the effort. Levine asked Kraina FM what is most needed now and learned that anti-coagulant gauze, desperately needed to stop the bleeding of so many wounds, is in short supply. Anne started a fundraiser on Facebook and immediately wires all donated funds to a hospital in Ukraine treating casualties who purchase the gauze. You can donate to this here:
Anne Levine's twitter handle is @AnneLevine
Photo of Anne Levine used with Anne's permission. Images of Ukrainian flag and microphone from: Pixabay https://pixabay.com/vectors/ukraine-f… Pxhere https://pxhere.com/en/photo/775481