In addition to the usual Community Radio practice of local stories, Pacifica Network member station WXOX (ART FM) in Louisville, KY, has extended its community focus to include a global story. The community and the story being covered is Ukraine.
As stated on the WXOX web site: "ART FM stands with the people of Ukraine as they fight for their land, their freedom, their human rights. We are horrified by the violence brought upon this peaceful country and inspired by the bravery with which the nation fights for its very existence.
Since the onset of the Russian Invasion, ART FM has been proud to host special programming addressing the conflict, desperately seeking solutions. From interviews with Ukrainian politicians in Kyiv to showcases of Ukrainian electronic music, we have gained an understanding of this magical part of the world and the brave people who live there…"
Sharon Scott, Station Manager for WXOX said, "We at ART FM are proud to bring our listeners first-hand accounts of the events as they are unfolding in the battle for
Ukraine's independence. For instance, It is an honor to have Andriy and Megan bring
Dobryi Den
to our air waves; a beautiful program exploring the music and culture of Ukraine. In the true spirit of community radio, we hope that their powerful and emotional broadcasts will help listeners understand the human toll of the conflict in Ukraine – and inspire them to help out where they can."
For the person concerned about the invasion of Ukraine, WXOX provides programs and resources – on the air with programs and on their website.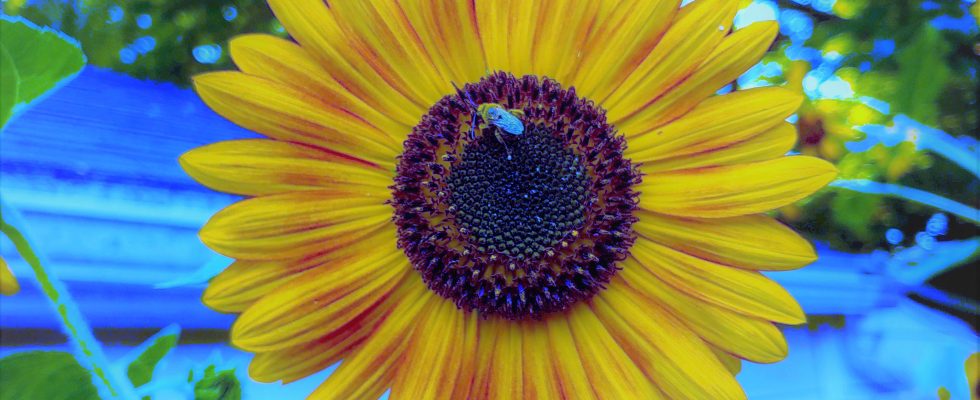 DOBRYI DEN ("Good Day") is a WXOX show hosted by Ukrainians Andrey and Megan Sherehiy who live in Louisville. They showcase poetry, and art of Ukraine, interwoven with news and voices from the conflict zone, along with messages for listeners, from Ukrainians. The show airs on Saturdays from noon to 1 PM ET on WXOX 97.1 FM. It can be heard live online here. The show is also distributed to be aired at other Pacifica Network member stations.
L.A.M. RADIO HOUR: UKRAINIAN WOMEN COMPOSERSwas produced by WXOX in collaboration with the Louisville Academy of Music and presents compositions by contemporary Ukrainian Women composers, with histories and biographical facts.
UKRAINIAN DARKWAVE ONWAYWARD DISTRACTION is a musical journey, led by WXOX DJ Mark Wallis, into the sounds of Ukrainian Darkwave.
You can listen on demand, to Dobryi Den, Ukrainian Women Composers, and Ukrainian Darkwave here. WXOX also offers links to relevant radio programs being produced at other stations, as well as links to music, musicians, and organizations responding to the Ukrainian plight on that same page.
Programs from other stations recommended by WXOX include:
THE DEEP DIVE RADIO SHOW (from WHRU, Chicago, Il), bringing government leaders and on the ground security experts in the war territory, providing firsthand information about Cybersecurity, Cyberwarfare, Cyberterrorism and related Technology.
REALFICTION RADIO: UKRAINIAN POETRY (from WERA Arlington, VA) featuring writers and poets from Ukraine and Russia risking their lives to speak out about Vladimir Putin's invasion.
UKRAINE (from WERA Arlington, VA), offers a compilation of artists recognizing heroism and support for Ukrainian people fighting and dying to protect their nation.
WXOX also provides a comprehensive list with links to music, musicians, and organizations who are acting to support Ukrainians.
Notes about Addition Programs:
KHOI in Ames Iowa brings REPORT FROM THE WAR IN UKRAINE, a weekly show hosted by a team of Ukrainians living in that town led by Svitlana Zbarska, who interview Ukrainians in that country or in exile, on a weekly basis for their stories and reports. The show airs from noon to 1 PM CT (1 – 2 PM ET) and can be heard online here.
WOMR's (Provincetown MA) Anne Levine produces UKRAINE 2 4 2 in collaboration with Pacifica Network and Kraina FM, a 22-station radio network in Ukraine. The weekly program brings cutting edge interviews with people in positions of knowledge in Ukraine with breaking news and insights. The program can be heard on WOMR at 9 AM ET on Fridays. WOMR can be heard live here. The program can also be heard on demand at PacificaNetwork's website.
To record a message to Ukrainians, you can call 510-883-3115. Translators will record a version of your message in Ukrainian and this will be shared on radio stations in Ukraine.