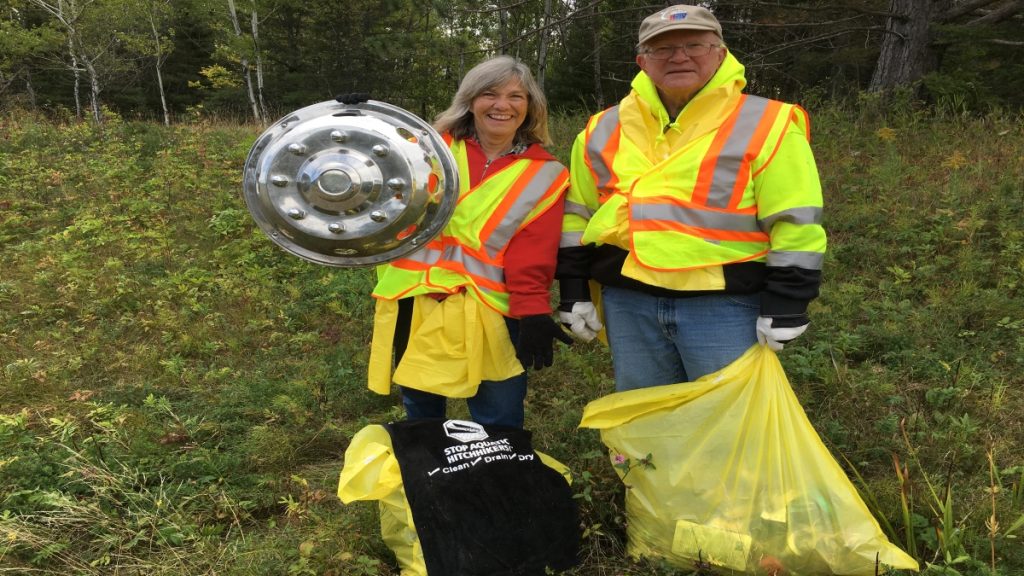 Twice a year, KTWH has a team walk a 2 mile stretch of highway between Two Harbors and Duluth, Minnesota. During this year's latest excursion, KTWH volunteer Peg (with her friend, Scott) scored a shiny wheel rim. In the above photo, Peg's face relays a feeling of pure joy at her find. Even better, the two friends, along with the rest of the group amassed about 20 large yellow bags of trash on behalf of Two Harbors community radio. The station has been participating in the Adopt-a-Highway program since 2019.
We learned more about the project from station manager Leo Babeu, and lead organizer, former board member, and KTWH "variety volunteer," Paul Hanson. The two men shared what it's like to clean up a highway, and what other "treasures" they have found.
How did the idea come about to have KTWH adopt a stretch of highway?
Leo: The highway cleanup idea was actually the suggestion of my KTWH co-founder Fran Kaliher. Fran was aware that there were sections of our north shore of Minnesota (Lake Superior) state highway system near Two Harbors that were in need of adoption for cleanup by local organizations and businesses.
I recognized that our new LPFM was struggling to get the word out to residents and visitors to our rural county about local community radio on their FM radio dial. We were excited that the signage the highway department puts up in recognition of our ongoing cleanup commitment would credit our station, that there might be a win/win situation: the area would have clean roadsides kept tidy on a busy tourist route, reflecting well on our civic pride, and KTWH would get some meaningful exposure. We could also strengthen ties between volunteers doing something constructive and non-radio together.
How many people go out to do a clean up?
Paul: Between 4-15, depending on who is busy doing what.
How much trash do people gather during a cleanup?
Paul: I am guessing about 500-700 pounds worth.
What is it like to be on a hunt for trash on the side of a highway?
Paul: It's a good physical workout, walking on slanted roadsides, up and down stream/river terrain. It can be scary when people whiss by at 65+ miles per hour on the four lane. It can be entertaining finding hub caps, door mats, coolers, other "treasures".
Has anyone found anything surprising?
Paul: We found a door mat with an owl image on it, with an "I am watching you!" look to it.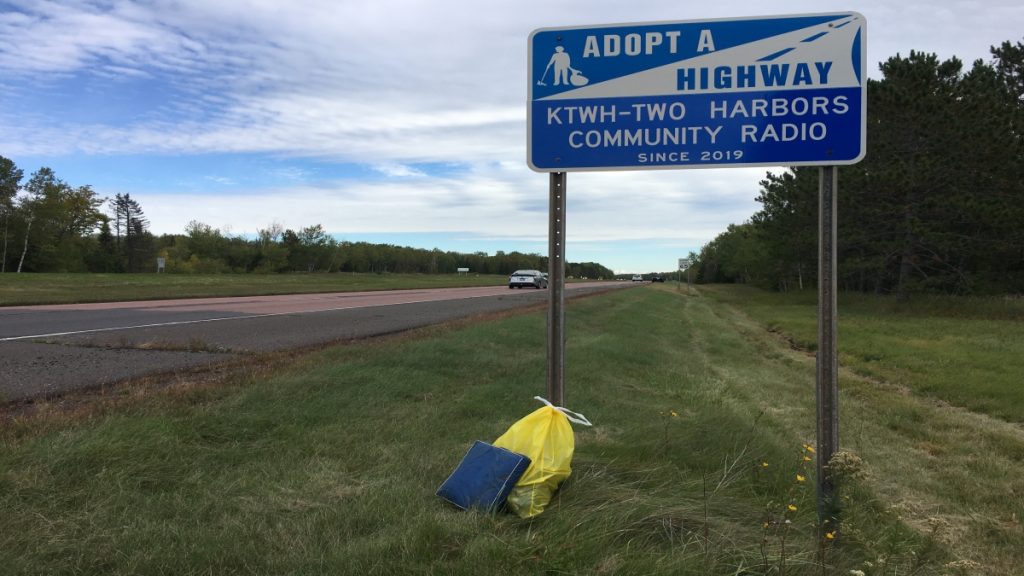 Why have you decided to keep up with the project each year?
Paul: The Minnesota Dept. of Transportation (MNDOT) signs up groups to adopt the highway, and checks in periodically to see if groups are still interested. Of course, they can detect disinterest if the group never picks up garbage. The station is doing its part in helping out earth, the community, and gets free advertisement in a non-commercial way.
Has there been a response to your efforts from the community?
Paul: Two Harbors residents have expressed gratitude via word of mouth. Occasionally, listeners volunteer to clean. The station advertises a scheduled cleaning via the same "slider" program on the homepage.
Anything else you would like to share about KTWH's highway adoption experience?
Paul: The activity is rewarding because volunteers get to know each other as they may not meet up much otherwise. The activity is an easy way to become a part of the community in non-broadcast way.
Leo: Our volunteers have come out twice each year in cold damp conditions because they do take real pride in our area's natural beauty and can-do attitude. There are likely many worthy civic projects out there that we might want to commit to- this was just dipping our toes into the possibilities. We want folks to know we're not an anonymous radio service coming to them from far away, that almost all of us KTWH programmers and staff live and work in our small FM coverage area- we care about the same things and want to pitch in on and off the radio to make this place better.
All photos have been posted with permission of KTWH station manager Leo Babeu.