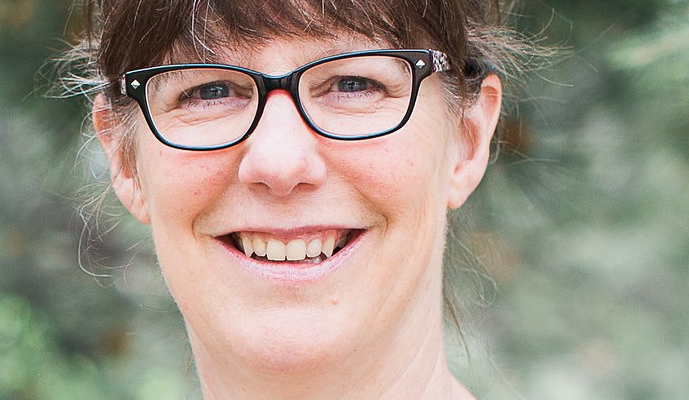 Jill Mahler might have retired a bit earlier if COVID-19 hadn't sprung upon the world last March. She was prepared to give 3 months notice for a smooth transition, but instead, Mahler found herself steering a full power radio station through the deep waters of a pandemic.
"I never felt like it was insurmountable."
Mahler found the confidence to problem solve pandemic issues in the same way she did during other predicaments that visited KPOV in Bend, Oregon.
"You know, I never ever felt like it was insurmountable. I know the people would be like, "Well, you know, if we don't have a signal, like we're not on the air, people can't hear us. They're going to get fed up. They're going to not give us money. And are we going to make it through this?' And I'm like, 'Well, yeah, of course we always have. I like have no reason to believe [otherwise]'. I think that's just my personality. Maybe I've not had any like, big enough challenges in my personal life. I've been very blessed. But I've never felt like, Oh my god, we aren't going to survive this. I have always felt that yeah, we're just gonna get through it," she said.
Mahler by this point was used to confronting big left field problems.
Within two to three months of Jill Mahler's start as station manager, KPOV started having equipment failures. The station didn't have an engineer, so when she felt out of her depth, Mahler called engineers from other local radio stations. She tried to absorb everything she could from those phone conversations, often writing down the technical explanations. Sometimes she would have to ask the other person to repeat themselves because she wasn't sure about what she just wrote down.
"I mean, it keeps you up at night. And it is stressful. And I always felt like the buck stopped at me. I mean, we had a joke, Bruce [ Morris, Programming Director] and I, like 'that's why you get the big bucks.' Which was so not true." said Mahler.
Keeping Calm Under Pressure
Mahler has put in 12 years total service with KPOV, including 5 years as manager. The station's web site has an affectionate tribute to her, thanking her for leading them "through recession, equipment failures, and the occasional lightning strike."
Morris, who will take over as Station Manager after Mahler retires, describes her as the most organized person he ever knew, adding that she always kept her calm.
"Jill was a fantastic Station Manager for KPOV. She stewarded us through a lightning damaged antenna and 2 broken transmitters that reduced our signal strength for almost two years. We emerged from that period stronger and with much better equipment. Jill also connected beautifully with DJs, volunteers, supporters, and listeners." Morris said.
For Mahler's part, the feeling was mutual.
"That's the most fulfilling part is just the people, and creating an opportunity for them to do that work," she said.
Mahler didn't always think she could do the job of station manager–she wasn't even interested. "I just stumbled in-and thought, this seems like a really cool organization," she said.
Before the radio station caught her attention, Mahler was focused on raising her family. She had done part time administrative work and enjoyed art projects. Her creative world expanded when she started volunteering at an art gallery. While there she made jewelry and 2d visual art. It was around that time she noticed an ad for a part time office manager at KPOV.
"And I was like, Oh! I could do that. That is in my skill set. This feels like something I could really get into," she said.
Over the years, Mahler's responsibilities grew as the crew saw her capabilities. Her hours increased. Mahler and KPOV's first station manager Pearl Stark became friends. They were a good team at KPOV.
When Stark decided to move on, for a year or so she would hint to Mahler that she was getting ready to leave, hoping Mahler would take up the mantle of station manager.
"And I was like, 'no'," Mahler said. She had never wanted a career.
But eventually she found herself embedded in the radio station. She had learned a lot, having gone to a lot of NFCB conferences. She knew all of the volunteers, and she knew the ins and outs of the daily operation.
"And there came a point where [Stark] said, 'whaddaya think?' and I was said, ya… I mean, I was at a point where I certainly wouldn't want to hire somebody else and have to train them to be my boss…and now I am 50-whatever…and you get to a certain age and you're like, 'this is an opportunity for me to do that thing that I never even thought I wanted to do, and I know now that I am capable of it, and I am ready to take it on," she said.
Today, Mahler welcomes the transition from the leadership role at KPOV. She has looked forward to spending more time with her family since her daughter moved back from Denver.
All in all though, Mahler is still part of the team. Since retiring from her post, she has stayed on as a volunteer. This way she can stay connected while pursuing one of the more creative aspects of working at KPOV; designing the website.
And now that it's Morris's turn to make the big bucks, Mahler makes herself available as a resource if needed. She is optimistic about her departure, not just for her, but for everyone.
"It created an opportunity. Bruce will have a different leadership style than I do, things will have a new dynamic, create some new opportunities," she said.